British aircraft took part in air strike that killed dozens of Syrian soldiers, Ministry of Defence confirms
'We can confirm that the UK participated in the recent coalition air strike in Syria south of Dayr az Zawr'
Kim Sengupta
Defence Editor
Tuesday 20 September 2016 11:42 Comments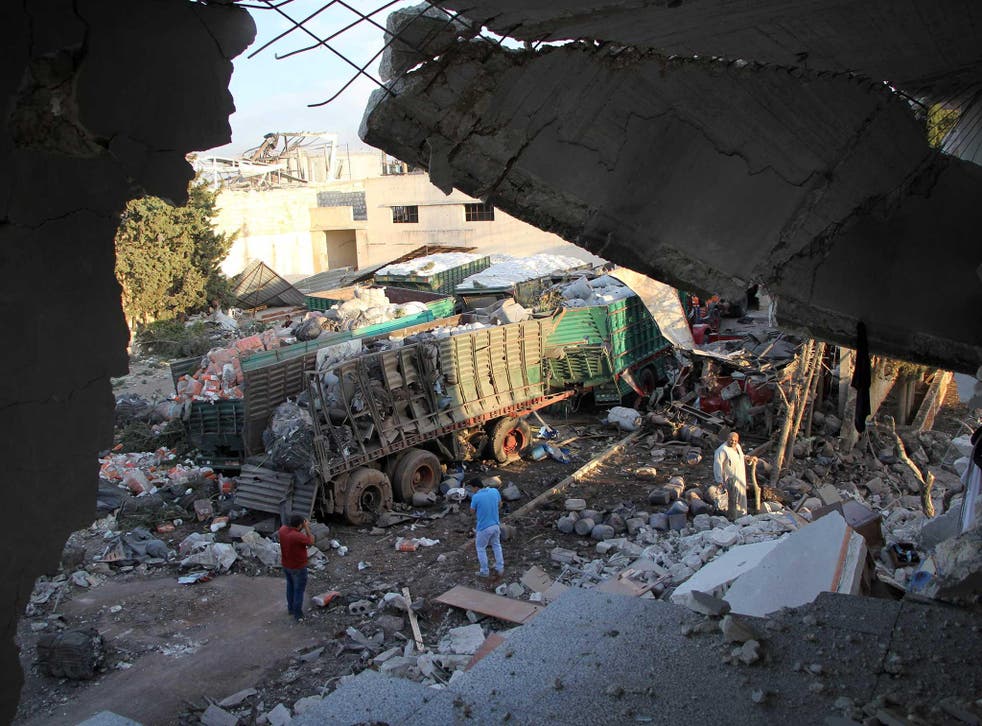 A British aircraft took part in the air strike in Syria which led to the deaths of dozens of regime soldiers and has threatened to scupper the recent deal against Isis between the US and Russia.
It is believed that a UK Reaper drone was part of the American-led raid on Dayr az Zawr last Saturday
A Ministry of Defence spokesman said: "We can confirm that the UK participated in the recent coalition air strike in Syria south of Dayr az Zawr on Saturday and we are fully cooperating with the coalition investigation. The UK would not intentionally target Syrian military units. It would not be appropriate to comment further at this stage."
The admission comes on the eve of the second anniversary of Operation Shader – Britain joining the American-led coalition's bombing campaign against Isis which initially focused on Iraq. The Cameron Government's decision to extend the mission to Syria caused deep divisions in the country and bitter exchanges during a Commons debate.
The Iraqi government had invited the Western coalition to take part in military action against Isis; no such authorisation had come from the regime of Bashar al-Assad in Damascus and opponents questioned the legality of the mission.
Despite Mr Cameron's assertion that the strikes needed to include Syria to "crush the head of the snake", subsequent British air strikes in Syria have been extremely limited in numbers, with just 12 per cent taking place in Syria with the rest focusing on Iraq.
In pictures: Aleppo bombing

Show all 14
Vladimir Putin ordered Russian air strikes in Syria last year. There were accusations from the Syrian opposition and its Western backers, including Britain, that Moscow's strikes were targeting "moderate" rebels as well as Isis.
A deal between the US secretary of state, John Kerry, and the Russian defence minister, Sergei Lavrov, was supposed to coordinate the air strikes, but the attack on Dayr az Zawr came days later, leading to a furious reaction from Moscow.
The Pentagon stressed that it had stopped the mission as soon as the Russians sent information that regime soldiers and vehicles may have been hit and expressed "regret" at the loss of lives.
However, at an emergency meeting of the UN Security Council on Saturday night, Russia accused the US of jeopardising the Syria deal. The US ambassador to the United Nations, Samantha Power, responded: "Russia really needs to stop the cheap point scoring and the grandstanding and the stunts and focus on what matters, which is implementation of something we negotiated in good faith with them."
In March this year, armed forces minister Penny Mordaunt told the House of Commons that Britain had carried out 200 drone strikes in Iraq and 13 in Syria between 1 September 2014 and 15 March 2016.
Register for free to continue reading
Registration is a free and easy way to support our truly independent journalism
By registering, you will also enjoy limited access to Premium articles, exclusive newsletters, commenting, and virtual events with our leading journalists
Already have an account? sign in
Join our new commenting forum
Join thought-provoking conversations, follow other Independent readers and see their replies