British Airways could face massive bill over global IT meltdown with delays set to continue
Thousands of delayed passengers could be eligible to claim compensation under EU law
Chantal da Silva Comments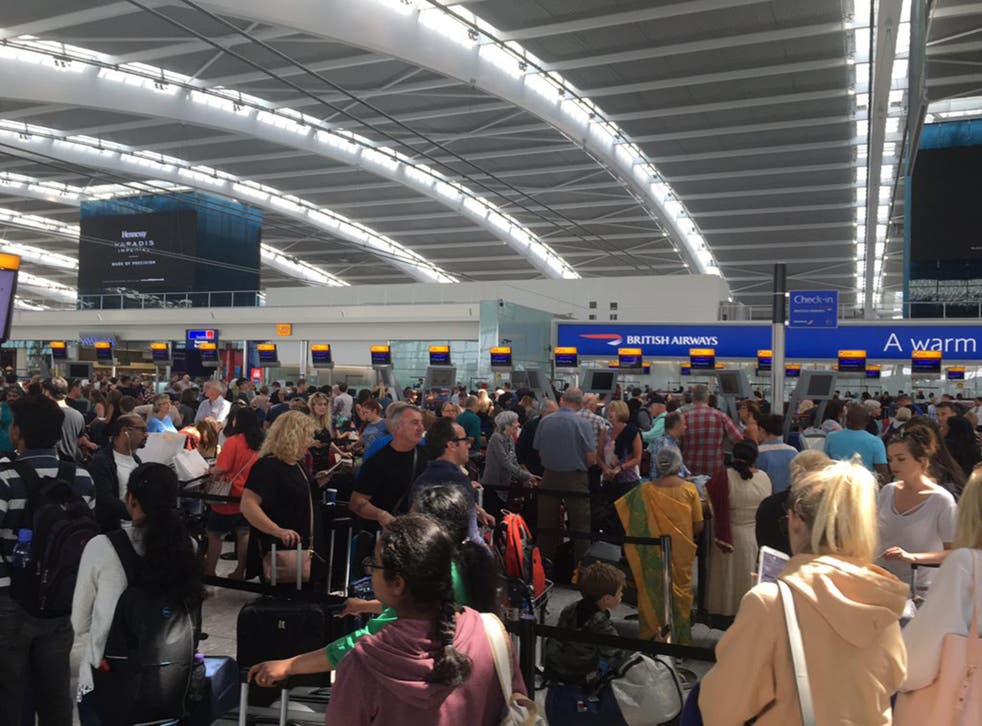 British Airways could be facing a massive bill in compensation costs after thousands of its passengers were stranded by a global IT system meltdown.
The airline was forced to ground all flights from Heathrow and Gatwick on Saturday due to the system crash, causing chaos at both airports.
The disruption continued into Sunday, with dozens more flights cancelled and passengers being warned not to go to the airport without checking their flight status.
Many people spent the night at the airport, with some sleeping on the floor and on yoga mats at Gatwick. Some shops at the airport also reportedly ran out of food.
Under EU law, delayed passengers are eligible to claim compensation, unless the delay is caused by factors outside the airline's control.
BA has said it believes the systems failure was caused by a power supply issue, after it found no evidence of a cyber attack.
Air travel experts say that could put the airline on the hook for major payouts to customers whose flights were cancelled or severely delayed.
Malcolm Ginsberg, editor-in-chief of Business Travel News has said that given the circumstances, he believes the airline will be facing a hefty bill.
"There is no question – the EU denied-boarding regulations will have to apply," Mr Ginsberg told the Press Association.
"They have broken all the rules and they will have to deal with it – it's going to be a very expensive situation for BA."
He added: "The money doesn't really compensate passengers for the situation."
A BA spokesperson said: "We are continuing to work hard to restore all of our IT systems and are aiming to operating a near normal schedule at Gatwick and the majority of services from Heathrow on Sunday.
"We are extremely sorry for the huge disruption caused to customers throughout Saturday and understand how frustrating their experiences will have been.
"We are refunding or rebooking customers who suffered cancellations on to new services as quickly as possible and have also introduced more flexible rebooking policies for anyone due to travel on Sunday and Monday who no longer wishes to fly to/from Heathrow or Gatwick."
How much the IT meltdown will cost BA in lost revenue and customer payouts is still up in the air.
"It's premature to put a cost figure to those problems as there are so many unknown variables," air industry consultant John Strickland told The Independent.
"Given the magnitude of the problem the amount is likely to be significant."
Civil Aviation Authority guidance states that anyone who is delayed by more than three hours in getting to their destination could be entitled to compensation.
"Airlines are required to pay compensation to passengers when their flights are delayed or cancelled," the CAA says on its website. "However, you only have the right to compensation in some circumstances."
In pictures: British Airways disruptions

Show all 17
The authority says there are two key factors to determining whether you are eligible. The first is whether you have been "severely inconvenienced".
"For instance, if you have only been delayed slightly, you may not be entitled to compensation," the CAA says.
The other determining factor is the cause of the delay. "If the delay was caused by an 'extraordinary circumstance', you will not be entitled to compensation," the aviation authority says.
In August 2016, thousands of Delta Air Lines passengers faced delays after a similar system-wide crash forced the airline to ground its flights.
Delta said it lost at least $100m (£78m) in revenue as a result of the outage, which occurred after an electrical component failed, cutting off power to the airline's data centre.
​​​A Heathrow spokesman said on Sunday morning that delays and cancellations of BA flights were expected to carry on through the day.
The airline admitted there would be "some knock-on disruption to our schedules ... as aircraft and crews are out of position around the world". It has been unable to say how many flights could still be cancelled or how long the disruption is likely to continue for.
"Our focus is on updating customers and doing what we can to get them to their destinations as quickly as possible," a spokesman said.
BA chief executive Alex Cruz has said the airline is "extremely sorry" for the "huge inconvenience" suffered by customers, especially families with plans for half-term holidays.
As IT teams work to resolve the issue, travellers are being urged to check the airline's website and Twitter account for updates before heading to either Gatwick or Heathrow airports.
Register for free to continue reading
Registration is a free and easy way to support our truly independent journalism
By registering, you will also enjoy limited access to Premium articles, exclusive newsletters, commenting, and virtual events with our leading journalists
Already have an account? sign in
Join our new commenting forum
Join thought-provoking conversations, follow other Independent readers and see their replies