British armed forces veteran, 92, offers up his spare room to house desperate Syrian refugees
Exclusive: John Spicer's son Frank tells The Independent that his father is a 'humble, lovely man' who hopes his actions will inspire others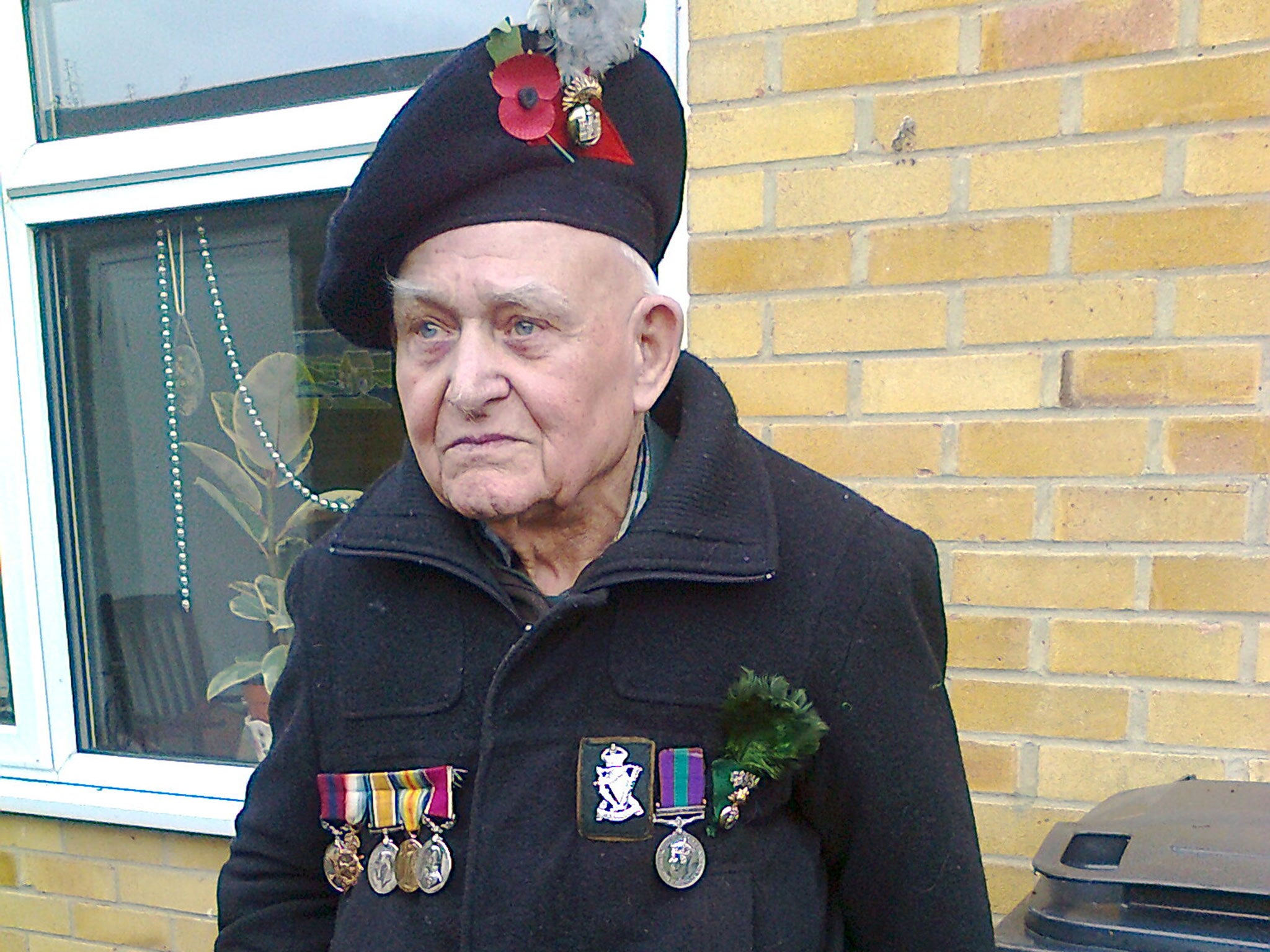 A 92-year-old armed forces veteran has offered up his spare room to house Syrian refugees after being moved by the plight of families fleeing war and persecution.
John Spicer said the images that emerged last week of Aylan Kurdi washed up on a beach in Turkey brought back difficult memories from his own past trying to help dying refugees in the Middle East.
He and his son Frank have registered with an online scheme to put up a refugee family in their three-bed house in Thanet, Kent.
Now he hopes his gesture may "inspire other people" to do the same.
Speaking exclusively to The Independent, Frank Spicer said he asked his father about it yesterday and that he was now "in the spare room – he's started sorting it out already".
John was in the reserves at the end of the Second World War but did not get the chance to fight, while his brothers and friends all did. Out of "embarrassment" he signed up as soon as the war finished – and was stationed in what was then British-administrated Palestine.
"Funnily enough, he was helping refugees at that time too," Frank said.
"The horrible thing was that this same situation with drowning refugees was going on then.
"They had the Arabs attacking on one side because part of their land was being taken away, and on the other side they were so overwhelmed with Jewish refugees that they couldn't let them all in.
"People were drowning in the sea just as they are now. They were picking up bodies off the beach there too."
Frank said his father was "a really humble, lovely man" who, when asked if they could take in a refugee family, said: "Yes, of course, that's a good idea."
After signing up to the Homes for Syrians website, Frank posted an image of John dressed up with his medals for last year's Remembrance Day service on a Facebook group in support of refugees in Calais.
The image of his father struck a chord on the group – "went a little bit viral", as he put it, and he said that's a good thing.
"We'd like it to inspire other people. We want them to think that if a man of that age can bend over backwards to help people out, then why can't they?"
John remembers the Middle East "very fondly" and even knows the odd word of Arabic, Frank said. "He had the army experience, he learned to sail on the Red Sea, and he has tales to tell."
Frank said his father still works as a volunteer with the St Vincent de Paul Society, which helps people in dire need in the area, despite his age. "My dad is a fantastic, wonderful person," he said.
Richard Moore, who set up the Homes for Syrians website, said John was quickly becoming the "poster boy" for his campaign.
He told The Independent he set up the website after seeing the sheer number of Syrian refugees on a visit to the Greek islands, at which point "the scale of the problem struck me".
Refugees Welcome: Supporters back The Independent's campaign
Show all 15
"The site has only been live for a couple of days but so far, the response has been amazingly positive and makes me proud to be British. It's all a little overwhelming to be honest."
Mr Moore said he hoped evidence of a resource of free accomodation for Syrian refugees would encourage the Government to let more in, and said: "People want to help and many can afford to do so. Let them."
Homes for Syrians is one of a number of popular initiatives set up in recent days to provide support to refugees and put pressure on the Government to do more to help. For a full list of how you can get involved, click here.
Join our commenting forum
Join thought-provoking conversations, follow other Independent readers and see their replies