British army in renewed recruitment drive aimed at gym bunnies and social media addicts
Ministry of Defence planning to build on claimed success of campaign targeting 'snowflakes' and 'phone zombies'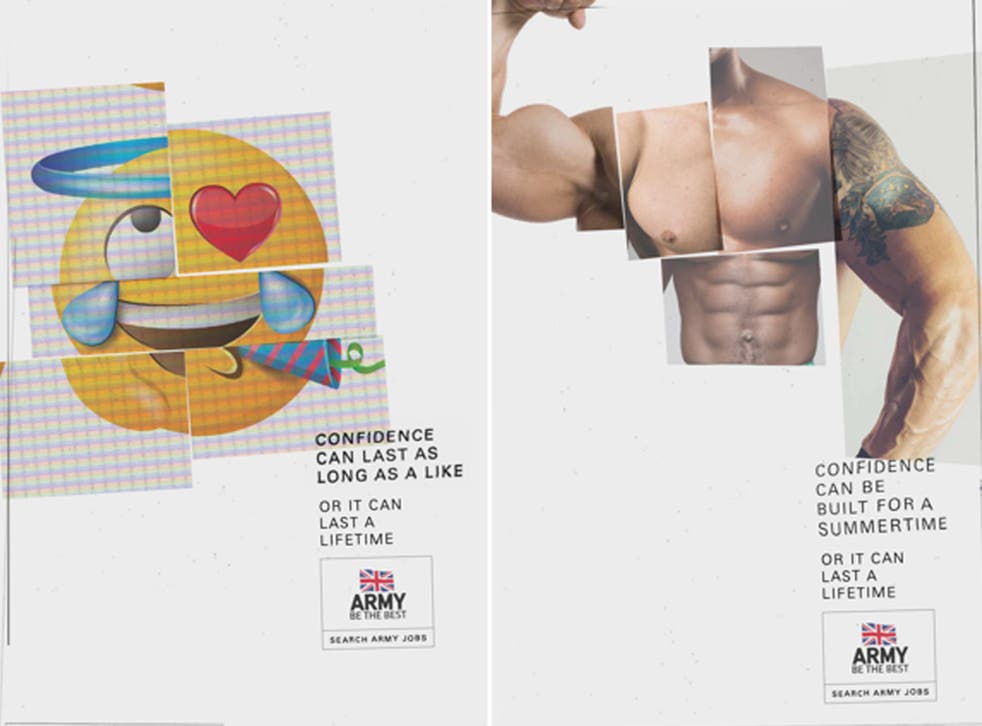 "Young people of Britain: put down those smartphones, stop instagramming that six-pack in the mirror and pay attention... Your Country Needs You!"
That, in a nutshell, is the basis of a new army recruitment campaign aimed at persuading the country's youth that there is much more fulfilment in self-discovery and comradeship of service life than in transitory appeals such as that of social media and gym-narcissism.
Adverts and pamphlets will focus on the theme of "belonging'' which the Ministry of Defence (MoD) says has been highly successful in increasing numbers in the ranks. This included the drive at attracting "snowflakes'' which was criticised in some traditionalist quarters for supposedly presenting the wrong image for the military.
The promotion declared it was aiming at "Me Me Me Millennials", "Class Clowns", "Binge Gamers", "Phone Zombies", and "Selfie Addicts" as well as "Snow Flakes", stressing that despite the labelling they possess the self-belief, spirit, drive, focus, compassion and confidence to cope with the most difficult situations.
The campaign, said the MoD, resulted in 90,000 people applying to join the army, pushing it 90 per cent towards meeting its annual recruitment target. This was a 46 per cent increase on the previous year, and the highest number of recruits for 10 years starting basic training in September 2019 as a result. Recruitment for the army reserve was up 30 per cent.
One of the images in the fresh promotion is a collage of muscular body parts with the caption: "Confidence can be built for a summertime or it can last a lifetime." Another, with emojis, says: "Confidence can last as long as a like or it can last a lifetime."
UK news in pictures

Show all 50
One of the key reasons for taking this path to attract recruits is research undertaken in 2018 by The Prince's Trust and Deloitte, the financial services company, which found that 54 per cent of 16-to-25-year-olds believe a lack of self-confidence holds them back. Nearly half (46 per cent) think that comparing their lives to others on social media makes them feel "inadequate", while only one in four (24 per cent) say their workplace offers adequate support in developing confidence.
The recruitment drive also takes place against the background of the armed forces facing a staffing crisis in recent years, with figures showing a decline in the numbers needed. The Commons Defence Select Committee heard in October that the army had 77,000 fully trained troops compared with a target of 82,500.
Ben Wallace, the defence secretary, said: "I know from my own experience the confidence, self-belief and camaraderie a career in the armed forces can offer.The latest recruitment campaign reflects these unique opportunities and I hope it will build on the success of last year's campaign, which led to a record number of applications in recent years."
Colonel Nick MacKenzie, Head of Army Recruiting, said: "I am delighted that so many people have decided to join the army this year, which is a result of our successful advertising campaign and the hard work and dedication of all those involved in the recruiting process.
"With the 2020 campaign we want to highlight that a career in the army not only provides exciting opportunities, challenges and adventure but it also gives you a lasting confidence that is hard to find in any other profession.This campaign tells a story of character built on camaraderie and encouragement, of unshakeable self-confidence built on overcoming challenges."
Register for free to continue reading
Registration is a free and easy way to support our truly independent journalism
By registering, you will also enjoy limited access to Premium articles, exclusive newsletters, commenting, and virtual events with our leading journalists
Already have an account? sign in
Register for free to continue reading
Registration is a free and easy way to support our truly independent journalism
By registering, you will also enjoy limited access to Premium articles, exclusive newsletters, commenting, and virtual events with our leading journalists
Already have an account? sign in
Join our new commenting forum
Join thought-provoking conversations, follow other Independent readers and see their replies