Five-year-old British boy stranded in Afghanistan due to translation error
Exclusive: Child has been threatened with kidnap by the Taliban, father says
May Bulman
Social Affairs Correspondent
Friday 09 October 2020 17:56 Comments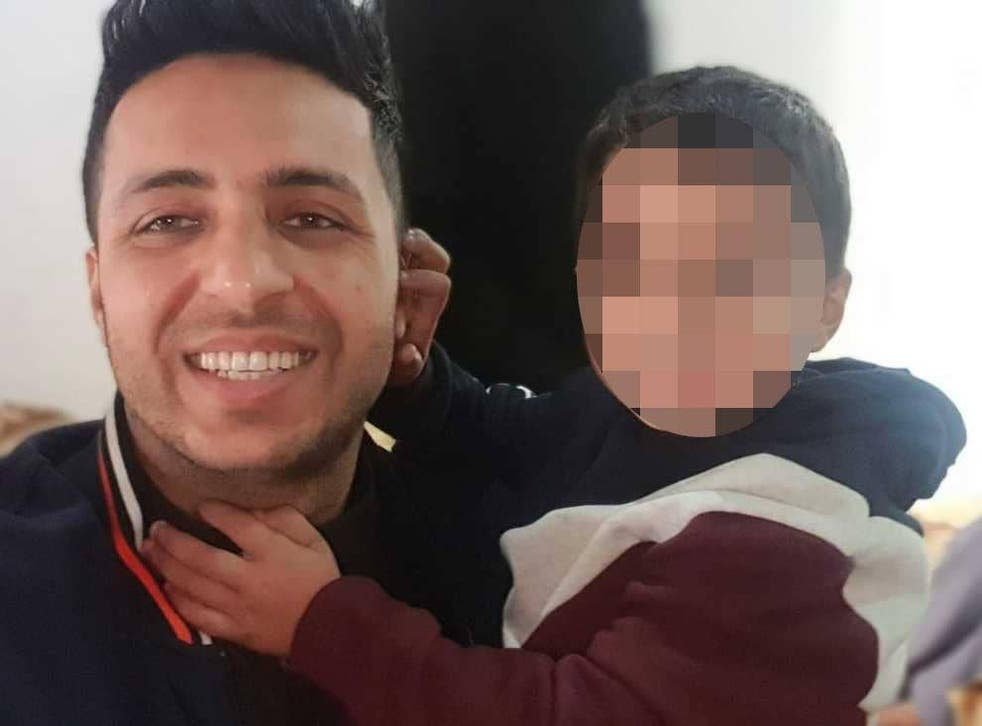 A British boy aged five has been left stranded in Afghanistan for more than a year because of a minor translation error on his mother's birth records.
Yousaf Shanvari, who will turn six next month, has been unable to join his British father in the UK because his mother's date of birth was translated incorrectly into English, even though lawyers say her identity should not be a relevant factor in the child's right to be in Britain.
His father, Fayyaz Shanvari, a UK citizen who fled Afghanistan with his family 13 years ago and was granted refugee status, says the Taliban has threatened to kidnap Yousaf because he is British, meaning the child is unable to attend school and must stay inside at all times.
Campaigners said the case demonstrated that the Home Office was "bending over backwards" to deny that non-white children of UK nationals were British, and that it was a sign of "institutional racism" in the department's decision-making.
Mr Shanvari has also been asked to undergo a DNA test – a practice widely criticised after it emerged last year that people had been wrongly denied UK status after refusing to provide DNA evidence.
The father told The Independent he was worried for the safety of his child, who lives with his wife and her family in Jalalabad, where there have been numerous attacks by Islamic extremists over the past year.
"My son is in danger. Two or three weeks ago I was on a video call to my wife and I heard two bomb blasts. The same thing happened a few months ago. There were three bomb blasts within 10 minutes. How can I leave my wife and son there?" he said.
"He wants to go to school, but we can't let him. Every time I speak to him he wants to go out and play, but someone might pick him up and take him, then ask me for a stupid amount of money.
"He's like a prisoner. My wife doesn't go out either. They are like prisoners in the house 24/7. I want to bring him to the UK so he can be with me and go to school here. He's British, he should be here with me."
Mr Shanvari, who works as an MOT tester in Romford, Essex, went back to Afghanistan to marry his wife – a family friend whom he knew from childhood – in 2013, and she gave birth to Yousaf the following year.
Despite being a British citizen by birth owing to his father's British citizenship, the child has never visited the UK because his parents decided to wait until his mother obtained her spouse visa before applying for his British passport, so that they could all move to the UK together.
However, his wife first had to obtain an Afghan passport, a process that was beset with delays, and then she faced difficulty passing the English language test required for her to move to the UK. Mr Shanvari said she eventually passed the test in 2018, but the Home Office has not yet accepted that her certificate is authentic – a claim the couple is appealing.
When Mr Shanvari finally applied for his son's British passport in 2018, the Home Office demanded identification documents for his wife, despite the fact that this is not usually required.
Due to a mistranslation on her date of birth records – which was incorrectly translated from the Islamic date form to the English date – the process was held up for more than a year, despite repeated efforts to explain the mistake. The Home Office eventually accepted in February 2020 that the incorrect date of birth was due to a translation error.
However, the department then proceeded to suggest Mr Shanvari do a DNA test because it claimed there was "insufficient evidence" that he was the child's father.
Mr Shanvari, who spends around three months a year in Afghanistan with his wife and child, took the £500 DNA test in March. He was told the following month that, due to the Covid-19 pandemic, the department was running a "reduced service" and there would be a delay in sending him the results.
The passport was granted in September, after The Independent had contacted the Home Office press office about the case. However, even though the child now has a British passport, he is unable to travel to the UK as his mother cannot accompany him due to her ongoing immigration case.
Mr Shanvari's solicitor, Fiyaz Saeed, who plans to launch legal action over the Home Office's "delay and denial" of the child's rightful British citizenship, said there were signs of "institutionalised racism" in his client's case.
"Any reasonable person would say that an official child's birth certificate with their father and mother's name on it, and the British father's British passport ID being confirmed and verified, is all the application requires," he said.
Home Office showed 'institutional ignorance and thoughtlessness' towards race Windrush report finds
"I've seen and heard of a lot of Afghan clients recently who are being asked to provide impossible documents unnecessarily and then asked to do DNA tests. With the Black Lives Matter protests highlighting how we as a society want a stop to institutionalised racism, this case is worrying as it suggests that in reality nothing changes."
Responding to the case, Chai Patel, legal director at the Joint Council for the Welfare of Immigrants, said: "Priti Patel claims she has learnt the lessons of Windrush, where black and brown people were asked to provide impossible levels of evidence of who they were, and had their lives destroyed when they could not.
"It is hard to understand then why we still see so many cases where the Home Office bends over backwards to deny that non-white children of British nationals are in fact British.
"It would never occur to most people that they would asked to provide a DNA test when applying for their child's passport. Why does it keep happening to British people from ethnic minority backgrounds in circumstances like this?"
A Home Office spokesperson said: "As with all passport applications, Her Majesty's Passport Office (HMPO) is unable to issue a passport until all checks upon the applicant's nationality, identity, and eligibility have been satisfactorily completed.
"When assessing the application for a child's first passport, HMPO need to be satisfied with the identity of both the mother and father, and their relationship with the applicant. That is why we request core documents from both parents and consider them rigorously.
"DNA testing is expensive, and we will only request the voluntary provision of DNA evidence through an approved provider once all other avenues of enquiry have been exhausted."
Register for free to continue reading
Registration is a free and easy way to support our truly independent journalism
By registering, you will also enjoy limited access to Premium articles, exclusive newsletters, commenting, and virtual events with our leading journalists
Already have an account? sign in
Join our new commenting forum
Join thought-provoking conversations, follow other Independent readers and see their replies