British Government refuses to raise case of man 'being hunted by drones' in Pakistan with US
Malik Jalal says he has survived four drone strikes, despite having no affiliation to extremists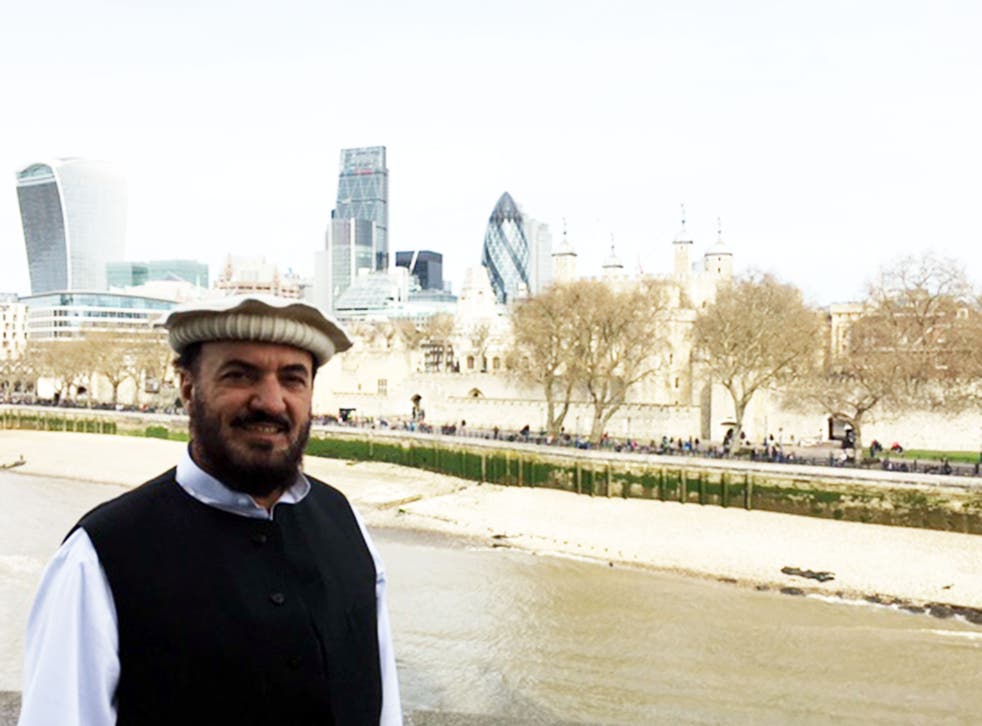 The British Government has refused to answer the plea of a Pakistani man desperate to know whether he is on America's secretive "kill list" after surviving four drone strikes.
Malik Jalal believes he is being mistakenly targeted because of his work with the North Waziristan Peace Committee, which mediates between local tribes, government agencies and the Taliban.
He left his home and family for their own safety after seeing friends and relatives die around him and visited the UK last month in the hope of clearing his name.
"I don't fear for my own life because I believe that when my departure is due, nothing can stop it," he told The Independent.
"The bigger fear for me is the safety of my family and extended family.
"I came with the hope that I can clear the misunderstanding in my case because my role has always been as a negotiator and peace-maker."
Unable to gain an American visa, he hoped that the Government would make an intervention with its ally to confirm whether he was being targeted and prevent any future attacks.
MPs from the UK's full largest parties supported his appeal but have received a reply from the Foreign Office refusing to intervene.
Tobias Ellwood, the minister responsible for national security issues, wrote a letter saying that although British drones operated in neighbouring Afghanistan, there were no operations in Pakistan.
"I cannot offer comment on any issues relating to alleged actions by governments other than the Government of the United Kingdom," he wrote.
"Furthermore, it is our longstanding policy not to comment on intelligence matters.
"We do not feel that it would be appropriate to raise this case with the US Government and therefore we do not believe that any purpose would be served by a meeting."
Artists in Pakistan target drones with giant posters of child victims

Show all 5
Jennifer Gibson, a lawyer from Reprieve campaign group, said the Government had failed to answer the "simple question" of how Mr Jalal can stop the strikes and had previously refused to meet with him.
"The Government has simply decided to hide behind a policy 'not to comment on intelligence matters'," she added.
"We cannot have a situation where people are condemned to death, in secret and without due process or any form of appeal.
"Yet by following the US down the Kill List route, this is what the UK government is proposing."
A group of MPs who met with Mr Jalal during his visit to London had asked Philip Hammond to seek information on his case from the US in the absence of help from the Pakistani government or "any realistic way" to contact decision-makers himself.
They asked for confirmation or denial of whether he was on a "kill list", targeting procedure, details of any way to challenge the designation and clarification of legality regarding civilian casualties.
Tom Brake, who was among the signatories, said he was disappointed by the Government's refusal.
"The US is clearly our main ally in that part of the world and I would have thought it was perfectly appropriate to make the request," he told The Independent.
"I'm worried that the reason the Government won't take it up is simply some sort of tacit understanding between governments that they are allowed to get on with this type of covert activity without being held to account, and that's a mistake."
The Liberal Democrat MP said he would now write a letter to the US ambassador on the case.
"I have never in 19 years as an MP come across a case like this," he added.
The letter was also signed by David Davis, the Conservative MP for Haltemprice and Howden, Clive Lewis, the Labour MP for Norwich South and Kirsten Oswald, who represents East Renfrewshire for the Scottish National Party.
Mr Lewis said he found Mr Jalal's experience disturbing and had been told by a former US drone operator that a "kill ratio" was in place, allowing strikes to be approved even if innocent civilians were likely to die.
"It doesn't take a genius to work out that for militants it's a recruitment tool," he added, calling for more transparency and accountability in decision-making processes.
Mr Jalal said the strikes started in 2010, with the first blowing up his car at a garage, the second destroying a vehicle travelling behind him and his nephew and two more hitting friends' houses as he approached.
His cousins, nephews and friends have been among those killed and injured, while Mr Jalal also claims to have narrowly missed the deadliest drone strike ever to be officially acknowledged in Pakistan, which killed at least 40 civilians at a tribal assembly on 17 March 2011.
After resorting to sleeping under trees to prevent his family home from becoming a target, Mr Jalal fled Waziristan after the fifth strike in 2013 and now lives with his wife in a different province of Pakistan.
He claims officials close to the security services warned him that he was on the "kill list", officially known as the Disposition Matrix, but says he was never affiliated with "crazy" Taliban militants.
The names it carries are a closely-guarded secret and Mr Jalal has never had any confirmation his is among them.
America's drone strikes have killed between 400 and 950 civilians in Pakistan since the CIA campaign began in 2004 according to the Bureau of Investigative Journalism.
Mr Jalal argued that the programme is "counter-productive" and makes terror attacks more likely by fuelling anti-Western sentiment in the volatile region.
"They're not getting rid of militants - for every two militants hit, 10 more will spring up in their place because their families and friends have been killed," he added.
When contacted by The Independent, a spokesperson at the US Central Command admitted that "US entities operate" in Pakistan but said information on targeting could not be disclosed.
Register for free to continue reading
Registration is a free and easy way to support our truly independent journalism
By registering, you will also enjoy limited access to Premium articles, exclusive newsletters, commenting, and virtual events with our leading journalists
Already have an account? sign in
Register for free to continue reading
Registration is a free and easy way to support our truly independent journalism
By registering, you will also enjoy limited access to Premium articles, exclusive newsletters, commenting, and virtual events with our leading journalists
Already have an account? sign in
Join our new commenting forum
Join thought-provoking conversations, follow other Independent readers and see their replies