British public among least welcoming in Europe towards refugees, according to survey
Only one in five Britons would be willing to house a refugee in their home for a short period if they had a spare room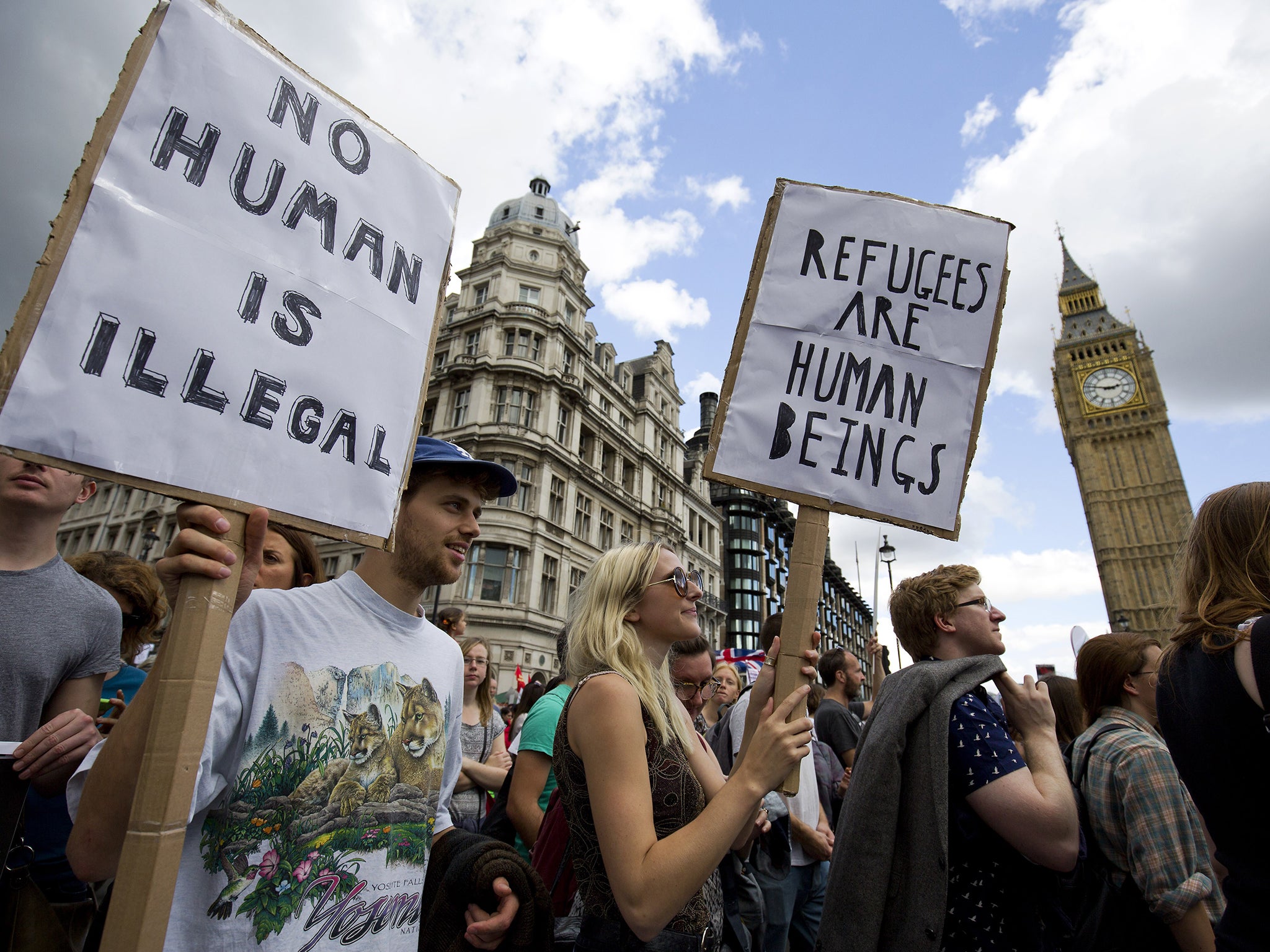 The British public are among the least welcoming people in Europe towards refugees, according to a survey of opinion in 14 countries.
Only one in five Britons (20 per cent) would be willing to house a refugee in their home for a short period if they had a spare room, while 80 per cent said they would not. Of the countries surveyed by ORB International, only Bulgaria, which has adopted a hard line in the migration crisis, had a lower score, with 14 per cent of people saying they would offer a refugee a place in their home.
The most welcoming nation is Spain, where 62 per cent of people would open their door to a refugee if they had a spare room. In Germany, which is set to accept one million refugees this year, and Greece, the figure is 48 per cent.
Britain is well below the 35 per cent average in the 14 countries surveyed. ORB International questioned 1,000 people in England, Scotland and Wales as part of a poll of 13,800 adults across Europe.
Johnny Heald, managing director of ORB International, said: "These results show that people in the UK are some of the least likely to offer temporary shelter to a refugee….It seems that it's a problem many don't want to think about, a problem many people are happy to see play out way from our shores. It's hardly a good advert for the Big Society."
A majority of people in the 14 nations (57 per cent) believe the European Union should do more to tackle the refugee crisis. In Britain, some 40 per cent want the EU to do more, 33 per cent say its response is about right and 27 per cent want it to do less.
The Syrian refugee crisis in numbers
But many people across Europe seem reluctant to see their own governments take more action to resolve the crisis. Only 30 per cent want their own nation to do more, 40 per cent say its response is about right and 29 per cent want it to do less. In the UK, only 28 per cent want the country to do more, while 32 per cent say it should be doing less.
Across Europe, 59 per cent of those polled believe economic migrants are a burden because they take people's jobs and increase pressure on public services, while 41 per cent think they strengthen their country through hard work. In Britain, the figures are 64 per cent and 36 per cent respectively.
David Cameron announced that more than 1,000 Syrian refugees have been given sanctuary in Britain, meeting his pledge to do so by Christmas. More than 50 local authorities are taking part in the Government's resettlement scheme. Downing Street said the UK is on track to accept 20,000 Syrians by 2020.
The Prime Minister told MPs: "I said that Britain would do its duty and with these thousand we've made a very good start."
Join our commenting forum
Join thought-provoking conversations, follow other Independent readers and see their replies