British soldiers resort to 'baiting' Taliban to beat rules of engagement
Platoon commander describes frustration at being forced to lead troops 'to get shot at'
Jonathan Owen
Monday 27 August 2012 09:21 Comments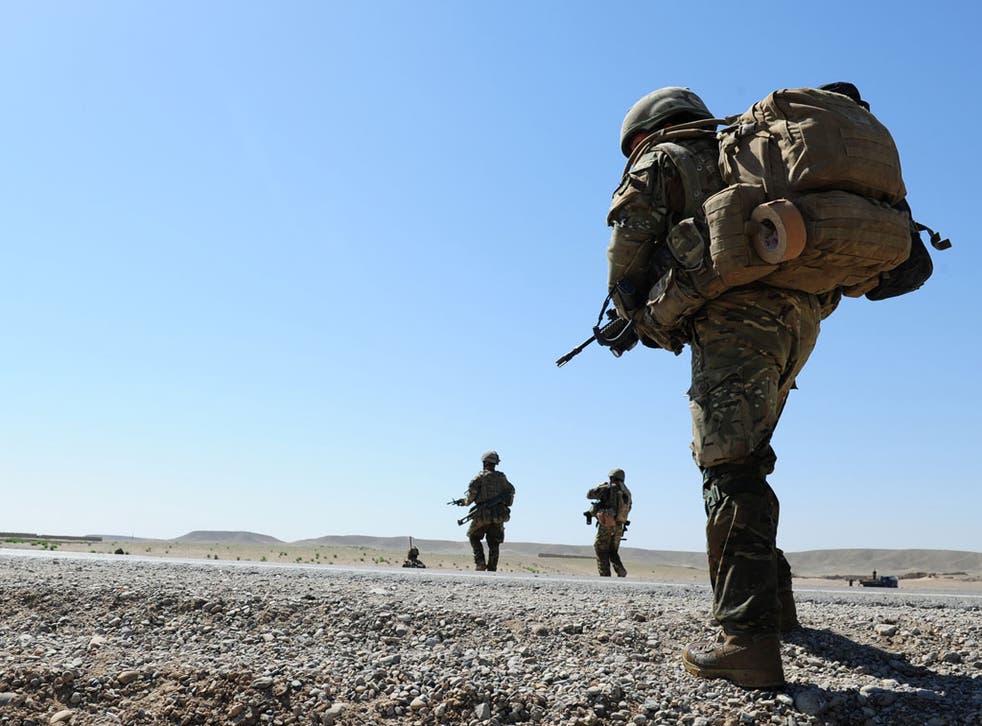 British soldiers in Afghanistan are being forced to act as bait in an attempt to draw the Taliban into opening fire, a serving platoon commander has alleged.
Soldiers are risking their lives to get round strict rules of engagement that allow them to shoot only if they are being attacked or are in "imminent danger".
The Taliban are increasingly exploiting the rules by hiding weapons in undergrowth near patrol routes – meaning British forces cannot act against them until they actually pick up their guns.
The claims are made by Lieutenant Jimmy Clark , a platoon commander who recently returned from a tour of Afghanistan.
Shocking scenes to be broadcast in a documentary, Our War, on BBC Three this evening reveal how it was only by luck that soldiers survived a bomb while on a patrol nicknamed "Op Bait" late last year.
Lt Clark from 2 Mercian, who was leading the patrol, describes his frustration at the rules of engagement, which led to soldiers acting as bait to tempt the Taliban into attacking them. "It's difficult really to 'fight' an enemy we're not allowed to fight. Under our rules of engagement we can only really return fire and sometimes it's very frustrating." Footage of Op Bait, shot from headcams on soldiers' helmets, released by the Ministry of Defence, shows how the plan almost backfired.
Lt Clark sums up the approach: "You have a foot patrol which has air support… you get contacted, you're being fired at and the helicopter can come in and kill that guy." For the avoidance of doubt, he adds: "Our job was to get shot at."
As they prepare to go on the patrol, soldiers try to hide their nerves by joking. One says: "Hi, I'm Lance Corporal Shepherd, this will be the last you see of me, I'm going on suicide." To howls of laughter, another says: "Hi, I'm Private Morgan, I'll be picking up Shep's legs."
The soldiers then silently move out on patrol, aware they are being watched by Taliban fighters just across the canal they are walking alongside. Suddenly two large explosions ring out followed by screams – the world temporarily turned to smoke. Amid heavy gunfire, the soldiers pull back. Miraculously, none of the patrol are killed.
In the aftermath, an exhausted Lt Clark says: "It is incredibly frustrating to be leading soldiers out on patrol with the purpose of getting shot at. There's a line between bravery and stupidity and so far we are pushing the limits."
In an interview with The Independent, Lt Clark said: "What the Taliban were extremely good at doing was walking around without weapons, having cached them in undergrowth or behind cover, walking up to those locations, which were already ready-made firing positions, and shooting at us."
The number of British soldiers being shot dead in Afghanistan has spiralled as new tactics stop them from shooting at the Taliban until they have been fired at. Fourteen have been killed by enemy gunfire in Helmand Province in the past four months, compared with three in the same period in 2011.
Last month it emerged that the US general John Allen, head of coalition forces, had instructed the International Security Assistance Force (ISAF) not to shoot first unless attacked, although the Ministry of Defence has denied this amounted to a change in the rules of engagement.
In a statement the MoD said: "We have always been very clear, as has ISAF, that our troops go to great lengths to avoid civilian casualties. Recent amendments to the ISAF tactical directive reflect that commitment."
Register for free to continue reading
Registration is a free and easy way to support our truly independent journalism
By registering, you will also enjoy limited access to Premium articles, exclusive newsletters, commenting, and virtual events with our leading journalists
Already have an account? sign in
Join our new commenting forum
Join thought-provoking conversations, follow other Independent readers and see their replies