British woodland at risk as planting scheme in chaos
Tree growers face closure over complex grant system and poor central record-keeping
Jonathan Owen
Saturday 13 February 2016 22:25 Comments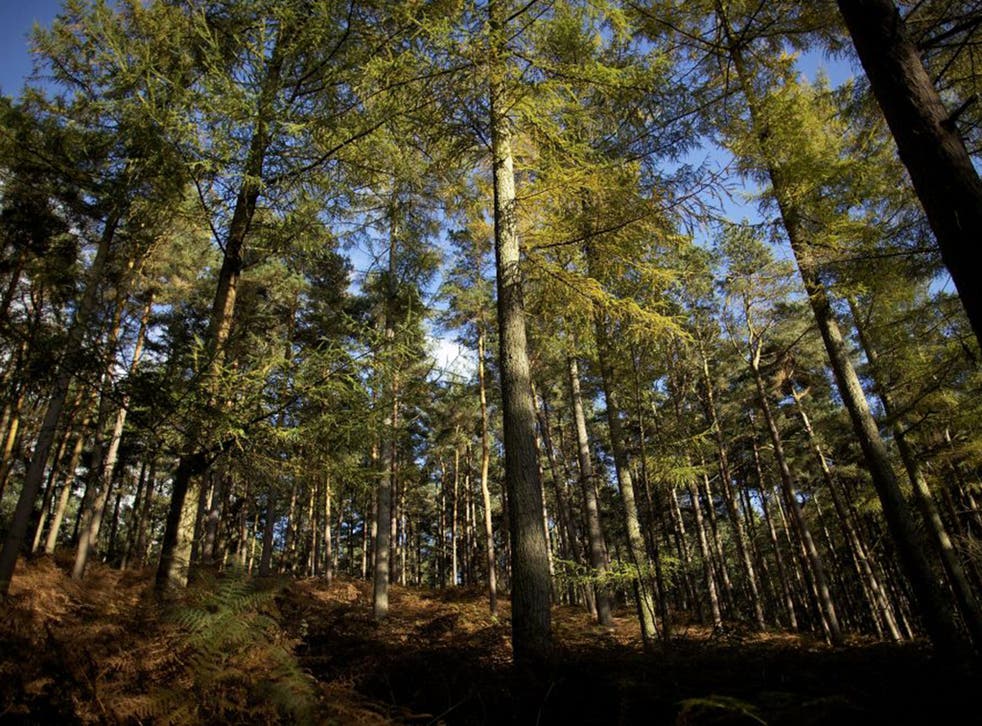 Parts of Britain could be suffering net deforestation with no system in place to measure how much woodland is being lost each year, a leading conservation charity has said.
The warning comes as the Government's plan, set in 2013, to plant 5,000 hectares of new trees in England each year has fallen short of its target, with the latest available figures from the Forestry Commission showing that just 2,400 hectares were planted in 2014-15.
But the lack of accurate data showing how much woodland is being lost could render any targets meaningless. Austin Brady, the director of conservation at the Woodland Trust, said: "On top of the sharp decline in tree planting rates, the lack of a comprehensive record of woodland and tree loss is cause for alarm."
He added: "Taking figures for potential losses into account means the net increase in woodland cover is much smaller than even the shrinking planting rates suggest and in some parts of the UK there may even be a net decrease – this effectively means deforestation."
With just 3,300 hectares planted in 2013-14, the Government is already at least 4,300 hectares short of what should have been planted in order to meet its own targets. The gap equates to an area more than four times the size of Richmond Park in London.
And the situation is set to worsen, with the Horticultural Trades Association (HTA) predicting that only 1,600 hectares will be planted this year.
The most incredible nature moments ever caught on camera

Show all 6
Despite the importance of trees, not only for wildlife and habitats, but also to help reduce flooding, only about 10 per cent of land in England is wooded – far below the EU average of 38 per cent.
Although the Government needs to increase tree planting rates, Mr Brady said a comprehensive inventory of tree and woodland cover was needed, recording losses of both woodland and trees outside of woods. Only then, he said, "will we be able to monitor the rate of woodland expansion accurately".
In a further blow last week, companies which grow saplings for planting out face going out of business – something industry figures blame on an overly complicated grant system that puts people off planting trees.
Stuart Goodall, the chief executive the Confederation of Forest Industries (CFI), said the Government's woodland creation grant scheme was "too bureaucratic" amid complaints that the computer systems which have been brought in do not work properly, leading to delays in existing applications.
Nurseries must plant two or three years in advance to meet future demand. "If there's another bad year next year some of these businesses may not survive," Mr Goodall said.
"We need to fast-track applications through" and revert to a paper-based system if necessary, he added.
Jamie Dewhust at J&A Growers, Britain's biggest producer of hardwood trees, told The Independent on Sunday: "We have the lowest level of woodland cover in Europe and I think that woodland cover, unfortunately, is decreasing rather than increasing. There are some significant nursery businesses within the UK who are looking at the worst-case scenario of having to close this year. I know of one large-scale forest nursery that is talking about a 40 per cent reduction in their sales."
Register for free to continue reading
Registration is a free and easy way to support our truly independent journalism
By registering, you will also enjoy limited access to Premium articles, exclusive newsletters, commenting, and virtual events with our leading journalists
Already have an account? sign in
Join our new commenting forum
Join thought-provoking conversations, follow other Independent readers and see their replies