British-made tear gas was used on Egypt's protesters
CS gas canisters with serial and lot numbers have been found by victims fired on in Tahrir Square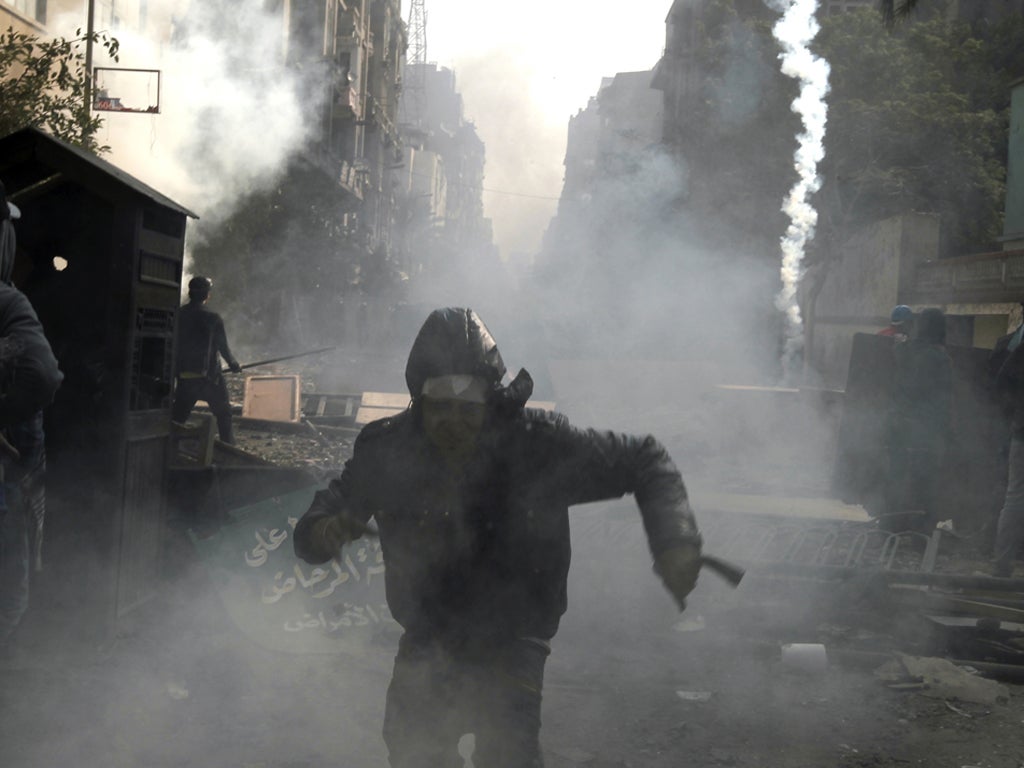 A British firm manufactured some of the tear gas used by Egyptian security forces battling pro-democracy protesters in Egypt's Tahrir Square, the IoS can reveal.
CS gas canisters fired at civilians during recent clashes were produced by British defence contractor Chemring Defence, formerly known as PW Defence, the company confirmed this weekend. A spokesman said the gas is thought to have been sold to the Egyptian army more than a decade ago or, alternatively, reached Egyptian military via a third country.
The company, which said it has not directly supplied CS gas to Egypt since 1998, has not broken UK laws forbidding such sales. But critics say Egyptian use of British-made products to quash political dissent reveals "serious flaws" in the UK's controls on arms exports to the Middle East. Demonstrators in Egypt who found themselves caught in the stench of CS gas in the recent clashes on Mohamed Mahmoud Street on the south east side of Tahrir Square, said they experienced symptoms of burning, skin irritation, difficulty breathing, chest pain, and loss of feeling in their limbs. Many collected the discarded rounds after they had been fired during more than 120 hours of protests. Amongst those collected were the red-striped 38mm long range rounds produced by Chemring Defence, which the IoS has seen.
Serial numbers and lot numbers were seen on a number of canisters, which are being used to track their journey from the UK to Egypt. One had a manufacturing date on it of 1995. Ahmed, a 19-year-old law student, who did not want to give his surname, found his canister on Monday 21 November after he was gassed. He said: "They shot many canisters like this one at the same time... It causes so much tearing; it makes your chest hurt so badly. It burns when you're sweating and it causes you to shake."
A spokesman for Chemring Group PLC - the company which owns Chemring Defence - said it did not dispute that it produced the canisters were produced by the UK company. But he said his firm has not supplied CS gas to Egypt since 1998, when products were sent directly to the Egyptian army under licenses from the Ministry of Defence, with a shelf-life of between three and five years. Chemring Group's board of directors include former Tory minister, Lord Freeman, chairman of arms firm Thales UK plc. The firm accompanied David Cameron on his arms tour of Egypt earlier this year.
Chemring's spokesman was unable to confirm the exact year the rounds in question were exported or whether they were sold via another country. He said: "All exports of military and security equipment are subject to detailed licences from the UK government which include undertakings by the customer that equipment will only be used in conjunction with relevant international laws and treaties."
There is no arms embargo against Egypt, but no UK companies have been given permission to export gas to Egypt since 1999, according to the Department of Business, Innovation and Skills (BIS), who keep a record of approved export licenses. Any company applying for a license now has to obtain an "End User Undertaking" from their overseas customer and declare the final destination for their goods. The coalition government has, controversially, licensed the sale to Bahrain of crowd control weapons, including CS hand grenades and smoke canisters. It also sanctioned sales of crowd control ammunition to Libya; combat helicopters to Algeria and armoured personnel carriers to Saudi Arabia, last year.
Baroness Wilcox, under-secretary for BIS, said last week: "We make the questioning of anybody who is looking for an export license from us very robust, particularly if it is for export to difficult countries." She said it was "most frustrating that we cannot do more" in relation to countries re-exporting goods to other countries.
Ghada Shahbender, a member of the board of directors of the Egyptian Organisation of Human Rights, who found one of the British CS canisters after disturbances last June, said the weapons are "harming democratic reform" because they "end up in the hands of those who abuse them."Amnesty International UK's Arms Programme Director Oliver Sprague called for tear gas to be included in a new international arms trade treaty to be agreed at the UN next year: "The use of UK tear gas against civilians in Egypt in the latest brutal crackdown, provides yet more damning evidence of serious flaws that successive governments have allowed to go unchecked."
Join our commenting forum
Join thought-provoking conversations, follow other Independent readers and see their replies