Mystery over 'extraordinary' haul of Bronze Age weapons unearthed in London leaves experts baffled
Find known as the 'Havering Hoard' is third largest of its kind found in UK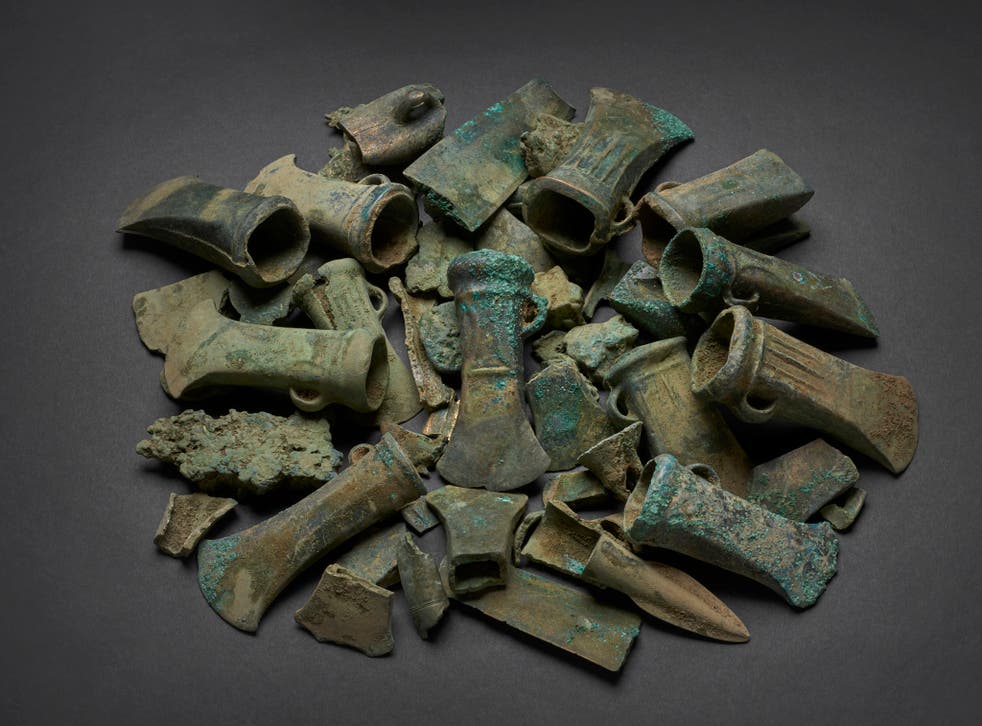 The mystery of why an "extraordinary" stash of Bronze Age weapons including swords, daggers and axes were all broken, has continued to baffle archaeologists.
Made up of more than 450 objects, dating from between 900 and 800 BC, the "Havering hoard" was unearthed in central London last September.
It was the largest of its kind ever found in the capital and the third largest in the UK.
Excavators struck the "hugely significant" metals during a planned archaeological investigation at the undisclosed location in Havering, east London.
Weapons and tools including axe heads, spearheads, fragments of swords, daggers and knives, were among the objects found, but almost all of them are partially broken or damaged, leaving historians confused as to why they ended up being carefully buried in groups at site.
UK news in pictures

Show all 50
Some experts think a specialist metal worker may have operated in the area and that the bronze may be from a vault, recycling bank or exchange.
Others think they could have been a religious offering or simply dumped when Bronze Age tools lost their value to iron.
These questions will be investigated in a major exhibition opening in April next year at the Museum of London Docklands, east London.
"We're thrilled to be able to display this momentous discovery for the first time," said the museum's historic environment Lead, Roy Stephenson, said.
He added: "It's incredibly rare to have uncovered a hoard of this size on one site. This discovery is of huge importance and raises questions as to why this treasure was buried in this way and why it was never recovered?"
The rare find followed a partnership between archaeologists at Historic England and Archaeological Solutions and developers from Ingrebourne Valley Ltd, which heads up major land reclamation in the south.
"The setting of many hoards is often unclear, but these were deliberately placed and aligned within a late Bronze Age enclosure so that we could excavate them in their entirety," said Archaeological Solutions' prehistoric specialist Andrew Peachey. "The location of the enclosure and hoards, overlooking the river Thames, made for a dramatic setting, especially as the sun rose and set, highlighting that in prehistory this would have been a special location."
Historic England chief Duncan Wilson added: "This extraordinary discovery adds immensely to our understanding of Bronze Age life. It also underlines the importance of planned assessment and, when appropriate, excavation in archaeological hotspots when new development comes along.
"The Havering Hoard: A Bronze Age Mystery exhibition will be available for the public top view for free from April 3 to 25 October next year."
Register for free to continue reading
Registration is a free and easy way to support our truly independent journalism
By registering, you will also enjoy limited access to Premium articles, exclusive newsletters, commenting, and virtual events with our leading journalists
Already have an account? sign in
Register for free to continue reading
Registration is a free and easy way to support our truly independent journalism
By registering, you will also enjoy limited access to Premium articles, exclusive newsletters, commenting, and virtual events with our leading journalists
Already have an account? sign in
Join our new commenting forum
Join thought-provoking conversations, follow other Independent readers and see their replies