Bucharest to London: On the bus with the Romanians taking the 52-hour ride in search of a new life in Britain
So who are the eastern Europeans supposedly 'flocking' to the UK in search of work? Emily Dugan found out as she joined a small group of Romanians making the long overland journey from Bucharest to London
Emily Dugan
Sunday 05 January 2014 20:52 Comments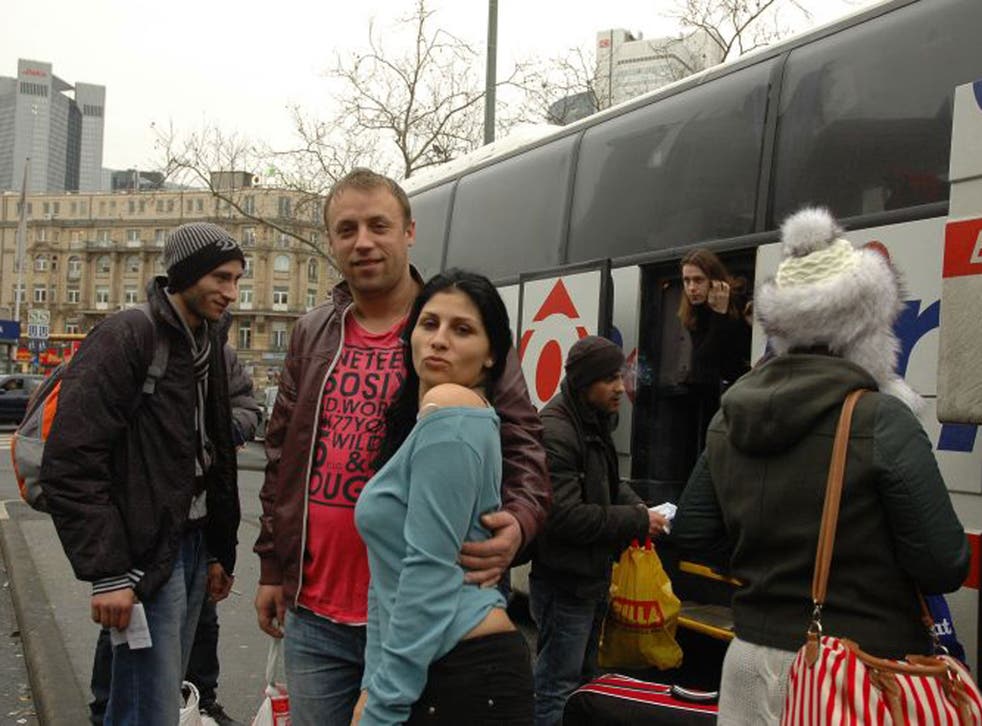 In Bucharest, a new life in Western Europe begins at 4am in a draughty waiting room opposite McDonalds.
As four coaches line up under floodlights, crowds of families gather to send off their relatives on a long journey across the continent.
The names of European cities are barked out and luggage-laden people shuffle forward, tickets in hand. The busiest bus is going to Hamburg, closely followed by others to Paris and Zurich.
The departure of the first coach of the new year from the Romanian capital to London – a 52-hour journey – was expected to be the moment that a flood of migrants to Britain began to materialise. But only one person getting on at the start of Eurolines route 441 is going all the way to London. Most are off to Germany, Belgium and Holland – where work restrictions for Romanians and Bulgarians have also been loosened, seven years after the countries joined the EU.
Mihai Sorin Zamfir, 29, drags his suitcase into the hold and climbs aboard. He had been working in construction in London for the last year illegally. For Mihai the biggest change in 2014 is not the first opportunity to work in Europe – but his first chance to be a bona fide employee and get the minimum wage.
"Because I don't have papers the bosses take advantage," he says. "That's why I want a National Insurance number so much. I want it to work, not to take benefits. We work more than 10 hours a day and my boss pays £60."
He understands the bad press some migrants have received. "Nobody wants them but I understand because there are a lot of Romanians and Bulgarians who do bad things. They are stealing and killing for drugs. Because of them, we who work get a bad reputation."
Mihai works in King's Cross and lives in Hendon, north London, in a flat with 10 other builders. He was home in Bucharest for Christmas to see his wife Roxana and their four-year-old son, Mario.
"I want to bring my wife and child to England. I miss them very much and it makes me cry because I love them so much, but the rent [for a family home in the UK] is a problem."
In Romania he worked as a driver and was in the army, but he says he did not make enough money to keep a family. The minimum salary in Romania is 850 lei a month, about £160.
In pictures: Bucharest to London

Show all 7
"People leave Romania for one reason only: money," he says. "It's the hope for a better life." He taught himself English by watching Cartoon Network and 1990s films such as Titanic. He has also worked in France and Italy but says he prefers London.
Mihai adds: "I have a friend who lived under the bridges in London. He tried to find work and was washing dishes but he had nowhere to live. He started working for some Albanian guys selling drugs. When you're that desperate for money it pushes you to do bad things. Now he's back in Romania and says it's too hard to make a living in the UK."
The 1,600-mile bus trip is favoured by many because it is costs under £100 and you can take more luggage than on a plane. The first five hours are spent navigating hairpin bends on single-lane roads covered in black ice. It is still dark but the mountains are lit by moonlight. Gazing out, Mihai says, "I'm going to miss this. It's so beautiful."
His eyes prick with tears after calling his wife and son. "My wife is crying," he says. "I didn't let her see me off because it's too hard. I'll try everything to bring her next time. In a situation like this you realise how much you love somebody."
Sitting at the back of the bus are Vali Draghici, 40, and Julian Oprea, 29, from Buzău. They are going to Frankfurt to work in steel-welding and construction. Vali tried to work there two years ago, but without papers he was exploited, he says. A Romanian agent promised him €1,500 a month but only paid €700 the first month and then nothing in the next.
Vali says: "We only stayed for two months last time because the pay was bad. But this time it's €8 an hour."
Over a lunch of gruel at a rest stop, Vali asks: "Why don't the English want us? There are other immigrants in the UK like Indians... so why don't you want Romanians and Bulgarians? We are better."
While he berates prejudice against his own people, his argument is undermined when he uses racist language against almost every other nationality.
At 2pm the bus reaches Deva, the shabbiest city so far: crumbling brutalist apartment blocks fed by huge rusty pipes, dirty roads, dilapidated houses. Later, as darkness falls, the coach arrives at the north-western Romanian city of Arad, the last place to collect passengers before the journey across Europe begins. Families seeing off relatives are caught in the headlights, their smiles turning to grimaces as the bus pulls away.
Most of the 50 passengers are returning to existing homes in western Europe, where some have been living for decades.
The loudest is a 32-year-old brunette who calls herself Pamela. Her real name is Alexandra Benitez-Pozo. She lived in Barcelona for 12 years and, since last summer, in Cologne, making money as a pole dancer and sex worker.
She is on her way back from a Christmas break with her family in Bucharest. Her boss gave her 10 days off, and to save money she has spent five of them on a bus. She leaves her four-year-old daughter, Esthella, with her sister in Romania.
"I've been a go-go dancer for 12 years and I can't lie, I do a bit of prostitution to make money. I can make €200 or €2,000 a night. I send home about €800 euros a month – that supports my mother, father, sister and two nephews."
She has family in Britain, but prefers to work in Germany where prostitution is more accepted. "I have two brothers, one in Manchester and one in London," she says. "The one in Manchester has babies and works as a cleaner. The one in London steals and takes drugs. He was there a year and nobody helped him, so he steals."
She interrupts the journey periodically to shout criticism at the driver, or exchange ribald jokes with a group of builders who have gathered to keep her company. "You can't afford me," she keeps reminding them.
Just before the Hungarian border, Pamela passes a large brown envelope around all the passengers, demanding three euros each to bribe the border officials. "Otherwise we'll wait hours while they search our bags." Everyone pays up.
As it turns out, it isn't the luggage that delays us. When border police get on the bus they stop at the seats of an unlikely couple.
Aziz, a man from Afghanistan in his thirties, travelled from Bucharest with a very young woman, Georgiana, and they argued for much of the journey. The ID Georgiana hands to officials is cracked in half along the photograph and stuck together with sellotape.
When they take her off the coach, Aziz stays inside, staring ahead impassively. It turns out she's 17 and travelling on her older sister's card. Laws to prevent trafficking mean it is illegal for her to travel without a parent or papers proving their consent.
The consensus on the bus is that she was being taken to Belgium to work as a prostitute, but Aziz says later that he met Georgiana in his cafe in Antwerp and that they were just on holiday visiting her family in Bucharest.
After three hours of deliberation, Georgiana's luggage is taken off the bus and Aziz leaves her with a few Euro notes. As it pulls away, Aziz stares resolutely ahead. She's left in the cold, sobbing.
Twenty minutes into Hungary, the sound of retching brings us to an abrupt halt. A Dutch tourist has guzzled half a litre of Pálenka, Romania's moonshine, and coated the back of the bus in vomit.
The driver is apoplectic. "Baggage! Passport!" he barks, before dragging the drunkard from his seat. The man, who can barely stand, shouts "fuck you", but stops fighting when he sees how angry the driver is. He is jettisoned at a dark petrol station in the middle of the freezing night.
Every passenger has a story of separation, a sacrifice made for a shot at prosperity. Roxana Cârceag, 28, who joined the bus in the mountain city of Sibiu, Transylvania, is leaving Romania for the first time. Roxy, as she likes to be called, has left her husband Laurentiu behind while she takes a job in London as a live-in au pair.
"We've been together five years and we've never been apart," she cries, tissues clasped in her lap. They married in 2012 and her phone is full of smiling pictures of them. "Look!" she says, comparing recent photos to one on their wedding day. "My cooking made him bigger."
Roxy is leaving behind a good job in a restaurant which paid 1,000 lei (£185) a month, not enough to start a family. "In Romania you have to work so hard for little money," she says. "I've prayed every day. I thank God I've been given a chance to change my future.
"I wish to make children but I don't have money to buy a house. Once I have money I can come back, buy a house, make children and be happy."
She got her new job as an au pair to five-year-old twins after she was recommended by a friend who had previously worked for the family. She's already spoken to them on Skype and is optimistic. "The twins are very sweet. On Skype the kids say 'Roxy, Roxy!' and kiss the computer. I can't wait to meet them."
All she knows is that the father will meet her at Victoria coach station. Her own family history is less rosy. Her mother died when she was 13 and her father turned to drink. He flew into drunken rages, she says, and would disappear for weeks, leaving her to bring up her four-year-old younger sister. At 15 he once beat her so hard that she was in a coma for a week, she says. "But he's ill now and dying so I have forgiven him."
Through Hungary and Austria, Romania's single-lane roads are replaced with fast motorways. The coach speeds through the night. Once the sun is up we are in Germany. In Frankfurt, a dozen people get off. As the bus nears Cologne, Pamela gets changed and puts on make-up, ready for a night with clients.
"Today I go back to work. Tonight I will finish at around 7am. Then it's Friday and Saturday and it's open all the time. What can I do? If I don't work I don't get paid."
In Cologne, five people change coach for the last leg to London. Four of them are Romanians: Roxy, Mihai, and two brothers in-law from Drobeta-Turnu Severin, Romeo Dinescu, 33 and Gelu Ipsas, 39, who have been working as builders in London since 2009. The fifth person is Mark de Groote, 24, a Dutch jewellery maker living in London, who is returning from holiday in Romania.
Roxy is told her four suitcases are too many, and that she will have to pay a €10 charge. Her face blanches. With only 70 cents to her name she starts to panic. But other passengers step in and soon the cases have been spread among the group.
After dropping off people in Brussels, the bus arrives at Calais at 2am. Wind and rain lash the windows. A neon sign flashes. "The port of Calais wishes you a Happy New Year 2014!"
The ferries are delayed because of the storms. Roxy is afraid of the sea and has never been on a ferry before. As the coach pulls onto the ramp she looks wide-eyed at the raging water below.
Inside the boat people stagger around, holding onto rails as it is buffeted across the Channel. Roxy offers to buy coffees, which at service stations in Romania cost one lei (18p). On her way back from the Costa bar with a latte and an espresso she looks shocked: "This is a day's work in Romania," she says, aghast.
At 4am the bus comes off the boat – and is hauled straight to an enormous warehouse for a full baggage search. Only then can the coach finally leave for London.
But minutes after passing the White Cliffs it turns back. The power steering is broken and everyone must wait for a replacement coach with space for just 30 of the 40 passengers.
When the new bus arrives a stampede of people rush through the heavy rain clutching their belongings. Inside, Roxy looks out at the streaming windows and laughs: "Welcome to England."
As London starts to go by, she smiles with recognition at the red buses and looks excited. As it turns into Victoria though, she holds her red pillow closer and looks frightened. "My heart is going like this," she says, tapping her chest fast.
Mihai stays to make sure she meets her new family safely. A man in a hoody walks past twice before deciding Roxy is the woman he is looking for. This smiley man is her new boss, Jas Paul Ahluwalia, a 45-year-old jewellery importer from Ealing, West London. He proudly shows phone videos of his five-year-old twins, Rohan and Karena. Back out in the rain, Mihai and Roxy follow him around the corner to a silver Lexus where her cases are piled into the boot.
The Daily Express predicted an influx of migrants by coach under the headline "Benefits Britain Here We Come" – but on this coach, Roxy is the only Romanian arriving in London for the first time. Once in the car, she waves goodbye and looks ahead, ready to start her new life. Working Britain, here she comes.
Register for free to continue reading
Registration is a free and easy way to support our truly independent journalism
By registering, you will also enjoy limited access to Premium articles, exclusive newsletters, commenting, and virtual events with our leading journalists
Already have an account? sign in
Join our new commenting forum
Join thought-provoking conversations, follow other Independent readers and see their replies