Buckingham Palace employs summer staff on 'zero-hours' contracts
Part-time staff are not guaranteed any hours but have to agree not to work for anyone else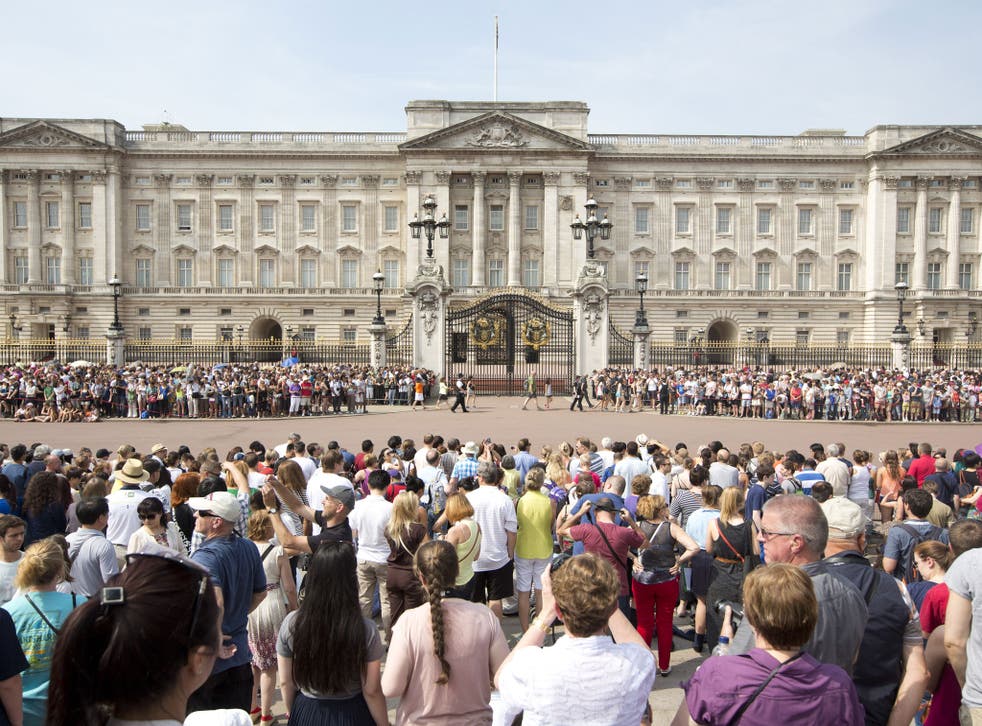 Buckingham Palace is reported to employ its 350 part-time summer staff on zero-hours contracts, in the wake of calls for an investigation into the use of the controversial employment terms by major retailers like Sports Direct.
The royal family's London residence, as well as the Tate galleries' catering service and leading cinema chain Cineworld, all retain employees on zero-hours contracts that expect staff to be available for work but give them no guaranteed hours.
The palace has just been opened up to the public for its summer visiting period, and attendants are employed to work in the shop, assist tourists and monitor rooms.
But a typical contract seen by the Guardian newspaper, which also reported Sports Direct's use of zero-hours staff, made staff agree that though their hours would be "advised by the visitor manager… as and when required", they wouldn't work for anyone else unless given written permission.
A spokeswoman for the palace confirmed that their contracts did not guarantee any work, but said that rotas were drawn up well in advance so staff could plan their hours.
She added that they shouldn't be called zero-hours contracts, because they offered certain benefits for days when a member of staff is scheduled to work, such as free lunch, uniforms, and holiday pay.
The palace told the Guardian: "All temporary staff employed during the summer opening of Buckingham Palace are issued with fixed-term employment contracts for a three-or four-month period.
Meanwhile, the newspaper reported that all of Cineworld's part-time staff - as much as 80 per cent of its 4,500-strong workforce – were employed on zero-hours contracts.
And Tate Enterprises Ltd, which runs the catering service for the Tate art galleries at venues across the UK, said that it used zero-hours contracts "to manage the changes in staffing levels that are inherent in retail and catering operations". A spokesperson said it does not prevent those employees working elsewhere.
Since 2004, the estimated number of people employed on these terms has gone up from 89,000 to 200,000, according to the Office of National Statistics
Business Secretary Vince Cable recently announced a review into the use of the controversial employment terms, which some MPs and union bosses have called to be outlawed for the damage they cause to families.
Mr Cable said: "There has been anecdotal evidence of abuse by certain employers – including in the public sector – of some vulnerable workers at the margins of the labour market.
"While it's important our workforce remains flexible, it is equally important that it is treated fairly. This is why I have asked my officials to undertake some work to better understand how this type of contract is working in practice today."
Not everyone agrees that zero-hours contracts are an entirely bad thing, however. Professor Len Shackleton, an economics fellow at the Institute of Economic Affairs think tank, wrote in a blog post that: "Zero-hours contracts are not ideal, and not for everyone."
But he added: "They are an important element in offering job opportunities to some groups who would not be able to work regular hours, they offer useful work experience to young people, and their growth has helped keep unemployment down in the UK at a time when most other European countries are seeing appalling levels of joblessness.
"The government would be unwise to give in to those calling for an outright ban," he said.
Video: Duchess of Cambridge tops Vanity Fair's Best Dressed
Join our new commenting forum
Join thought-provoking conversations, follow other Independent readers and see their replies