Bulldozers move in on Earls Court leaving legacy of weird and wonderful exhibitions
From Buffalo Bill to the first London Eye, Earls Court has had it all
Adam Sherwin
Friday 12 December 2014 16:52 Comments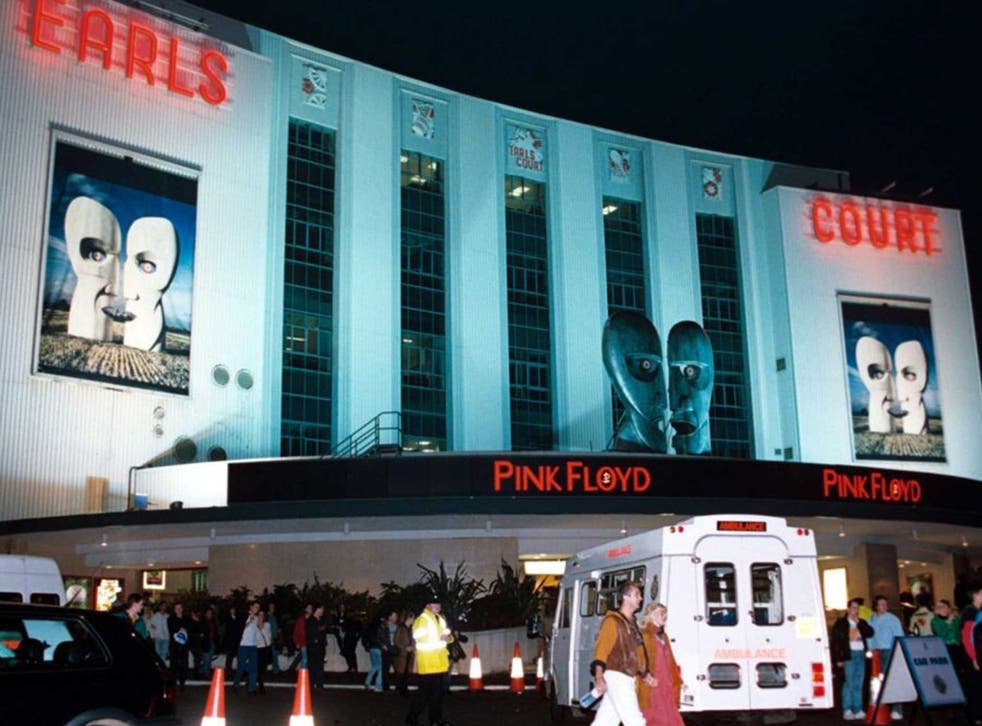 It has housed the world's largest water chute, welcomed the Empire of India Exhibition and hosted the most disastrous concert of David Bowie's career.
Now the bulldozers are set to move in on Earls Court as the famous exhibition centre is destroyed to make way for a controversial £8bn redevelopment which will replace the West London entertainment hub with luxury flats.
Tomorrow's concert by indie band Bombay Bicycle Club will be the last time that the cavernous 42,000 square metre main hall will host a packed audience of rock fans.
Under the scheme backed by Mayor Boris Johnson, which local residents fear will tear the heart out of a bustling community, Earls Court will be transformed into a 77-acre "super village", designed by architect Sir Terry Farrell, offering 7,500 new homes, offices and shops.
Penthouses with floor-to-ceiling glass and roof terraces are already being sold with prices beginning at £1.5m. A public library, a new high street and a park are also promised under the plans, which have roused a "Save Earls Court" petition.
None of the new amenities promised will replace the Art Deco centre which, economically and culturally, defines the area, the Save Earls Court campaign argues.
"At a stroke, we will lose a unique facility that has hosted concerts from the Stones, Bowie, Madonna and Michael Jackson via George Michael and Pink Floyd to opera on an epic-scale and popular consumer shows such as The Ideal Home Show, The Royal Tournament and the Olympics," the Earl's Court Area Action Group said.
Originally opened in 1887 and rebuilt in 1937, Earls Court welcomes 1.5m visitors each year, who contribute £258m to the economy of the Royal Borough of Kensington & Chelsea and the Borough of Hammersmith & Fulham.
Whilst purpose-built halls such as the O2 Arena and the ExCeL Exhibition Centre have lured the music fans and car and boat enthusiasts who would once gather at Earls Court, the venue has a history of hosting weird and wonderful events which may never be repeated.
Entrepreneur John Robinson Whitley first introduced an amusement park to the wasteland between two train stations, staging Buffalo Bill's Wild West Show and erecting a giant 300ft wheel in 1895, a precursor to the London Eye. The Great Wheel helped bring visitors to the accompanying Empire of India Exhibition.
The wheel was followed by the 70ft water chute constructed by Captain Paul Boyton, who flooded the arena in 1893. The ride was considered to be the biggest of its kind on either side of the Atlantic.
New owner J Calvin Brown's plan to stage a reconstruction of the Derby two minutes after the race's completion on a 100-yard mechanical horse track in 1911 sadly never came to fruition and had to be replaced by a herd of performing elephants.
With its Motor, Boat and Ideal Home exhibitions, Earls Court gave aspirant postwar consumers a design for future living.
The Daily Mail Boys' and Girls' exhibition, which opened in December 1962, feature a model of a Telstar satellite and aimed to satisfy its youthful audience's interest in sports, technology, cars, pop music and fashion. Celebrities made appearances to view the largest model railway in the world.
Advances in amplification made Earls Court a natural venue for the new breed of 70s arena rock stars. Led Zeppelin, Pink Floyd, Elton John and Queen played huge concerts but not every show went to plan.
David Bowie was forced to quit the stage during a 1973 Ziggy Stardust concert described as a "fiasco" by NME. Fans were trampled in a stampede to see the poorly-positioned stage and the sound was rotten throughout.
A Pink Floyd concert in 1994 almost ended in tragedy when a temporary stand seating 1,200 people collapsed, injuring 90 people. A furious David Gilmour, the Pink Floyd leader, said fans could have been killed. Floyd and Bowie declined to pay tribute to Earls Court, which continued to attract artists including Arctic Monkeys and Arcade Fire.
The 17,000 square metre Earls Court Two, constructed in 1991 at a cost of £100m due to a need to increase space, marked the venue's peak.
The Brit Awards, held there during the music industry's peak years from 2000 to 2010, and producing some of longest toilet cubicle queues ever, upped sticks to the O2 Arena, signifying a shift to East London's glitzy new venue.
A 1948 Olympic venue for boxing, gymnastics, weightlifting and wrestling, the successful return of the games in 2012 for volleyball provided an Indian summer for Earls Court which was in the process of being parcelled up to developers Capital and Counties.
The company's "masterplan" of "four urban villages and a high street" promises "1,500 affordable homes, improvements to streets and public realm and the creation of 27 acres of green space including garden squares and communal gardens", creating 10,000 new jobs.
The mooted new community facilities include a leisure centre. Whether it will ever be immortalised in song, like Half Man Half Biscuit's "Took problem Chimp to Ideal Home Show", or match Earls Court's storied history from Buffalo Bill to the Brits, is another matter.
Register for free to continue reading
Registration is a free and easy way to support our truly independent journalism
By registering, you will also enjoy limited access to Premium articles, exclusive newsletters, commenting, and virtual events with our leading journalists
Already have an account? sign in
Join our new commenting forum
Join thought-provoking conversations, follow other Independent readers and see their replies