Burglar jailed after getting stuck in bathroom window
Police joke that he was 'framed'
May Bulman
Friday 03 February 2017 20:21 Comments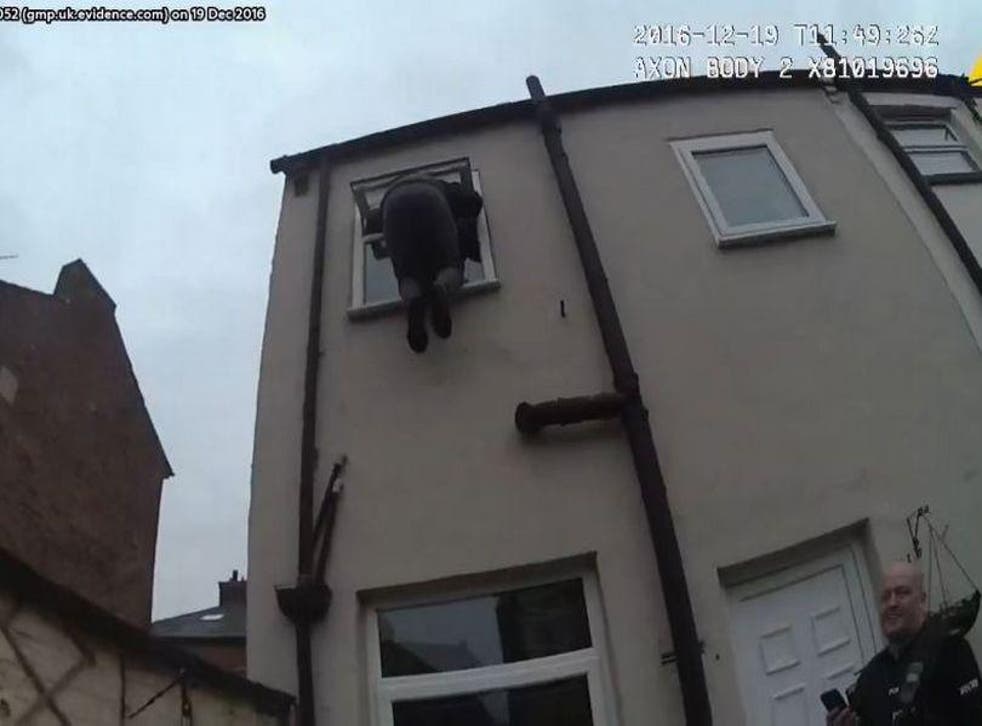 Police dubbed him the "bungling burglar" after he got stuck in the window of a house during his crime
Pictures taken by amused officers from Greater Manchester Police last December, show Sean Crawshaw with his head wedged in a small bathroom window of the property, around 15 feet above the ground.
The 47-year-old was found by the home's owner, a 60-year-old woman, when she returned to the property in Radcliffe.
The fire brigade had to be called out to free the failed thief — an operation that reportedly took around 20 minutes - injuring Mr Crawshaw's ear in the process.
Mr Crawshaw, who also comes from Radcliffe, was sentenced to two-and-a-half years in prison at a court hearing in January. Greater Manchester Police told The Independent he wasn't known to police previously.
The force posted a photograph of the incident on Twitter on Thursday, in which Mr Crawshaw can be dangling from the upstairs window, accompanied by the caption: "Burglar sentenced after he was 'framed'."
Norman Taylor, the community support officer who posted the image, told The Independent: "The homeowner came home — a woman in her sixties — and found this guy dangling 15 feet off the ground with his head stuck in the bathroom window, so she called the police.
"Officers arrived and the fire brigade had to come and get him out. It took 20 minutes, during which he injured his ear.
"It's the first time we've seen this happen. Burglars have got stuck in windows before, but they usually manage to free themselves. We call this guy the bungling burgar."
Mr Taylor added that the police force decided to share the photo in part "for a laugh", but also to serve as a warning to the public about burglars in the area.
"We get a bit of fun out of it, but it also serves as a warning. People think that if there are no ladders, burglars can't get up," Mr Taylor said.
"But burglaries are common in this area, and the reality is that they often go for the drain pipes — which is what this one appears to have done."
Register for free to continue reading
Registration is a free and easy way to support our truly independent journalism
By registering, you will also enjoy limited access to Premium articles, exclusive newsletters, commenting, and virtual events with our leading journalists
Already have an account? sign in
Join our new commenting forum
Join thought-provoking conversations, follow other Independent readers and see their replies