Calais crisis: First ever quantitative survey in the Jungle reveals thousands of refugees still trying to reach the UK
A survey by aid group Médecins Sans Frontières suggests that around 4,800 refugees want to reach England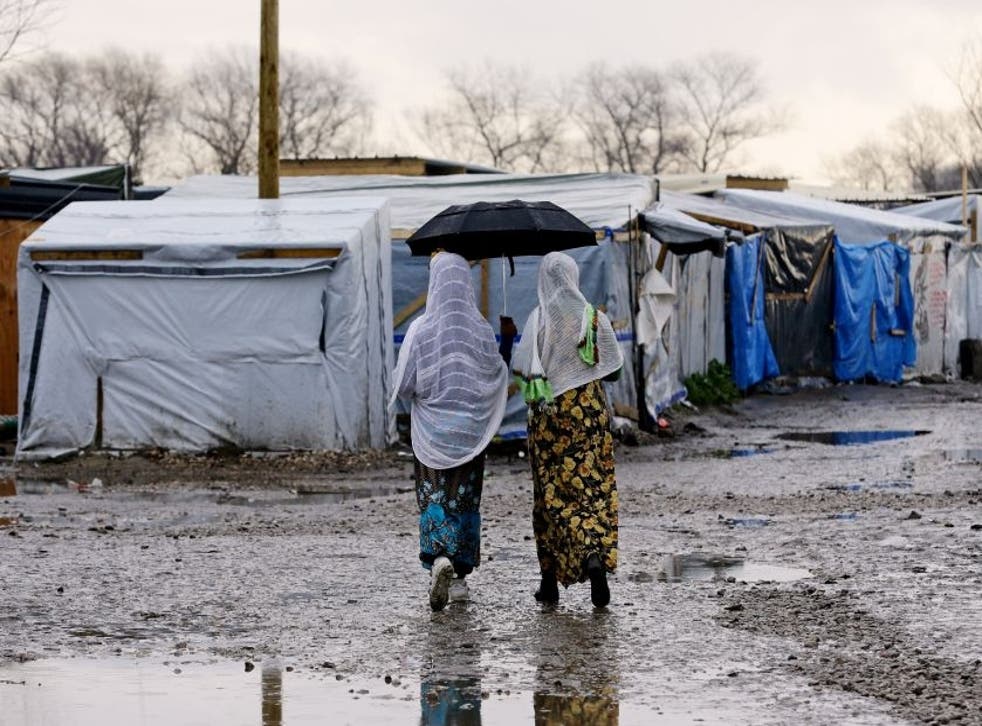 Thousands of refugees and migrants in Calais are continuing desperate efforts to reach the UK despite the risk of death in illegal crossings on lorries and trains.
In what they say is the first ever quantitative survey at a refugee camp in Europe, Médecins Sans Frontières (MSF) found that 82 per cent of Calais' 6,000 refugees were aiming to reach Britain.
Asylum seekers have been run over, hit by trains and drowned in desperate attempts to swim to England but those in "the Jungle" camp remain determined to make the journey.
Malika Bouhenia, a lead researcher on the project, told The Independent more than half of that number already had family members in the UK who they were hoping to join.
"Quite a lot of the refuges we interviewed said life was better there, from what they've heard from their cousins, uncles and families – they think it is easier to get work," she said.
"They all know someone who has been able to reach the UK so they still have hope. They know it's tough but it's possible."
Another MSF researcher, Jihane Ben Farhat, said the migrants he interviewed were "determined" to get to England.
"They said 'look how we are living here, we are like animals'.
"For them it's the last step of their journeys – it's nothing compared to what they have already been through."
Inside the camps in Calais

Show all 20
Humanitarian organisations have raised concerns about "diabolical" conditions in the Calais camp since the start of the refugee crisis, with raw sewage mixing with litter and thick mud in the rain.
Volunteers helped refugees build pathways and convert flimsy tents into shelters, only to see them destroyed in waves of demolitions started by French authorities earlier this year.
Local officials said the evictions, which saw fires break out across the camp as refugees clashed with riot police armed with batons and tear gas, were part of a bid to improve conditions.
But a new camp comprised of converted shipping containers complete with lights, heating and sanitation was met with suspicion by refugees unsettled by its high fences and fingerprint entry systems.
Ms Bouhenia said: "They don't want to be forced to apply for asylum in another country– a lot of them just left to go to other ports."
Demolition of France's 'Jungle camp' continues
MSF has been providing medical and psychological services in the Jungle since September last year and reports a "raging" scabies epidemic among current health problems.
Some asylum seekers are also suffering physical or emotional trauma from the violence in their home countries, as well as on their long journeys to Europe and in France itself.
More than two thirds of those surveyed had experienced a violent incident – almost a third were at the hands of people smugglers in Libya but a quarter were in Calais, where sexual abuse and exploitation has been reported alongside police brutality.
Far-right groups have held protests in and around the Jungle, while a group of suspected extremists were arrested for allegedly impersonating police to attack refugees and steal their money and mobile phones.
Around 61 per cent of asylum seekers were also found to have health problems, mostly developing since their arrival in the Jungle.
"These people are fleeing their countries because of violence and they get stuck in another country and experience violence there too," Ms Bouhenia said.
"When we asked them what they needed, like blankets or health care, they just said, 'open the border'."
Of the 6,000 migrants estimated to be living in the Jungle and Jules Ferry Centre, the largest group were found to be from Sudan, at around a third, followed by Afghanistan, Iraq, Iran, Syria, Eritrea and Pakistan.
Around 95 per cent of respondents were men and the mean age was 25, with half of those questioned having completed secondary or further education.
A fifth gave their occupation as "student", followed by traders, agricultural and construction workers, engineers or IT specialists, teachers and soldiers or police.
MSF researchers said one of the key myths busted by their research was that mostly economic migrants were living in the Jungle.
The majority of Syrians interviewed, for example, were from war-torn Daraa and Aleppo, while many Iraqis had fled the Isis stronghold of Mosul and 80 per cent of Sudanese were from Darfur.
The survey, which saw a sample of 425 asylum seekers questioned in December, also revealed the precise routes taken from conflict zones in the Middle East and Africa and the time taken for the treacherous journeys.
The average was 100 days but some refugees managed to reach Calais just 41 days after leaving home, compared to almost 500 days for others, mostly from sub-Saharan Africa.
Some are waiting for the results of applications for family reunification for refugees, while others are joining regular attempts to board ferries and lorries, or storm the Channel Tunnel under the cover of darkness.
A group of 28 suspected illegal immigrants were the latest to be discovered making the journey on Saturday after police discovered them hiding in a lorry in Portsmouth.
They were given medical treatment by ambulance crews before being taken into custody by the Border Force, while the driver was arrested.
The British Government has pledged to contribute £17 million over the coming year for joint work with France aiming to "ease migrant pressures in the Calais region" and strengthen border controls.
Funds are being used to boost policing of roads around the French port and build facilities to transfer refugees to other parts of France, as well as pay for deportations for failed asylum seekers.
"The situation in Northern France is a symptom of a wider international crisis, a crisis that shows no sign of easing in the short term," Theresa May said earlier this year.
"So it is important that we redouble our joint efforts to protect our border, move migrants in the region into more suitable facilities in France, and return those not in need of protection to their home countries."
Join our new commenting forum
Join thought-provoking conversations, follow other Independent readers and see their replies