Cambridge University student who burned £20 note in front of homeless man says he 'abused his privilege'
Footage of law student burning a note while dressed in a white bow-tie and tails went viral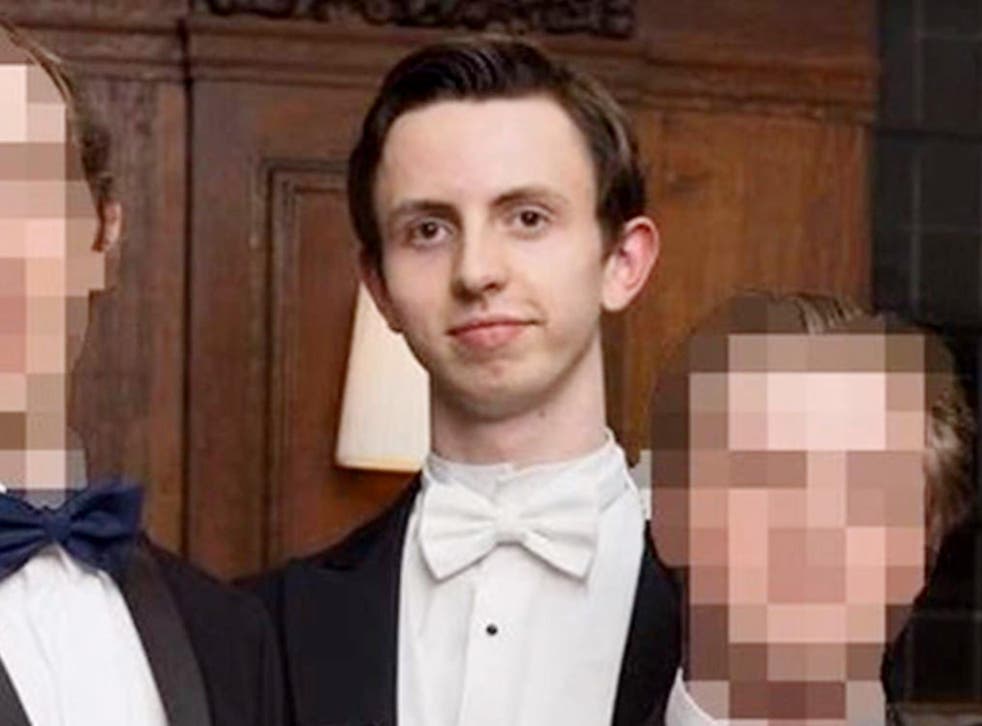 A Cambridge University student who was filmed burning a £20 note in front of a homeless man will return to university this autumn after penning a letter of apology.
Ronald Coyne, who has claimed he is related to Scottish First Minister Nicola Sturgeon, taunted a homeless person by setting fire to the note after he asked for change back in February.
At the time phone footage of the Pembroke College law student burning a note in front of unemployed crane operator Ryan Davies while dressed in a white bow-tie and tails went viral and led to him being kicked out of the university's Conservative Association.
The student, who is preparing to recommence his studies at the prestigious institution next month, has admitted he "abused his privilege" in the apology note. He said he had been on awareness courses about alcohol and social inclusion.
Mr Coyne said that due to the ongoing disciplinary process by the University he had been unable to respond publicly until now.
"I made a terrible mistake, and I quite rightly faced disciplinary action for it," he said in the letter.
He added: "I acknowledge that my behaviour put the entire university in a negative light, and for that I am sorry. For the effect that my behaviour had on you as a community, I am also sorry."
The incident triggered widespread indignation at the time and more than 23,000 people signed a petition for him to be expelled from the university.
The pupil said he had been subject to abuse in the midst of the media uproar, saying: "When the media commentary flared up, strangers sent piles of abusive mail to my family home threatening me with violence, and chemical attacks. I received some sympathetic letters and emails from people who thought that the online abuse went too far. To those people, I am still grateful."
UK news in pictures

Show all 51
But his apology has drawn criticism on social media and people have questioned why he did not directly apologise to the homeless man himself. Critics also took issue with the fact the letter failed to mention how his actions affected the homeless man.
Cambridge has distributed the letter in the hope it will generate support for him in advance of his return.
Just after the incident, Mr Davies told Cambridge News of how Mr Coyne mocked him after he asked bystanders if they could spare any change.
He said the teenager said: "How's that for change, I've changed it into flames."
Man refused service at Costa Coffee because he was buying food for homeless person
Mr Davies, who had been homeless for three months, said: "He says let's see what I've got and pulls out a £20 note and went to pass it to me.
"I couldn't believe my luck, know what I mean. But then he pulled it back and lit it, burnt it and he says 'How's that for change, I've changed it into flames'. It was absolutely disgusting. It was horrible. Just plain nasty."
At the time the Cambridge University Conservative Association (CUCA) committee told The Independent: "CUCA unequivocally condemns the actions of Ronald Coyne and revoked his membership once the committee was made aware of the incident."
Burning a £50 note is rumoured to be an initiation ceremony for the Bullingdon Club at Oxford University which was attended by ex-PM David Cameron, former Chancellor of the Exchequer George Osborne, and current Foreign Secretary Boris Johnson.
Join our new commenting forum
Join thought-provoking conversations, follow other Independent readers and see their replies