Campaigners warn new antisocial behaviour powers could be used to target the homeless
PSPOs can be used to ban anything deemed to be a persistent nuisance, including begging and rough sleeping
Jonathan Owen
Saturday 17 October 2015 23:25 Comments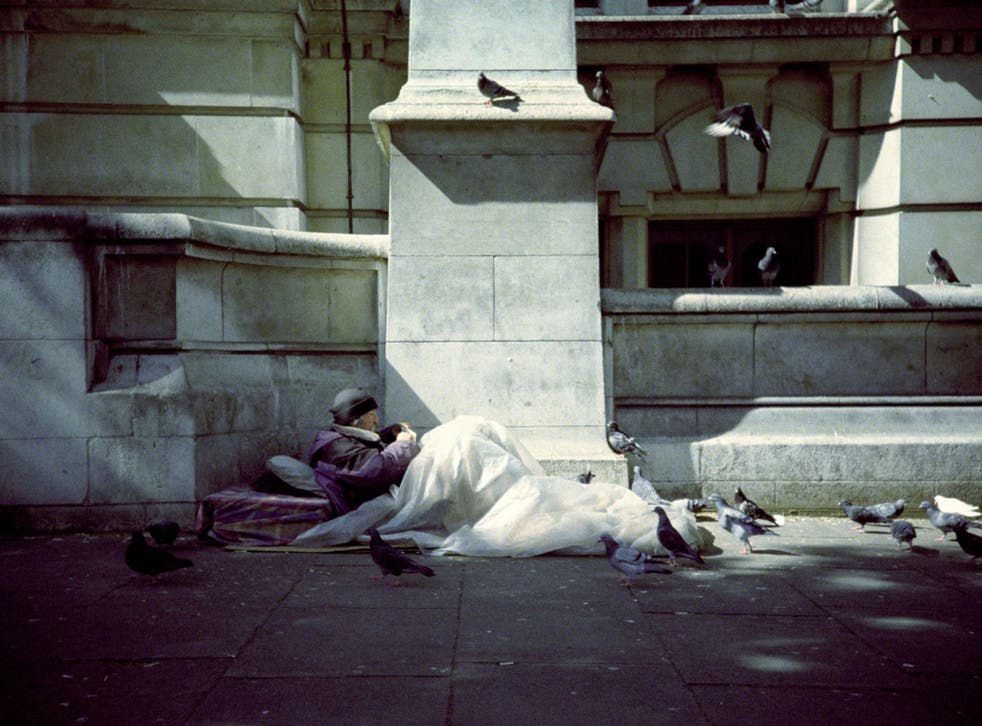 Some of the most vulnerable people in the country, such as beggars and those sleeping rough, are being criminalised by councils using new antisocial behaviour powers, civil liberties campaigners have warned.
In recent months, a swathe of local authorities have been pushing ahead with Public Spaces Protection Orders (PSPOs) – which can be used to ban anything deemed to be a persistent nuisance.
And a landmark decision by Oxford City Council last Thursday to approve a PSPO banning any form of begging "perceived to be intimidating or aggressive" could see a number of other councils following suit, say critics.
Those found begging on the streets of Oxford now face being punished under the new law, which will allow police and council officers to give on-the-spot fines of £100 or take people to court where they could be fined up to £1,000 for "begging near a cash machine" or in a manner "perceived to be intimidation or aggressive". Drinking in public and not having dogs under control are among the other things it covers, but controversial references to rough sleeping in an earlier draft have been scrapped.
"We intend to deal with most incidents by giving advice," said a spokesperson for Oxford council.
But Rosie Brighouse, a legal officer at the civil rights group Liberty, said: "We remain deeply concerned that the PSPO will criminalise the city's most vulnerable, and are considering whether it can be challenged in court. We're seeing a rash of ruthless plans around the country. Just last week Newport City Council has decided to plough ahead with an order that would penalise rough sleepers, and Cheshire West and Chester Council's consultation on similar proposals has come to a close. Authorities should be finding ways to help the most impoverished – not treating them as inconveniences to be swept off their streets."
Begging and rough sleeping are the result of poverty, according to Ms Brighouse. "Rather than alleviate such hardship, these blunt instruments simply serve to fast-track so-called offenders into the criminal justice system. Liberty will look to challenge such measures in the courts," she said.
The new antisocial behaviour powers, often used to target street drinking, came into effect in October 2014. The past year has seen growing controversy over their use. In June, Hackney Borough Council in London dropped plans to bring in a PSPO that would have banned begging and rough sleeping after widespread opposition to the move. Singer Ellie Goulding, one of those against the plans, commented at the time: "Some councils in England have decided to treat homeless people as though they are criminals and are going to start fining them."
But many councils are pushing ahead with similar proposals. Last Thursday, Newport City Council's scrutiny committee recommended a PSPO banning begging and rough sleeping in the city centre.
Responding to the news, Antonia Watson, chief executive of the Welsh homelessness charity The Wallich, said: "Criminalising rough sleepers is extremely counterproductive, leading to vulnerable people being driven underground rather than remaining visible where support can be offered."
As well as Cheshire West and Chester Council, local authorities in other parts of the country, such as and Exeter City Council, are also considering using the new powers to crack down on the homeless.
Tomorrow, Gravesham Borough Council in Kent will launch a consultation into a proposed PSPO banning rough sleepers from the town centre. And on Tuesday, Chelmsford City Council in Essex will discuss plans for a PSPO that would fine people who sleep on the streets.
Josie Appleton, director of the Manifesto Club civil liberties group, commented: "These powers are astonishingly broad and some councils are using them to crack down on anything or anyone who others may see as 'messy'. There is a creeping criminalisation of the homeless [by] councils across the country."
And Rick Henderson, chief executive of Homeless Link, commented: "Public spaces belong to the whole community, so it's important that people feel safe and able to use them without fear of intimidation. However, it is vital that those members of the community who are vulnerable or find themselves without a home are not targeted inappropriately, or left without support."
In a statement, a Local Government Association spokesman defended the use of the new powers by councils: "PSPOs can be used to address antisocial activities in public spaces that are having a detrimental effect on the quality of life of local people. Offences such as aggressive begging, public drinking or the sale of legal highs are far from trivial.
"For [those] affected, they are serious issues and councils are keen to protect them from offenders who make [their] lives a misery."
Register for free to continue reading
Registration is a free and easy way to support our truly independent journalism
By registering, you will also enjoy limited access to Premium articles, exclusive newsletters, commenting, and virtual events with our leading journalists
Already have an account? sign in
Join our new commenting forum
Join thought-provoking conversations, follow other Independent readers and see their replies