12-year-old Billy Caldwell to be treated with medicinal cannabis at home after emergency licence issued
'He needs his toys, his garden, the things he's used to,' says mother Charlotte. 'I need to see him happy and well.'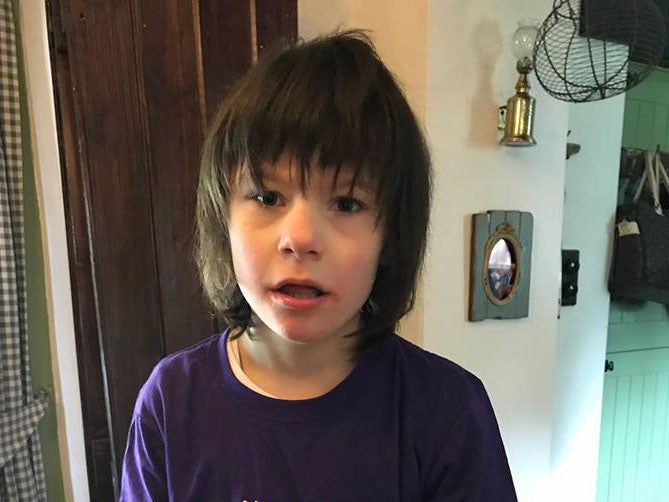 A 12-year-old boy who suffers with a rare form of epilepsy has been granted an emergency licence allowing him to be treated with medical marijuana by Northern Ireland's Department of Health.
Billy Caldwell had earlier been granted a short-term licence by the Home Office to allow him access to cannabis oil which his his mother Charlotte says the medication helps to control his seizures.
The Caldwell family have been in London where he has been receiving treatment.
They had said they were uncertain whether Billy would be able to continue receiving the medication when they returned home to Castlederg, in County Tyrone.
But Northern Ireland's Department of Health later announced it had issued an emergency licence to allow Billy access to his medication.
A spokeswoman said it replicated "the licence issued last month by the Home Office for treatment at Chelsea and Westminster Hospital in London."
She added: "We have also been in discussions with the Home Office to finalise arrangements for the immediate transportation of Billy's medicine from London to the Belfast Trust."
The Belfast Health Trust also confirmed it had been granted an emergency licence to prescribe and administer Billy's medication.
A spokesman said arrangements were in place to administer it that evening and thereafter.
"The trust has been in contact with Charlotte Caldwell and has discussed these arrangements with her," the spokesman added.
Uncertainty over the medication in Northern Ireland earlier this week had placed a question mark over his return.
The family had earlier claimed the Home Office decision needed to be ratified by the Department of Health in Northern Ireland before they could book flights home.
They said they had booked flights but remained concerned over when Billy's next dose would be released.
Speaking earlier this week, Ms Caldwell said her son was longing to return home.
"Billy has been amazingly resilient throughout. He's autistic, and everything that has been going on - no regularity, no familiar surroundings - are beginning to take their toll on him," she said. "He needs his toys, his garden, the things he's used to. I need to see him happy and well."
West Tyrone MP Orfhlaith Begley has welcomed the Department of Health's decision.
She said: "I have been in regular contact with Billy's mother Charlotte and the health authorities on both sides of the Irish sea urging them to end the delay in transferring Billy's medicinal cannabis licence to the North. We are still seeking clarity on where Billy will receive his treatment within the North.
"I, therefore, welcome the announcement that this licence will be administered in the North so that Billy can come home and continue his recovery. I will be there to meet Charlotte and Billy today at City airport to welcome them home."
Join our commenting forum
Join thought-provoking conversations, follow other Independent readers and see their replies