Cardiff company NAT Group shamed for sexist ad on back of bus showing topless woman holding 'Ride me all day for £3' sign
The company has been slammed online within hours of showcasing its new ad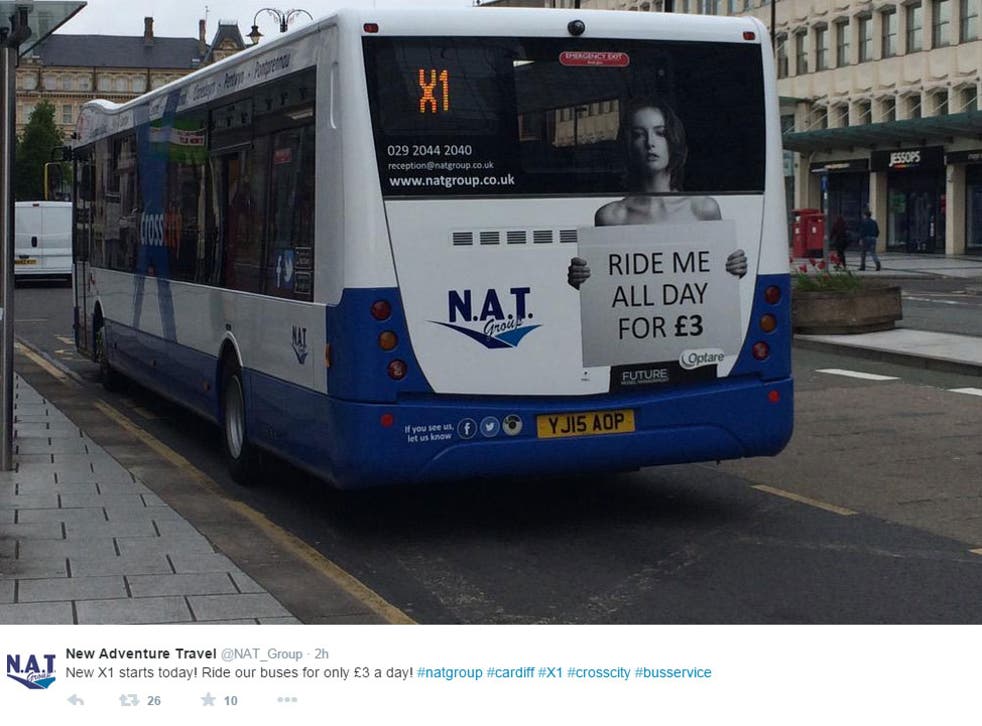 A bus company has been slammed for a new advert printed on the back of its vehicles to promote its new ticket system, which shows a topless woman holding a sign stating: "Ride me all day for £3".
The New Adventure Travel Group tweeted a picture of the ad on the back of one of its busses with the message: "New X1 starts today! Ride our busses for only £3 a day! #natgroup #cardiff #X1 #crosscity #busservice". This tweet has since been deleted.
People instantly slammed the image online as "appalling," "sexist," and "absolutely unacceptable" and have called for it to be removed.
Many replied directly to NAT Group's promotional tweet. We are Cardiff said: "It represents the commodification of a woman's body and trivialisation of prostitution, and has no place in 2015."
NAT Group has since released a statement saying its objectives had been "to make catching the bus attractive to the younger generation" and that while it's slogan was "a little tongue in cheek," it had no intention of offence and apologised for the messaging.
Michelle Davis tweeted: "How am I supposed to explain this ad to my primary school kids?" while user Guy O'Donnell asked: "Surely you don't think that's OK?"
Xavier tweeted to the company: "@NAT_Group bus in Cardiff is vile. Women face enough harassment on busses without use of sexually explicit language".
The company is understood to have created an advert using an image of a topless man holding the same sign, but people have called for both adverts to be removed completely.
Cardiff MP Stephen Doughty said he has spoken to the MD at NAT Group to express his disgust at the adverts, and was told they were a "misjudgement" that will be removed.
NAT Group's statement reads: "In view of the reaction to our bus advertising today we wish to set out our position:
"Firstly we have stated that our objectives have been to make catching the bus attractive to the younger generation. We therefore developed an internal advertising campaign featuring males and females to hold boards to promote the cost of our daily tickets.
"The slogan of 'ride me all day for £3' whilst being a little tongue in cheek was in no way intended to cause offence to either men or women and, if the advert has done so then we apologise unreservedly. There has certainly been no intention to objectify either men or women.
Ten of the most controversial adverts of all time

Show all 10
"Given the volume of negativity received we have decided to remove the pictures from the back of the buses within the next twenty four hours."
NAT Group has yet to reply to a request for comment.
Register for free to continue reading
Registration is a free and easy way to support our truly independent journalism
By registering, you will also enjoy limited access to Premium articles, exclusive newsletters, commenting, and virtual events with our leading journalists
Already have an account? sign in
Register for free to continue reading
Registration is a free and easy way to support our truly independent journalism
By registering, you will also enjoy limited access to Premium articles, exclusive newsletters, commenting, and virtual events with our leading journalists
Already have an account? sign in
Join our new commenting forum
Join thought-provoking conversations, follow other Independent readers and see their replies