Tens of thousands of care home residents wrongly charged up to £100 a week in 'stealth tax' to plug funding gaps
More than 48,000 pensioners entitled to free care are being 'unfairly exploited' as they are charged fees to subsidise gaps in care home funding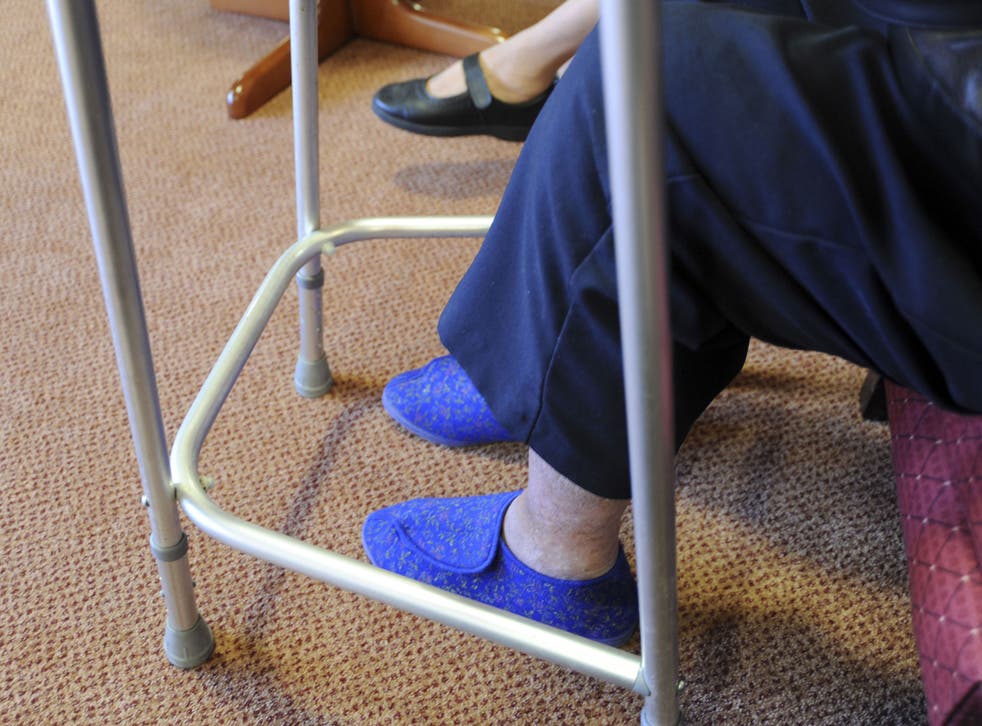 Thousands of care home residents are being wrongly charged fees of up to £100 a week, in what has been branded a "stealth tax" on elderly people and their families.
One in four pensioners who are entitled to free care – 48,400 people – are being told to contribute towards their care costs to subsidise gaps in care home funding from councils, according to a report by charity Age UK.
The findings suggest families of older people who are eligible for free care – which applies to those with assets of less than £23,250 – are being charged thousands of pounds a year in "top-up" fees – designed only for those who choose a more expensive care home than their council would pay for.
It states that top-ups are at risk of being "unfairly exploited", with pensioners' families being the biggest losers due to an "underfunded" care system in which cash-strapped councils in England and Wales are struggling to fulfil their legal duties and provide decent care for older people on council rates.
The law requires that local authorities must ensure that at least one accommodation option is "available and affordable" within a person's personal budget. Top-up fees are intended to give older people the choice of a higher standard of care home, provided that they or a third party – usually a friend or relative – are able to pay the difference.
But Age UK said it has dealt with hundreds of cases in the past year where an inadequate choice of care homes at the council rate meant families felt they had "no real option" but to pay top-up fees – ranging from £25 to more than £100 a week – in order to secure a care home place for their loved one.
In one case seen by the charity, the son of an elderly woman arranged a £18-a-week top-up with the council when she moved into a new home, but the new care home then asked him for a separate £300 a week top-up and told him not to tell the council.
The man did tell the council and they contacted the care home staff, who claimed the man had "misunderstood".
In another case, the daughter of an elderly woman said her mother had moved into a care home in 2015, where she was funded by her council and was not required to pay a top-up.
But four weeks later, the woman was told her mother could only remain if a top-up of £120 a month was paid – a figure that has since increased to £160 a month. The council said if she couldn't pay the top-up she must look for a home that doesn't require one.
The largest volume of inquiries about top-ups that Age UK received over the past year involved situations where the choice of care home placement at the rate offered by a council was so "grossly poor" that families felt they had no option but to pay a top-up to secure better accommodation for their elderly relative.
In some circumstances it may be possible for a family to persuade a council to change its mind about what is acceptable accommodation, but in order to do this a family needs to understand the older person's rights – often requiring specialist advice. Age UK urged families to understand their legal rights if they are asked for a top-up.
Caroline Abrahams, the charity's director, said: "Families are finding themselves in horrible situations, such as knowing that unless they pay up their older relative will have to live in a care home that is so far away they will be cut off from everyone they know.
"In some cases families are being asked to pay a lot more than they can afford and in others we have heard of families under pressure not to dispute an unfair request for a 'top-up', when their loved one is in hospital and ready to leave, because otherwise it would take even longer for them to be discharged."
She added: "In today's cash-strapped care system we fear that 'third-party top-ups' are increasingly a form of 'stealth tax' on families, unfairly exploiting their desire to do right by their loved ones if they need to move into a care home.
UK news in pictures

Show all 50
"This is hugely unfair and it's yet another reason why the Government must live up to its commitment to consult on new proposals on social care later this year."
A Department of Health spokesperson said: "This Government is committed to ensuring those in old age receive affordable and dignified care, which is why we backed the sector with an extra £2bn of dedicated funding over the next three years, and committed to consult on new proposals on social care.
"While some people choose to 'top-up' their care in order to have a more expensive service, legally the local authority must ensure that people have a genuine choice of accommodation by making at least one option available and affordable within the person's budget."
Register for free to continue reading
Registration is a free and easy way to support our truly independent journalism
By registering, you will also enjoy limited access to Premium articles, exclusive newsletters, commenting, and virtual events with our leading journalists
Already have an account? sign in
Register for free to continue reading
Registration is a free and easy way to support our truly independent journalism
By registering, you will also enjoy limited access to Premium articles, exclusive newsletters, commenting, and virtual events with our leading journalists
Already have an account? sign in
Join our new commenting forum
Join thought-provoking conversations, follow other Independent readers and see their replies