Abuse taking place in 99% of care homes amid 'chronic' underfunding, survey shows
Research identifies correlation between abusive behaviour and high rates of staff burnout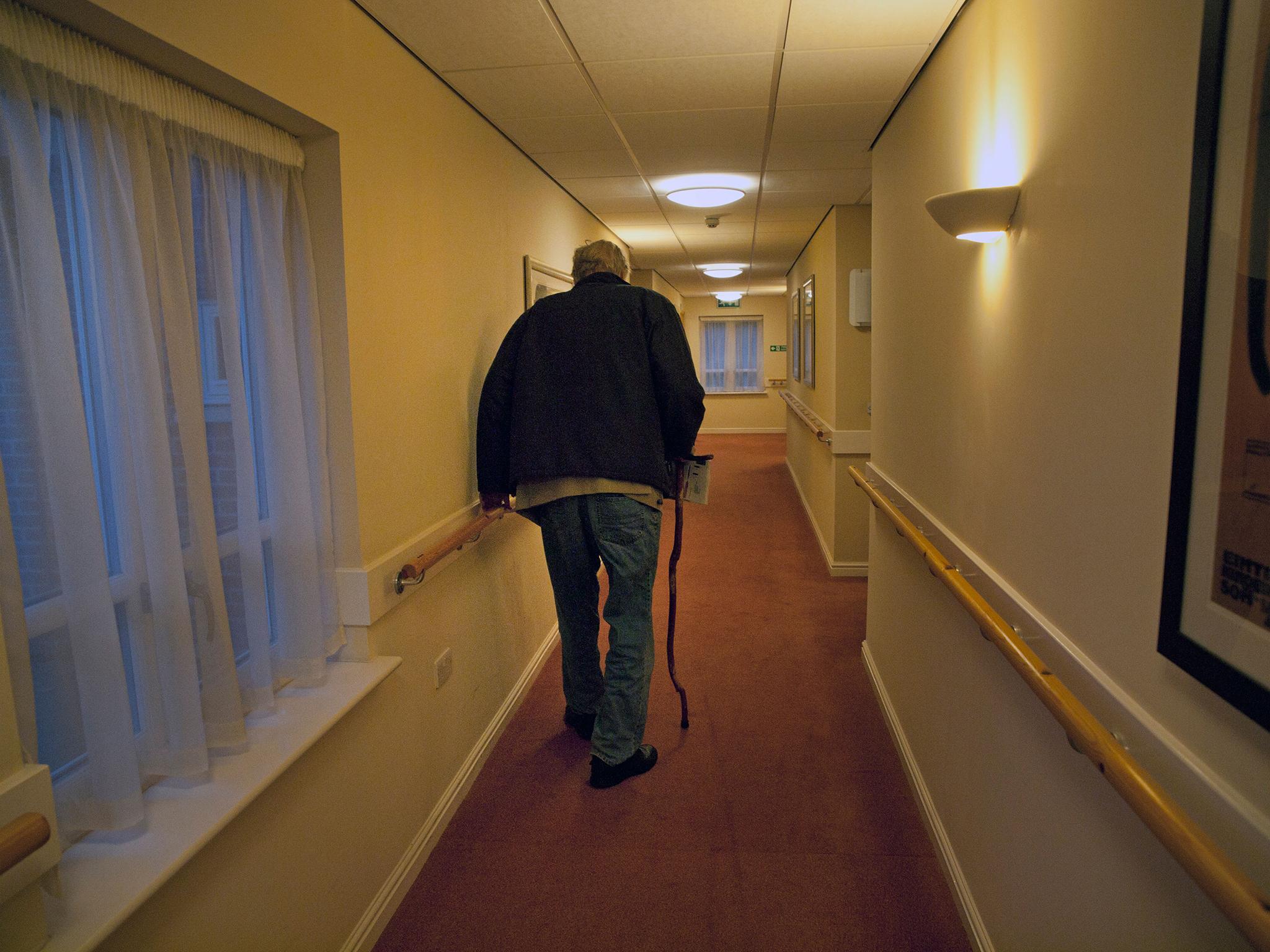 Abuse is taking place in 99 per cent of care homes across England, new research shows, prompting concerns elderly people are bearing the brunt of a "chronic" underfunding in the social care system.
A survey of 1,544 care staff shows that abuse was identified in 91 out of 92 care homes, most commonly relating to forms of neglect, such as older people left waiting for care and given insufficient time to eat.
The findings, conducted by researchers at University College London (UCL) and the Camden and Islington NHS Foundation Trust, showed a correlation between high levels of abusive behaviour and care homes that also had high rates of staff burnout.
The most common abusive behaviours were making a resident wait for care and avoiding a resident with challenging behaviour – both of which were reported by a quarter of staff surveyed.
A significant number of respondents also said they had witnessed staff giving residents insufficient time for food (19 per cent) and taking insufficient care when moving residents (11 per cent). Verbal abuse was reported by 5 per cent of respondents, and physical abuse by 1.1 per cent.
Dr Penny Rapaport, one of the co-authors from UCL, said: "Most care homes, and their staff, strive to provide person-centred care, meaning that care is designed around a person's needs, which requires getting to know the resident and their desires and values.
"But due to resources and organisational realities, care can often become more task-focused, despite intentions and aspirations to deliver person-centred care. Carers can't just be told that care should be person-centred – they need to be given the support and training that will enable them to deliver it."
Dr Claudia Cooper, from UCL's psychiatry department and the study's lead author, meanwhile said the fact that abuse was most common in care homes that also had high rates of staff burnout suggested it was a consequence of staff being "under pressure and unable to provide the level of care they would like to offer".
The findings come as new analysis by charity Age UK shows that almost one and half million over 65s – amounting to 1.465m elderly people – feel that what happens in their life is determined by factors beyond their control, and that almost a million (936,642) say that their life rarely or never has any meaning.
These feelings emerged as being more prevalent among the oldest age groups, with nearly one in five over-85s thinking their life rarely or never has meaning, compared to one in 10 people aged 55-65.
Commenting the findings about neglect in care homes, Caroline Abrahams, charity director at Age UK, said it was "deeply distressing" to hear of older people who have been "badly let down by a system that has failed to treat them with dignity and respect or protect them from abuse and neglect".
She continued: "Care that is less than that we would want a loved one to receive is not good enough and all training, commissioning and day to day decisions must reflect that. Better training is an important part of the solution to tackling the roots of poor care where it exists.
"But we also need to make sure that staff with the right values are recruited into caring roles and that they remain supported by a system that values and rewards the important work that they do. We need to stop failing our most vulnerable."
The research comes two days after Health and Social Care Secretary Jeremy Hunt admitted social care workers were being faced with "unprecedented pressures" and "fragmented services".
Setting out plans for reform, Mr Hunt said he would place a "relentless and unswerving focus" on providing the highest standards of care, pledging better practical support for families and carers, control for those receiving support and ensuring greater security for all.
But campaigners said his "warm words" needed to be backed up with "far more detail and action".
Dr Doug Brown, Chief Policy and Research Officer at Alzheimer's Society, said in response to UCL's findings: "Seventy per cent of people living in care homes have dementia, and it's clear from these findings that they're bearing the brunt of a chronically underfunded social care system.
"It's upsetting but unsurprising that abusive behaviours were more common in homes with higher staff burnout. We've heard through our helpline of people with dementia not being fed, or not getting the drugs they need, because a carer isn't properly trained, or a care home is too short-staffed.
"By 2021, a million people in the UK will have dementia. The government must act now, with meaningful investment and reform, or we risk the system collapsing completely and people with dementia continuing to suffer needlessly."
The Local Government Association (LGA), which represented local councils, said any form of abuse was "unacceptable" and that they would encourage people to flag any neglect or abuse in order to make sure that vulnerable adults in their communities are protected.
"Councils take allegations of abuse and neglect extremely seriously and work with local health, care and police partners both to prevent abuse and to ensure the wellbeing of anyone who has been affected. Councils have responsibility for the delivery of the requirements of the Care Act which require safeguarding measures are taken," they said.
"To ensure councils can continue their safeguarding work to the highest standard and so that those caring for people have the time and money needed to provide effective and safe support, social care needs to financially sustainable, which requires government to fully plug the funding gap facing adult social care which is set to exceed £2 billion by 2020."
The Department of Health has been approached for comment.
Join our commenting forum
Join thought-provoking conversations, follow other Independent readers and see their replies