Cat 'stranded' on bridge for six days walks home after £5k rescue fails
'She is a bit skinny and smelly, very vocal and has now headed upstairs and put herself to bed,' owner says after creature wanders in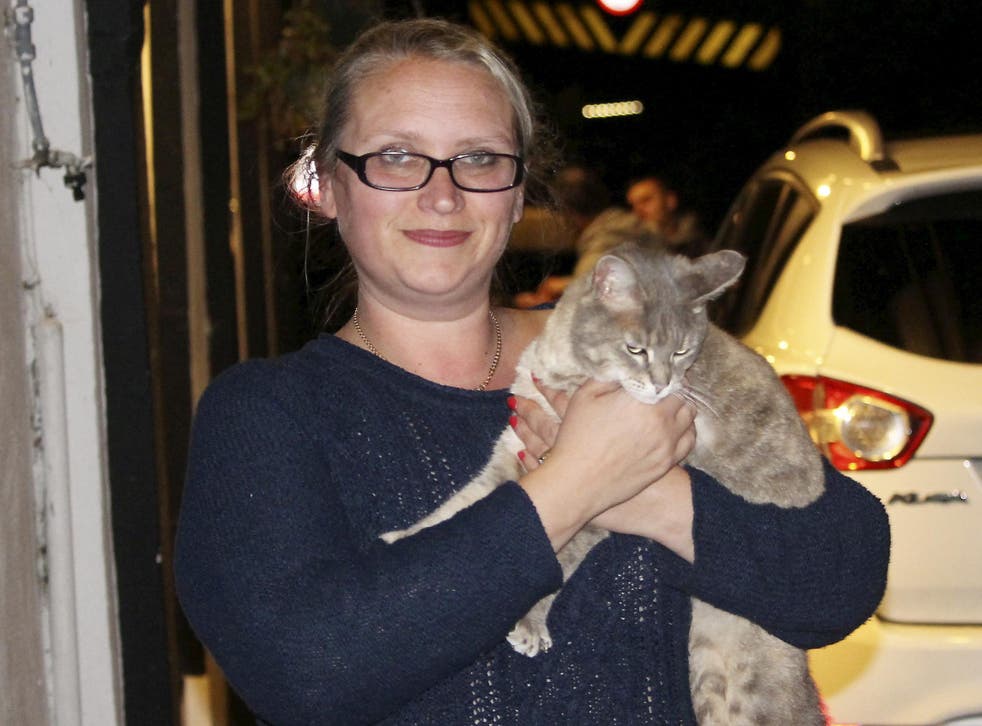 A cat which was stuck on a bridge for six days wandered home hours after a £5,000 rescue mission was abandoned.
Hatty, a five-year-old Maine Coon-Serengeti cross, had been perched on a ledge of the Royal Albert Bridge, which connects Plymouth, in Devon, and Saltash, in Cornwall for almost a week.
Fire crews and the RSPCA rushed out to rescue her and Network Rail were even making arrangements to close the rail line over the bridge, known locally as the Brunel Bridge.
One rescuer scaled to the top and attempted to coax the feline out with cat treats. Onlookers tried to send food up with catapults.
But Hatty would not be budged and was last seen peering out from behind a crevice under the famous bridge.
Fire crews eventually called off the rescue - which costs the taxpayer about £500 an hour – at 5pm on Wednesday.
However, they vowed to return the next day.
Just a few hours after everyone left, Hatty clambered down and suddenly appeared at home – with evidence she had eaten a seagull to stave off the hunger.
Owner Kirsty Howden of Saltash, said she was "shocked and elated" that her beloved pet, who went missing from her home on 11 May, had returned.
"I was sitting responding to comments, heard a meow outside, had a look through the window and there she was," the 39-year-old mother of three said. "She is a bit skinny and smelly, very vocal and has now headed upstairs and put herself to bed."
It is thought that, at a cost of about £500 an hour, the total bill for the rescue efforts was about £5,000.
But it appears as though the cat, whose owner says walked in like nothing had happened, didn't need rescuing after all.
Hatty first hit headlines when a picture taken by Dawn Lapthorn, admin of Facebook page Plymouth UK Pets Lost and Found, emerged of her on the bridge.
Support free-thinking journalism and attend Independent events
Ms Howden thanked everyone who helped in the attempt to rescue Hatty, as well as those who offered support.
She said: "I'd like to thank Dawn for going above and beyond, Jim from the RSPCA for all his help, Saltash fire crew for all their efforts. I'd also like to thank the people who have followed Hatty's story and the community in Saltash for rallying around, especially the ones who tried so hard to help get Hatty home."
SWNS contributed to this report.
Join our new commenting forum
Join thought-provoking conversations, follow other Independent readers and see their replies