CCTV footage shows terrifying moment child in buggy is blown onto Tube tracks by gust of wind
The child's mother jumped down onto the tracks to rescue her child just seconds before the arrival of a train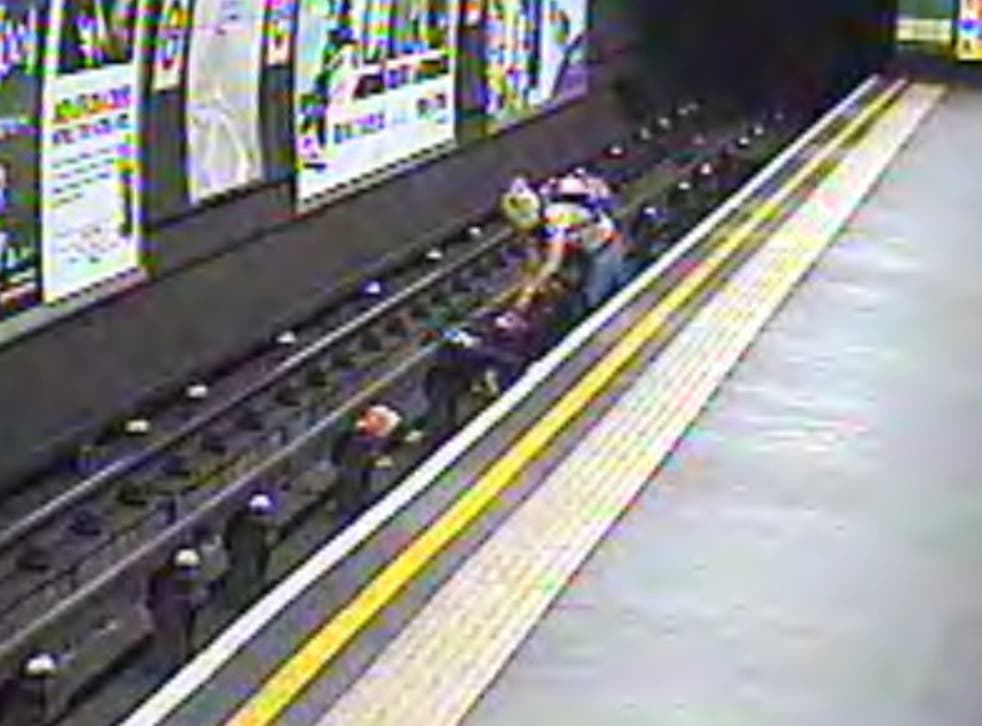 Police have released CCTV footage showing the moment a child in a buggy on a London Underground platform was blown onto the track by a gust of wind.
Described by officers as a "frightening" and "near-fatal" incident, the child had been left at the bottom of some stairs while a man presumed to be its father went to help other family members.
The buggy can then be seen to be caught up in a gust of wind coming through the tunnel – forcing it away from the stairs and onto the track moments after the departure of a train.
The child's mother then runs across the platform and jumps down onto the tracks. Police said she was able to haul the baby and buggy to safety just seconds before a second train pulled up to the platform.
British Transport Police said it was releasing the CCTV footage to raise awareness of the dangers faced by those involved, and because of "fears for the child's wellbeing".
The incident occurred shortly before 7.30pm on Wednesday, 23 July at Goodge Street Station.
CCTV images show terrifying near miss

Show all 9
Chief Inspector Mark Lawrie said: "This was a frightening incident, not just for the scale of the danger the child was exposed to, but also because the woman then put her own life on the line by going onto the tracks.
"We urgently need to identify the people involved to ensure the child wasn't injured as a result of the fall onto the tracks.
"I have taken the step of releasing CCTV of the people involved to highlight the very real concern we have for all involved."
Chief Insp Lawrie said the incident showed how "when used incorrectly [the rail network is] a hazardous environment, and the proper care should always be taken".
Phil Hufton, the chief operating officer for London Underground, said: "London Underground has an excellent and continually improving safety record and such incidents on the Tube are very rare.
"The safety of our customers is our number one priority and like on all railways we advise customers to take care when travelling on the network. I urge anyone who knows the family involved to contact British Transport Police."
Police said they wanted to contact the people involved in the incident to check they were not injured, and urged anyone who recognised them or has any information to get in touch or contact Crimestoppers anonymously.
Register for free to continue reading
Registration is a free and easy way to support our truly independent journalism
By registering, you will also enjoy limited access to Premium articles, exclusive newsletters, commenting, and virtual events with our leading journalists
Already have an account? sign in
Register for free to continue reading
Registration is a free and easy way to support our truly independent journalism
By registering, you will also enjoy limited access to Premium articles, exclusive newsletters, commenting, and virtual events with our leading journalists
Already have an account? sign in