Man who misses Ceefax spends years creating his own version
Peter Kwan developed 'Teefax' after original teletext service was shut down in 2012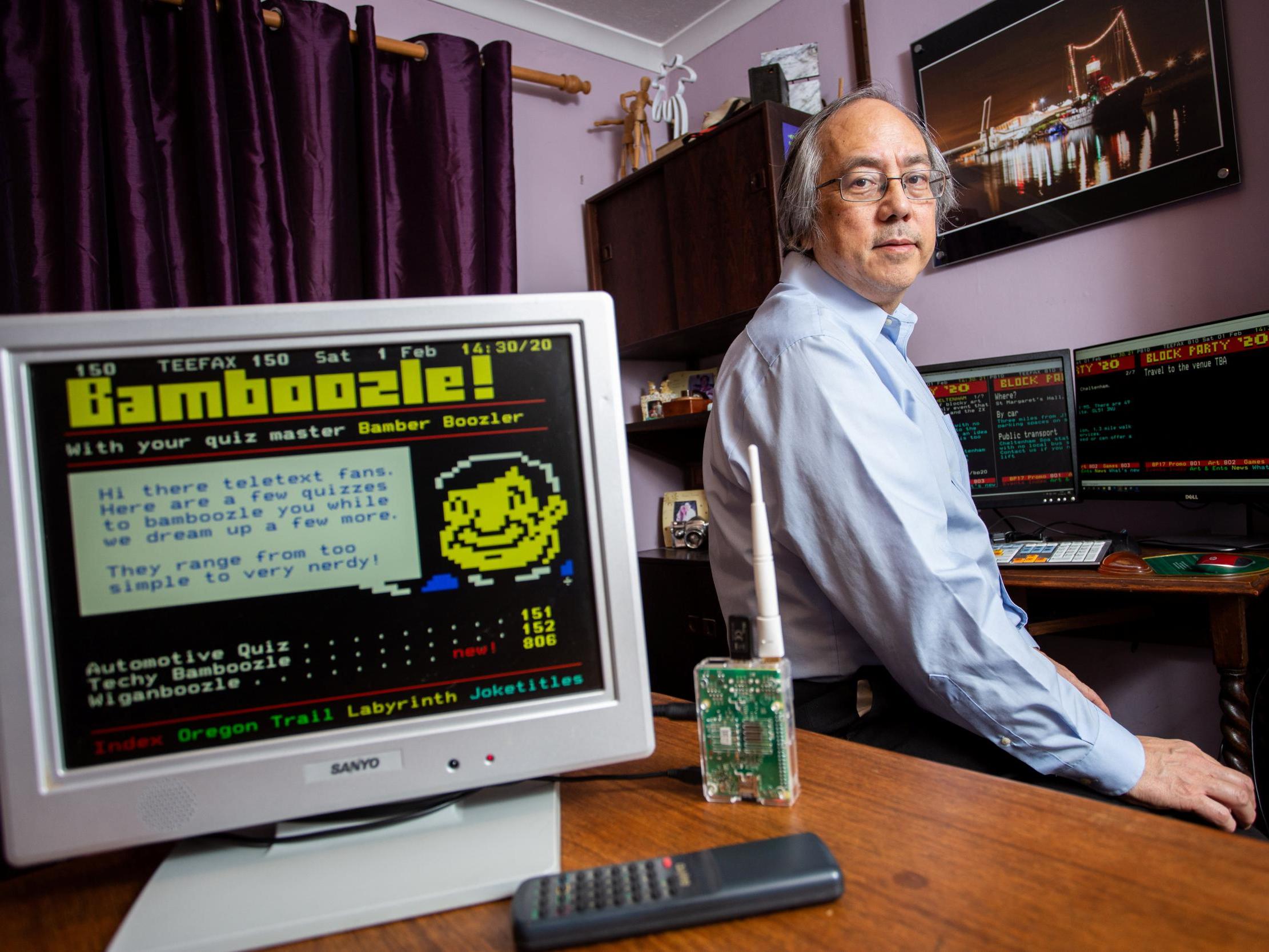 A software engineer has recruited a team of dedicated volunteers to create and maintain a retro version of the classic teletext information service Ceefax.
Peter Kwan has spent years perfecting his own system, which he has called Teefax, after Ceefax was shut down in 2012 after nearly four decades of service.
Available to anyone with an internet connection, Teefax is formatted in the same style of the old teletext system and sources its news directly from the BBC.
The service has pages of classic Ceefax-like content as well as an archive of old teletext pages. It also features pages displaying Tweets among its pages of up-to-date news.
Teefax can be viewed through online servers but with a Raspberry Pi – a small, credit-card sized computer device that costs around £25 – the service can be connected to and viewed through a TV.
Mr Kwan, from Stroud in Gloucestershire, said users find his Teefax system "nostalgic".
"It's got all the original stuff like horoscopes, weather pages, travel," the 63-year-old said.
"People can mostly find whatever their favourite page was on Ceefax. Usually they'll have the page number still memorised.
"We've got a couple of quizzes and games, too, although at the moment they don't get updated very often, so people might have to wait a while for new ones to come up."
Mr Kwan has now been running Teefax for about five years – and has dozens of contributors working on it from around the country.
"We don't make any money from this – it is all run by enthusiasts. It's not something we take too seriously," he said.
"There are about a dozen contributors around the country, who all concentrate on their own bits.
"We have a chap in Ireland who provides regional news and weather, and we have people who do art.
"We also have quite a few gamers from Digitiser magazine who contribute – the magazine has a fanatical following and was quite closely related to Ceefax, so this is good for us.
"We have a solid fan base, that's for sure. Lots of people do like to see that the medium has come back."
Mr Kwan admitted that although the news and information for Teefax comes "straight from the BBC", he has never requested any licencing rights.
"I think they [the BBC] probably know about what we're doing, but we haven't had a cease and desist", he said.
"I think the BBC does allow their news to be used in this way, as long as we're not making a profit from it, or trying to claim it as our own."
Despite all his work, Mr Kwan doesn't actually know how many people use the service.
"As for audience, I have no idea because the logging is turned off to stop wear and tear of the server," he said.
"If it breaks I quickly get complaints, so I know that people are using it, but that's all I know about the usage."
Additional reporting by agencies
Join our commenting forum
Join thought-provoking conversations, follow other Independent readers and see their replies