Grenfell Tower response: Chalcots Estate residents refuse to evacuate homes after 'chaotic' official reaction
'They should have been prepared for this. I'm staying at home', one mother tells The Independent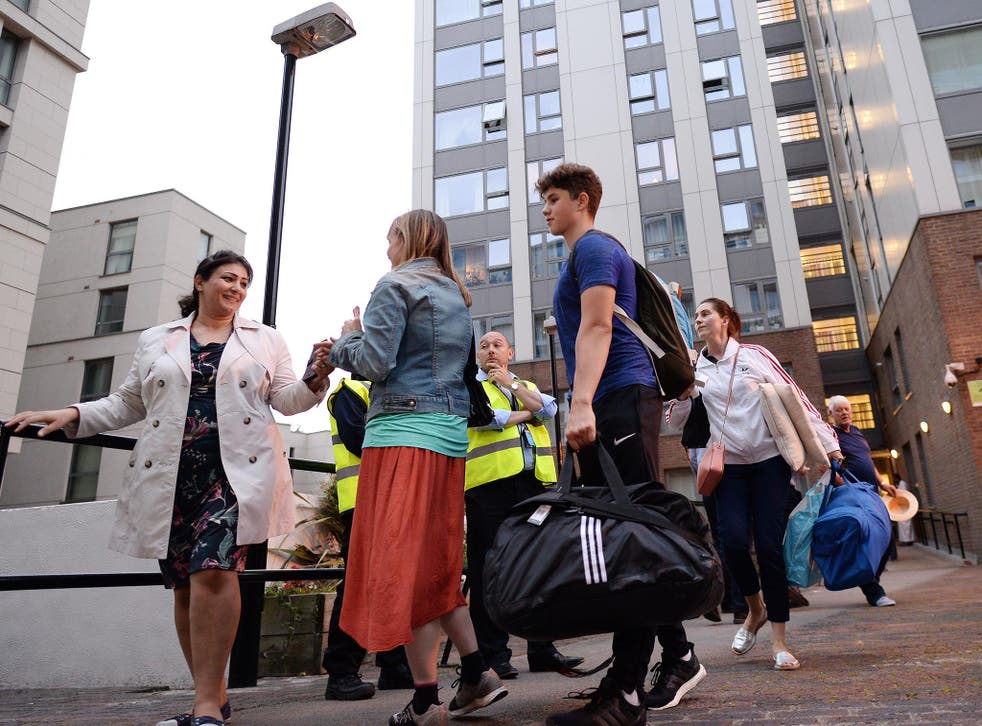 Residents of tower blocks in Camden's Chalcots Estate have said they will sleep in their flats on Saturday night because they had not been offered suitable temporary accommodation.
People who were asked to leave their homes expressed fury at the "chaotic" response by the council, claiming it has left them with "no choice" but to return to their flats and spend another night in the towers despite safety warnings.
Around 4,000 residents were displaced after 650 households were told to leave the Chalcots Estate when firefighters said they could not guarantee residents' safety, a week after a blaze in Grenfell Tower killed at least 79 people.
Many slept on air beds in Swiss Cottage leisure centre, while others went to stay at homes of friends and relatives, and around 83 Chalcots households refused to leave their homes.
Camden Council said it was booking hotels for residents to live in while work is carried out to make the building safer, which they said will take up to four weeks.
Council leader Georgia Gould said on Saturday the authority had spent £500,000 on hotel rooms for residents and had offered to reimburse those who have paid for their own temporary accommodation.
But a number of residents told The Independent on Saturday evening that they had not yet been offered any temporary accommodation, or had but had refused to take it because it was too far home, with some reportedly being offered places as far away as Luton.
Sacha Wilde, who lives with her elderly mother, was in one of the households that remained in their homes during the evacuation on Friday. She said they decided not to leave until they had somewhere "suitable" to go to because her mother suffers from a severe lung condition.
"It's not that we are refusing to vacate, it's that we need to have somewhere suitable to go as we have pets and my mum has a severe lung condition," she told The Independent.
"My mother is often incapable of walking even short distances without getting breathless so it was that she was just unable to. And then we had the cats and the hamsters on top of that which isn't really something that you can take to large community halls full of people."
Ms Wilde's family was offered two hotel rooms in Paddington, but they later discovered the hotel wasn't pet-friendly. When she contacted the council, she claims she was told if she did not take the rooms her family would be "moved to the bottom of the list".
She has now independently found an alternative and more suitable option, but said the rooms are not available until Sunday night, meaning she and her family must spend another night in the building, despite the safety warnings.
"We found out that the Britannia hotel on the corner is pet friendly. So after some deliberating we have been booked two rooms there from tomorrow. They have advised us that we should not stay at home this evening but as there is no alternative that is what we will be doing," she said.
Daniel Rochester, who lives in the Dorney tower, was meanwhile offered a hotel in Wembley, but said it was too far away, adding that authorities' response to the evacuation had been "chaotic".
"I can't go to Wembley. I was supposed to have my two-year-old daughter today, but how can I have her when I've got nowhere to take her? This is valuable time for me, that I'm spending sleeping in my car. I can't get this time back with her," he told The Independent.
"They should be trying to make people as comfortable as possible at this stressful time. But it's been extremely chaotic. I feel very stressed. I'm not going to Wembley. I have no choice. It's unreasonable to tell me to go to Wembley.
"How can you tell people to come out of their house at that hour and not have somewhere suitable for people to stay? We shouldn't have to leave our homes to come and be in this pandemonium."
Chantelle, who asked not be fully named, said she lives on the 16th floor of the Dorney tower with four young children. She also refused to leave her flat on Friday, and said she had not yet been offered any accommodation.
"My kids have got school. They're crying asking how they're going to get to school. Everything I need is here. I need to be where I live, where my family are. Don't send me to Watford, Luton, Manchester," she said.
"You don't treat animals like that. They should have been prepared for this. They're taking people out of their nice, comfortable homes to go sleep on the floor. I'm staying at home."
Residents who had accepted temporary accommodation expressed concern about being far from schools, work and medical facilities.
Teenage resident Abdul, who uses a wheelchair, told The Independent he and his family had been offered hotel accommodation for the next five days, but was not sure what would happen after that. He added the location of the hostel they had been offered would make it difficult for him to get to school.
The 16-year-old, who is currently doing GCSEs, said: "It will take a lot longer to get to school. I don't think I'm going to be able to make it to be honest."
Bribisha, a mother of three, said: "I was hanging around with my kids outside until 1am. Why did they evacuate us if they had nowhere for us to go?" she asked.
Ms Gould said on Saturday afternoon: "We're committed to looking after all our evacuated residents. This afternoon I've made money available to pay for residents' food, drinks and any necessary items they require over the weekend.
"We're encouraging evacuated residents to stay with family and friends if at all possible. If that's not possible, we want to fill up all the hotels rooms we've secured for tonight.
"I want to reiterate that both the council and the London Fire Brigade advise in the strongest possible terms that any remaining residents in Taplow, Bray, Dorney and Burnham should evacuate their blocks and take up one of our temporary accommodation options, as this is the safest place for you to be."
Dan Daly, London Fire Brigade's assistant commissioner for fire safety, said "essential works" were needed on those four blocks.
UK news in pictures

Show all 50
He added: "We appreciate the inconvenience residents have experienced and that such immediate action will have an impact on all those involved.
"Camden Council have acted swiftly and we will continue to work with them as they make the necessary renovations in these buildings. Working with local authorities and other housing providers we need to do everything we can to ensure the safety of the people we are all here to serve."
On Saturday night the Government said 34 high-rise blocks of flats in 17 local authority areas had failed fire cladding safety tests in the wake of the deadly Grenfell fire disaster.
Communities Secretary Savid Javid said that while cladding on those buildings had failed combustibility tests, evacuations would not necessarily take place at all 34 buildings.
Camden Council has been contacted for further comment.
Join our new commenting forum
Join thought-provoking conversations, follow other Independent readers and see their replies