Change for a tenner: New £10 note featuring Jane Austen - the design explained
Author Jane Austen replaces Charles Darwin after Bank of England faced criticism for its decision to replace Elizabeth Fry on the £5 note with Sir Winston Churchill
Emily Dugan
Wednesday 24 July 2013 19:34 Comments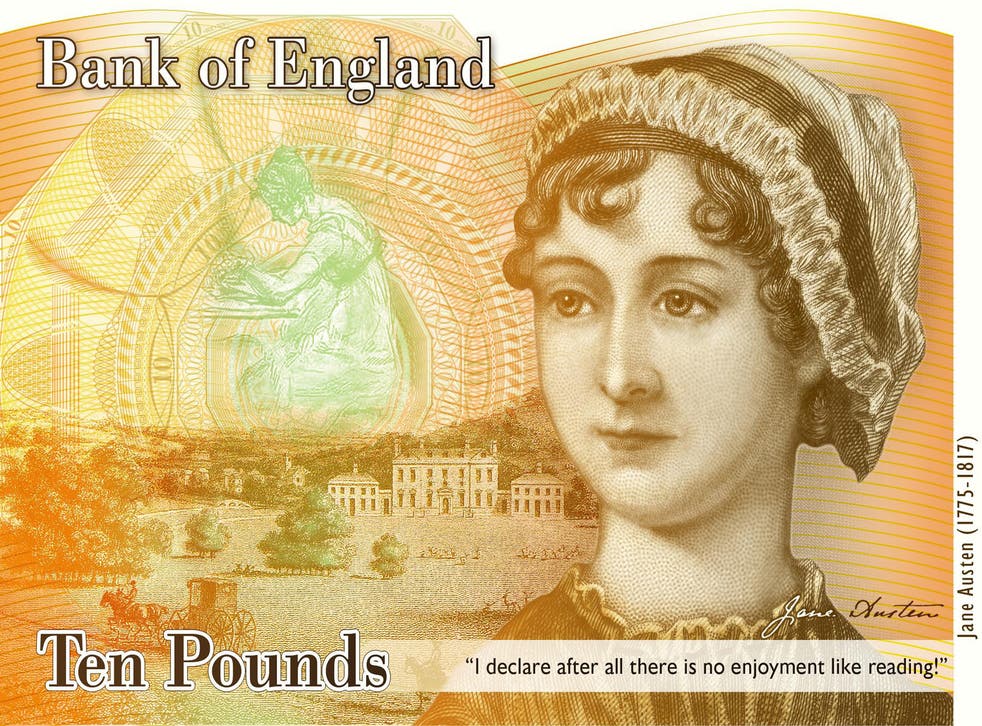 The Jane Austen £10 note, which is expected in circulation by 2017, will feature a quote from the author's celebrated novel, Pride and Prejudice. The line is from the character Miss Bingley, who said: "I declare after all there is no enjoyment like reading!"
The novelist's portrait is an engraving adapted from an original sketch of Jane Austen drawn by her sister, Cassandra Austen. It was commissioned by their nephew, James Edward Austen Leigh in 1870.
In the background is an image of Godmersham Park, home of the author's brother, Edward Austen Knight. Austen visited the house often and it is believed to be the inspiration for a number of her novels.
Hovering above Godmersham Park is an illustration of Pride and Prejudice's heroine, Miss Elizabeth Bennet, undertaking "The examination of all the letters which Jane had written to her" - from a drawing by Isabel Bishop.
The central design in the background is inspired by her 12-sided writing table, and writing quills, which she used at Chawton Cottage, the Hampshire home where she wrote many of her novels.
Register for free to continue reading
Registration is a free and easy way to support our truly independent journalism
By registering, you will also enjoy limited access to Premium articles, exclusive newsletters, commenting, and virtual events with our leading journalists
Already have an account? sign in
Join our new commenting forum
Join thought-provoking conversations, follow other Independent readers and see their replies