Channel crossings: Government claims refugees can use resettlement scheme that has been closed for six months
'There are plenty of legal routes by which people can claim asylum,' minister tells MPs, as dozens more migrants reach Dover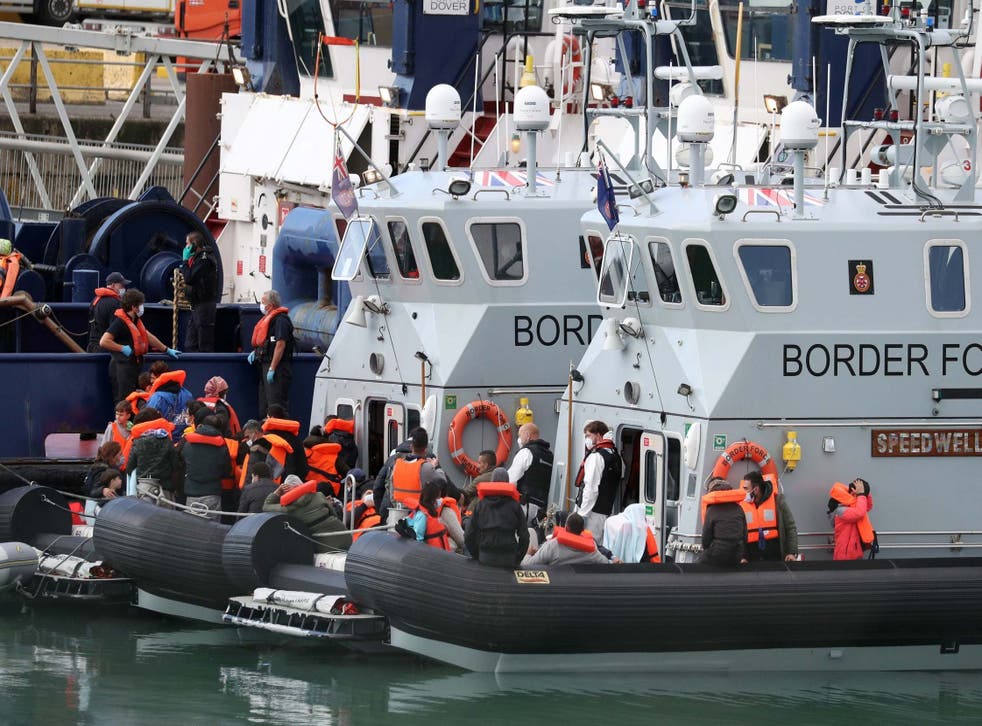 The government has claimed it offers "plenty of legal routes" for people to claim asylum, despite closing its flagship resettlement scheme for the past six months.
When challenged on what was being done to provide alternatives to dangerous crossings over the English Channel, the immigration minister told the House of Commons the UK had been resettling "people directly from conflict zones".
"There are plenty of legal routes by which people can claim asylum," Chris Philp said. "This government has provided almost 20,000 resettlement places since 2015."
The minister claimed it was "far more effective to help people who are in dangerous locations than shipping people in" from other European countries, adding: "I think we do more than our fair share while protecting vulnerable people.
"From 2015 to 2020 our resettlement scheme took in more people directly from conflict zones than any other European country."
But the scheme was "paused" on 12 March because of coronavirus, and The Independent understands there is no planned date for it to restart.
At the same time, the government has resumed deportation flights for failed asylum seekers and reopened travel routes for the public and tourists.
The shadow home secretary, Nick Thomas-Symonds, said the government's approach to rising English Channel crossings had been "defined by a lack of compassion and a lack of competence".
"The government was warned, including by the Foreign Affairs Committee, that the collapse of safe routes would lead to growing numbers of people taking to the sea," he added.
"What we need now are solutions, not empty headlines trying to sound tough, and I have deep concerns that the government in recent weeks through talking of deploying the navy and the RAF has tried to militarise a solution where lives are at risk."
Mr Philp said that boat journeys across the English Channel were "dangerous, illegal and unnecessary, and they should simply not be happening".
Priti Patel in Dover as Government face criticism over migrant crossing crisis
He added: "This government certainly needs no lessons in compassion, our asylum system is extremely compassionate, extremely generous and those numbers speak for themselves."
As the debate raged in the House of Commons on Wednesday, boats continued to arrive in Dover.
At least 100 people, including young children, were brought ashore in the morning aboard Border Force patrol vessels and lifeboats, as conditions calmed following weeks of stormy weather.
Around 1,500 migrants made the crossing by small boat in August despite a vow from the home secretary to make the dangerous route "unviable".
Mr Philp said the government was continuing efforts to prevent boats leaving France with increased security and intelligence sharing, as well as by prosecuting smugglers.
He said officials were "working day and night to smash these criminal gangs", but the National Crime Agency recently said it was seeing a rise in "DIY attempts" at boat crossings that were not facilitated by criminal networks.
Among them was Abdulfatah Hamdallah, a Sudanese migrant who drowned last month after trying to reach the UK on a small dinghy.
Speaking earlier on Wednesday, the prime minister said he had "a great deal of sympathy" with people attempting crossings.
Boris Johnson added: "They are falling prey to criminal gangs and they are breaking the law.
"They're also undermining the legitimate claims of others who would seek asylum in this country and that is why we will take advantage of leaving the EU by changing the Dublin regulations on returns.
"We will address the rigidities in our laws that make this country a target and a magnet for those who would exploit vulnerable people in this way."
British authorities are currently attempting to return around 1,000 people to European countries where they are believed to have claimed asylum previously.
But Mr Philp admitted that only 185 people had been deported in the past 18 months, and that legal challenges had caused a recent planned flight to Spain to be cancelled.
"France and other safe countries travelled through are manifestly safe countries with functioning asylum systems," the minister said.
"Genuine refugees seeking only safety can and should seek asylum in the first safe country they reach."
Several MPs pointed out that seeking asylum in the "first safe country" reached was not a legal requirement.
Hundreds evicted from French refugee camp amid Channel crossings rise

Show all 12
Official figures published last month show the number of refugees arriving under the UK's resettlement scheme – which was announced last year and merges three previous programmes – fell from 894 between January and March to zero from April onwards.
In June last year, the Home Office announced that the UK would welcome between 5,000 and 6,000 refugees under the scheme in 2020-21.
Government data also shows that the overall number of asylum applications received by the Home Office between April and June 2020 nearly halved compared with the first three months of the year.
In the same period, 285 people were deported from the UK on seven charter flights along with 374 escorts, at a cost to the taxpayer of £1.1m.
Join our new commenting forum
Join thought-provoking conversations, follow other Independent readers and see their replies