Channel crossings: Government to launch campaign telling migrants UK streets 'not paved with gold'
Officials tell MPs that 98 per cent of people arriving on small boats in 2020 have been asylum seekers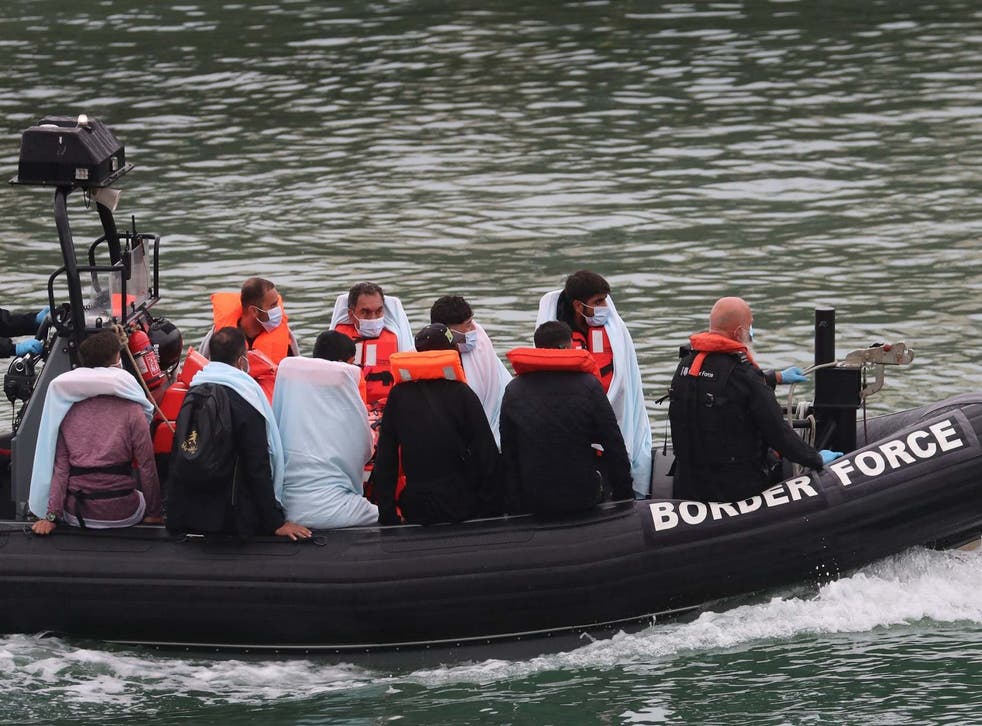 The British government is to launch a "strategic communications" campaign to deter asylum seekers from crossing the English Channel.
Officials told parliament's Home Affairs Committee that they were hoping to "dissuade" migrants, a day after a record 409 people arrived on small boats.
Dan O'Mahoney, the new clandestine Channel threat commander, said that facilitators "claim the streets are paved with gold in the UK".
He added: "We are launching a behaviour change campaign, which will be enabled as time goes on with a strategic communications effort."
Tyson Hepple, the Home Office's director general for immigration enforcement, said that several years ago the government mounted an operation in Calais that it claimed would "counter the misinformation put forward by criminal gangs".
"We are looking to do some more dissuasive comms because we think those could be quite successful," he added.
But officials admitted that they had done no formal research to establish why migrants were choosing the UK over other European countries.
Ministers have characterised crossings as "illegal migration" but the Home Affairs Committee was told that 98 per cent of the people who have arrived on small boats so far in 2020 were asylum seekers.
Many come from countries experiencing war and persecution, including Syria, Iraq, Sudan, Yemen and Iran.
Around half of the 5,000 claims have been considered so far, and of those 20 per cent have been granted and 10 per cent refused.
The remainder were not considered directly by British authorities because another European country was deemed to be responsible under the Dublin regulations.
Priti Patel in Dover as Government face criticism over migrant crossing crisis
The UK is using the law, which will expire with the Brexit transition period on 31 January, to attempt to deport around 1,000 asylum seekers to countries they previously travelled through such as Germany, Italy and Greece.
Mr Hepple said 11 people had been returned to Spain on Thursday morning, days after a charter flight was scrapped following a series of legal challenges.
The Home Office sparked criticism by attacking "activist lawyers" for thwarting deportations in a social media video.
"There are a large number of last minute legal challenges which we are finding it hard to deal with," Mr Hepple said.
"We are finding human rights claims have blocked us from removing people to a safe European country."
He said deportations were also hampered by time limits under the Dublin regulation and caps on the number of returns accepted by some European countries.
Mr Hepple said the British government's position was that "people should be claiming in the first safe country that they arrive in", although that is not a requirement under international law.
The Home Affairs Committee was told that the UK only receives around 6 per cent of all asylum applications made to EU countries, and the majority of refugees crossing the Mediterranean settle elsewhere.
Abi Tierney, the director general of UK visas and immigration, said that although the number of small boat crossings had risen significantly in 2020, overall asylum applications are down because of reduced international travel during the coronavirus pandemic.
She told MPs that the number of asylum seekers arriving via small boats rose from 465 to 2,012 in the first and second quarters of the year, while the number arriving by other routes dropped from 8,455 to 4,850.
Mr O'Mahoney said there had been a "huge shift" away from air and ferry traffic, while unusual spells of good weather had enabled boat crossings over the English Channel.
Hundreds evicted from French refugee camp amid Channel crossings rise

Show all 12
He admitted that investment in security around major French ports and the Channel Tunnel had "displaced" migrants to attempt sea routes instead.
Rob Jones, director of threat leadership at the National Crime Agency (NCA) said that using small inflatables also presented a "low barrier to entry" in comparison with smuggling on lorries.
"People see success and become emboldened. They see that success and will try to mimic it," he told MPs.
Officials confirmed that British authorities were not currently "intercepting migrant boats aggressively" or trying to turn them back to France.
Mr O'Mahoney said that security had improved on the country's northern coastline, and that increased intelligence-sharing between British and French authorities was seeing results.
He told the Home Affairs Committee that 3,000 people had been prevented from trying to cross the Channel this year, including 200 on Wednesday.
"We need to get to the point where both migrants and organised criminal groups realise it's futile to try to make these crossings because they will find it very difficult to operate in northern France, they will be denied access to the beaches and we hope for an agreement means that if they arrive in the UK they will be returned to France," the former Royal Marine added.
Mr Jones said that smuggling networks involved in Channel crossings were "not straightforward", and that some groups were organising via encrypted chat groups and on social media pages.
Between January and May, the NCA referred 12,000 pages related to organised immigration crime to technology companies for closure, but only a small proportion were found to have broken platforms' terms and conditions and removed.
Join our new commenting forum
Join thought-provoking conversations, follow other Independent readers and see their replies