'Chaos and confusion': BBC forced to replace senior news executives following damning report into its 'complete inability' to deal with Jimmy Savile crisis
Pollard report exposes atmosphere of meltdown inside the BBC as Newsnight reporters who first persuaded Savile's victims to talk on camera are vindicated after £2m inquiry
Adam Sherwin
Thursday 20 December 2012 01:00 Comments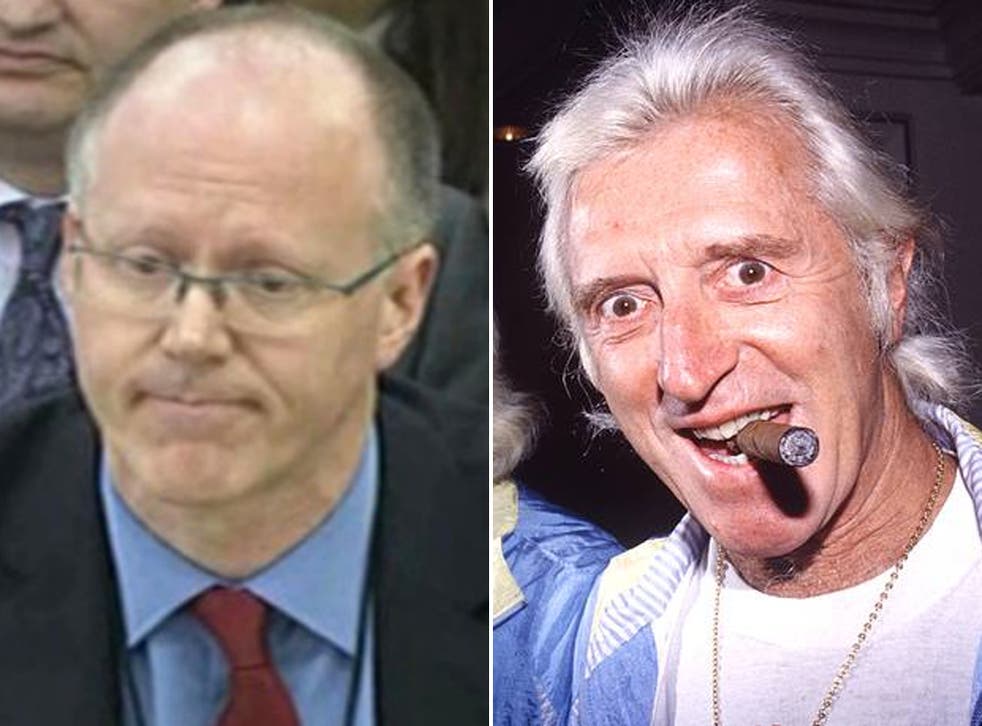 The BBC was forced to replace a tranche of senior news executives following a damning report into the "chaos and confusion" that surrounded the corporation's "complete inability" to deal with the Jimmy Savile crisis.
Stephen Mitchell, deputy head of news, resigned yesterday following criticism of his role in an aborted Newsnight investigation into Savile's child abuse, detailed in an excoriating report compiled by Nick Pollard, a former head of Sky News.
However, other BBC executives, including Helen Boaden, director of news, and Peter Rippon, the Newsnight editor, again rejected criticism of their role in the affair and will remain at the BBC, despite Mr Pollard's finding that "leadership and organisation seemed to be in short supply". Pollard's report vindicated the Newsnight reporters Liz MacKean and Meirion Jones, who first persuaded Savile's victims to talk on camera and fought hard to stop their investigation from being quashed.
"Their belief that Savile had a history of abusing young women was correct," Mr Pollard ruled. "They provided Newsnight with cogent evidence of this. The programme could have broken the story almost a year before the ITV documentary revealed it."
Welcoming that vindication of the original story, Liz Dux, solicitor for 40 women who have since come forward, said: "The victims don't want to see months more of BBC navel gazing."
Mr Pollard found no evidence to support the most serious allegation, that senior executives had placed pressure on Mr Rippon to drop the Newsnight report, which would have exposed Savile as a paedophile, because the BBC had a series of tribute programmes planned. But his inquiry, which cost £2m and trawled through 10,000 emails, found that the decision to abort the report was "flawed" and that Mr Rippon had made "a bad mistake in not examining the evidence" gleaned from Savile's victims.
The BBC said that Mr Rippon and his deputy editor, Liz Gibbons, will be replaced by a new team that would "revitalise" the stricken programme. Mr Rippon, who will be found a new role at the BBC, contested Mr Pollard's conclusion. He said: "I do not agree that my decision on this occasion was flawed."
Mr Mitchell was criticised for the "fundamental" mistake of taking the Savile story off the BBC's Managed Risk Programmes List, which flags up potentially risky projects to senior managers. Resigning after 38 years at the BBC, he also rejected the findings. "Whilst I feel vindicated that the review has found that I put no undue pressure on Peter Rippon, I disagree with the remainder of Mr Pollard's criticisms in relation to me," Mr Mitchell said.
Adrian van Klaveren, Radio 5 Live Controller, reluctantly accepted a move to a new job at BBC Television. He had only held a temporary role overseeing Newsnight following the initial chaos – and was involved in approving the catastrophic 2 November report that falsely implicated Lord McAlpine in allegations of abuse at a Welsh children's home. Three BBC employees have been subject to disciplinary action as a result.
In a separate report, the BBC's Editorial Standards Committee condemned a "grave breach" of the BBC's editorial standards, compounded by the use of a freelance reporter, Angus Stickler, who made a "terrible mistake" by not asking his witness to identify Lord McAlpine from a picture.
Mr Van Klaveren, forced to give up one of the BBC's plum roles, said his 5 Live departure was "hard to take... I am leaving as a result of events which had nothing to do with how I carried out my job here. Rather it happened after I had just begun a temporary role in the most challenging of circumstances".
Ms Boaden was criticised for the "casual" and "inappropriate" way she sought to tip off George Entwistle, who later became Director-General, at a lunch that a Savile investigation was under way when he was planning Christmas tribute programmes to the star. She should have taken "greater responsibility" when her news division was plunged into "virtual meltdown" once ITV revealed the Savile story, Mr Pollard found. But Ms Boaden's lawyers challenged the claim that she failed to show leadership and she will return to her director-of-news post tomorrow.
Interviewed by Jeremy Paxman on Newsnight yesterday, the BBC acting Director-General, Tim Davie said he would not have accepted Ms Boaden's offer to resign. He added that he want people to "work at changing the culture of the BBC" rather than presiding over a raft of staff changes. He apologised that the Savile evidence was not passed on to police earlier.
The report revealed Mr Entwistle had failed to respond to emails sent by senior broadcasting executives warning him of Savile's "darker side". The first was sent two years before Entwistle became Director-General. The executive said he was "queasy" about preparing an obituary on the star, then ill, because he knew the "truth" about him.
The email showed that "there was knowledge, not just rumour... about the unsavoury side of Savile's character" in the BBC before and after his death. Mr Entwistle, who quit last month following the McAlpine scandal, said he had not read a second email sent to him after the entertainer's death. Mr Entwistle claimed he had been exonerated since the report attributed any "managerial shortcomings" to "unsatisfactory internal communications".
Register for free to continue reading
Registration is a free and easy way to support our truly independent journalism
By registering, you will also enjoy limited access to Premium articles, exclusive newsletters, commenting, and virtual events with our leading journalists
Already have an account? sign in
Join our new commenting forum
Join thought-provoking conversations, follow other Independent readers and see their replies