Charedi Talmud Torah Tashbar: Stamford Hill Jewish school that does not teach English ordered to close
Ofsted inspectors had warned that it was failing to meet the 'minimum' standards required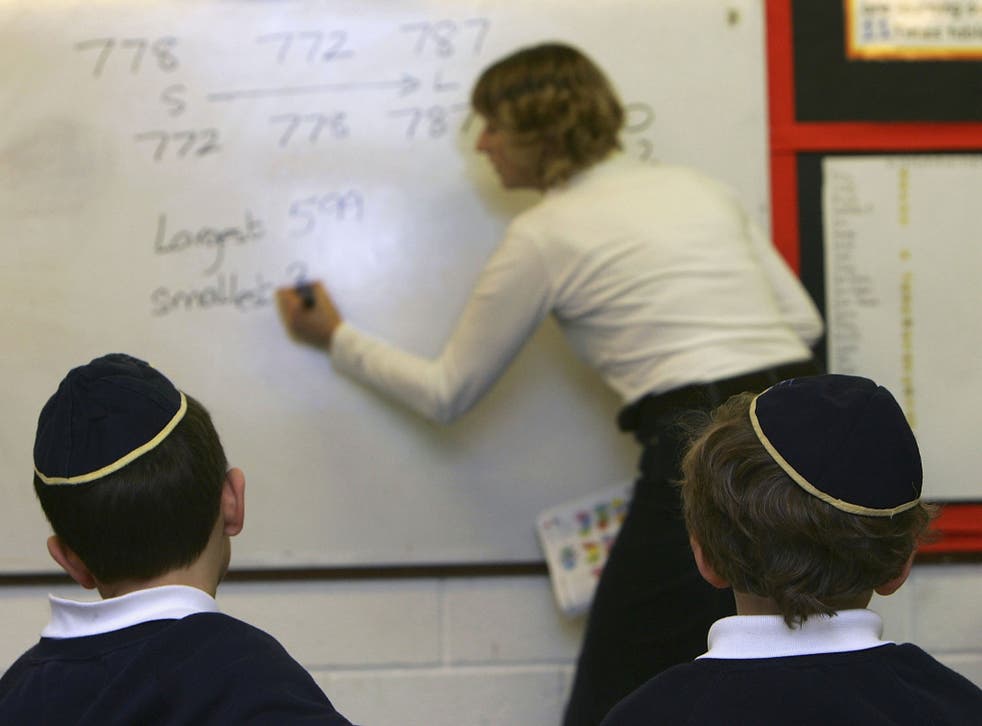 An orthodox Jewish school which operated illegally for 40 years and does not teach children English has been ordered to shut down.
The Charedi Talmud Torah Tashbar school in Stamford Hill, north London has been ordered to close by the Deparment for Education next month after Ofsted inspectors warned that it was failing to meet the "minimum" standards required.
Inspectors who investigated the school, which has more than 200 pupils, said that its curriculum, taught in Hebrew, encouraged "cultural and ethnic insularity because it is so narrow and almost exclusively rooted in the study of the Torah".
The school was found to "severely restrict the spiritual, moral, social and cultural development of pupils" and prevent them from "developing a wider, deeper understanding of different faiths, communities, cultures and lifestyles, including those of England".
UK news in pictures

Show all 50
The school's failings are spelt out in a series of Ofsted reports into the school after it applied to be a private school. The reports between 2012-14 were disclosed under Freedom of Information requests.
According to the reports, the school states that "as a matter of religious principle" it does not allow pupils to learn English, nor provide for any secular education.
Despite the school failing to meet the minimum standards three times, no action has been taken to shut it down and it continues to operate.
Sir Michael Wilshaw, the Chief Inspector of Schools, disclosed in December that Ofsted was considering prosecuting those involved in the running of unregistered Islamic religious schools.
A Government consultation on combating schools which "promote intolerance" will end later this month.
The British Humanist Association, which campaigns for a crackdown on all illegal "faith" schools, welcomed the decision but called on the Education Secretary to move against scores of other schools like it.
"We're glad that the Government has now moved to shut this particular school down... However, there are clearly many more out there just like it. The situation revealed by these reports is simply outrageous and those in government who have failed to act in the past ought to be ashamed of themselves for standing idly by while thousands of children have their childhoods stolen.
"Every year, every month, every week that these places are allowed to stay open, a huge number of children remain isolated, indoctrinated, and very likely abused, so we will certainly be writing to the Government to ask that action is taken far more swiftly in the case of other schools than it has been here."
A Department for Education spokesman said: "It is a criminal offence to operate an unregistered independent school. This school's application for registration has been rejected and on 30 December it was informed of this decision. It has been told to close by 12 February."
The school was unavailable for comment.
Register for free to continue reading
Registration is a free and easy way to support our truly independent journalism
By registering, you will also enjoy limited access to Premium articles, exclusive newsletters, commenting, and virtual events with our leading journalists
Already have an account? sign in
Register for free to continue reading
Registration is a free and easy way to support our truly independent journalism
By registering, you will also enjoy limited access to Premium articles, exclusive newsletters, commenting, and virtual events with our leading journalists
Already have an account? sign in
Join our new commenting forum
Join thought-provoking conversations, follow other Independent readers and see their replies