Number of people requesting charitable grants to pay for basic items grows by 244% after government cuts
Exclusive: Demand for financial help from leading charity soars by 244 per cent since axe of community care grants under coalition government in 2013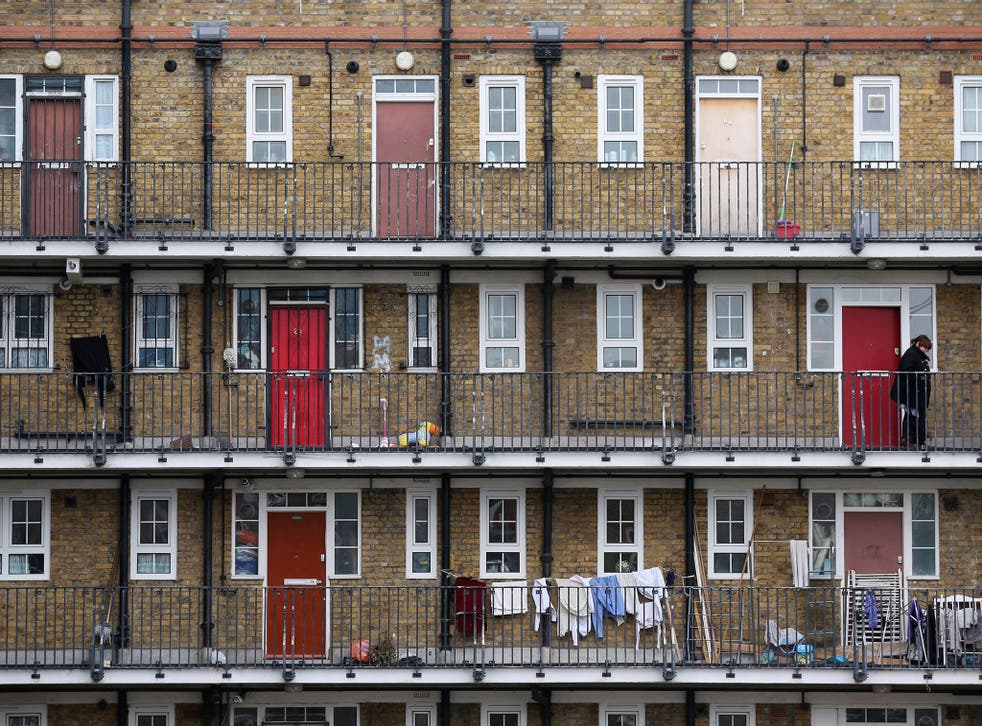 The number of people requesting charitable grants to pay for household appliances and other basic needs has surged since the government abolished its emergency grants scheme in 2013, The Independent can reveal.
New figures show requests to one of the UK's leading poverty charities – from people needing help to afford basic items such as fridges and washing machines – has soared by 244 per cent since community care grants (CCG) were axed by the coalition government. Charity Turn2us, which helps people in financial hardship to access charitable grants and support services, received 55,601 enquiries last year, compared with 16,018 before the state aid was slashed in 2013. More than 700 enquiries have been made to the charity in the first five days of this year alone.
Other smaller charities supporting households in financial need also saw heightened demand after CCGs were scrapped. Figures from End Furniture Poverty, a charity in Liverpool which provides furniture for families in need, show demand increased by 68 per cent in the two years from 2013, from 36,775 to 61,826. Separate figures from Turn2us show more than half of people making the requests had turned to expensive forms of credit to buy home appliances because they do not have the means to pay up front. Others simply went without, with one in three using a household appliance that was faulty, broken or old.
One elderly woman said she was only able to afford a tabletop fridge for £70, which she paid in instalments, and in which she could only store "milk and maybe butter and cheese". Another person with financial difficulties said their cooker was not working properly and was overheating, adding: "I'm scared it could cause a fire."
Previously, CCGs were available to vulnerable people, including domestic violence victims or those leaving care, to help them buy goods needed to return to independent living under the government's "social fund". But under the Welfare Reform Act 2012, the social fund was abolished, and responsibility for provision of emergency funds was handed down to local councils. However, as a result of "significant cuts" to local authorities in recent years, providing crisis payments to those in need of support was proving a "stretch too far" for many councils, according to the Local Government Association (LGA), which represents local authorities in England and Wales.
Campaigners have said the localisation of emergency assistance schemes has led to funding levels being "lower" and provision "patchy". An upcoming analysis by charity Child Poverty Action Group shows some London councils were spending 61 per cent less on local welfare assistance than was being spent in their areas under the national social fund prior to its abolition in 2013, while others had stopped the funds altogether.
In response to the subsequent soaring demand, the amount of charitable grants and donations given to households on low incomes has increased. In order to plug the gap left by the 2013 legislation, Turn2us introduced a "response fund" in April of last year, which has given £504,000 to people in grants so far, on top of the usual sums it gives out, which average at £3m a year. Items donated to people in need by End Furniture Poverty also increased, with the charity having given out £26,346 worth of furniture before CCGs in 2011-12, rising to £61,826 three years later.
Simon Hopkins, chief executive of Turn2us, told The Independent: "Our grants have been helping people in poverty buy essential household appliances for decades, but we've seen a surge in demand for them since the abolition of the CCGs. "This hidden form of poverty can have a snowball effect on people's lives, impacting their health and wellbeing, and often leading to them using high-cost credit to purchase home appliances."
Paul Colligan, campaigns officer at End Furniture Poverty, echoed his concerns, saying: "Since the social fund was abolished and replaced with devolved local welfare provision, we have definitely seen an increase in people coming to us for help. The squeeze on household budgets over the last few years has left many struggling to furnish their homes to even a very basic standard.
"Patchy provision of, and cuts to, devolved local welfare schemes mean that a lot of people do not know where to turn to for help, or simply cannot access help that existed previously," he added.
Damon Gibbons, director of the Centre for Responsible Credit, meanwhile told The Independent it was unsurprising that more people are having to turn to charities for help to obtain basic items.
"Government is simply not funding local authorities in England adequately to provide the support that many vulnerable people need to live independently in their homes," he said. "Cuts to local welfare schemes are particularly affecting people with long-term illnesses or disabilities, young people leaving care, women fleeing domestic violence, people with prior experience of homelessness and frail elderly people returning to their homes after a stay in hospital or who are struggling to remain independent and avoid going into care homes."
Alison Garnham, chief executive of Child Poverty Action Group said the new figures showed the level of need for emergency aid was "huge". She said: "Where once the national social fund scheme provided CCGs or interest free budgeting loans to help deal with unexpected costs like having to replace a fridge or a cooker, preventing struggling families from being tipped into a financial crisis, now there is often nowhere to turn except high-cost creditors or hire-purchase shops which charge up to three times the normal price. This puts families at risk of spiralling debt.
"Emergency assistance schemes have been localised and funding is no longer ring-fenced, with the result that funding levels are lower and provision patchy. Today, if your oven breaks down and you haven't spare money there may or may not be any help to apply for, depending in part on your postcode. If we are concerned to support struggling families and to reduce the risk of destitution we should be investing in a clearer delivery framework and ring-fenced funding for local welfare provision for those in acute need, as still exists today in Scotland."
A spokesperson for the LGA said: "Councils will see their core funding from central government further cut in half over the next two years and local government faces an overall funding gap of £5.8bn by 2020.
"Faced with significant cuts to the money they receive to look after the elderly, protect children, repair the roads and collect the bins, providing crisis payments to those in need of support is proving a stretch too far for many councils," they added. "The Government needs to use the final Local Government Finance Settlement to provide new funding for all councils over the next few years so they can protect vital local services from further cutbacks. Without this additional funding, many will continue to be unable to afford to continue to run local welfare assistance schemes."
A Government spokesperson said: "Our welfare reforms are restoring fairness to the system and we continue to spend around £90bn a year supporting people of working age, including those who are out of work or on a low income.
"Changes to the social fund mean that local authorities can ensure help is targeted to support the most vulnerable people in our local communities."
Join our new commenting forum
Join thought-provoking conversations, follow other Independent readers and see their replies