'We can't stock the shelves fast enough': The charity shops booming as they reopen after lockdown
Record sales are being made and record donations received – although staff at one store could have done without an unwashed commode being left
Colin Drury
Broomhill, Sheffield
Thursday 15 April 2021 18:06 Comments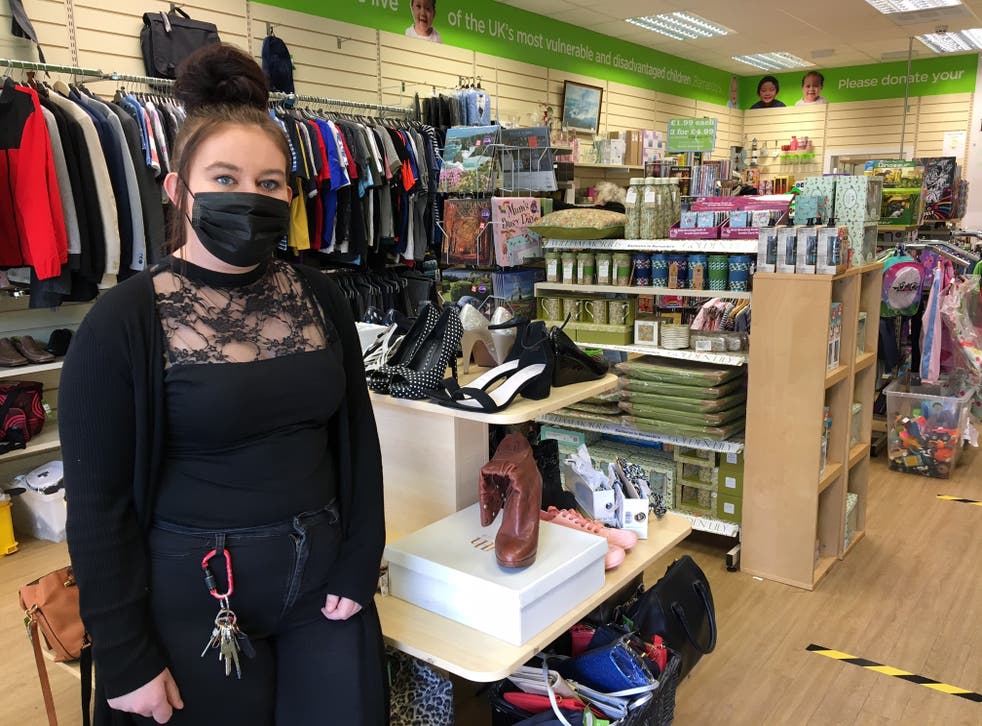 Ask Brenda at the PDSA charity shop in Broomhill, Sheffield, what the worst donation the store has received since the end of lockdown is and she's quick off the mark.
"An unwashed commode," she grimaces. "And it was as bad as you might imagine that to be."
It's not the most bizarre item that's ever landed there, mind. That accolade goes to a teapot once donated by a widow who had forgotten his wife's ashes were still in it.
"By the time he came back for them we'd washed them down the sink not realising," she says.
Amid the fanfare of the country's hairdressers, pubs and Primarks reopening this week, little attention has been paid to the fact that charity shops are also throwing wide their doors for the first time since January.
Yet figures show that these humble high street staples are experiencing their own major boom every bit as significant as the country's bars and barbers.
Record sales are being made – Barnardo's turnover on Monday was 172 per cent higher than the equivalent day two years ago – while so many items are being donated that the Charity Retail Association has taken the unusual step of asking people to phone stores before turning up with goods.
And in Broomhill this national trend has been very much in evidence.
Here, some half a dozen second-hand stores sit amid craft ale pubs, neighbourhood restaurants and independent retailers. They range from an Oxfam emporium – an entire floor of furniture upstairs – to the vintage boutique of St Luke's, all Blondie albums, Beano annuals and polka dot dresses. Yet what they all have in common is being busier this week than their staff and volunteers say they have ever known.
"We can't keep stocking the shelves fast enough at the moment," says Gemma Ravenhall, manager at the PDSA for the last 12 years. "I think people would buy us if we stood still too long. Although, at the moment, we're too busy to stand still anyway."
The good donations, she is keen to assure us, do make up for the occasional junk. "You'll get a bag of clothes and they'll all still have their labels on or a box of vinyl with some Beatles in there," she says. "And then you'll see shoppers walking away with these bargains, and it's a really lovely feeling. And we're feeling that a lot right now."
The uptick is almost certainly explained by pent-up demand.
Millions of people appear keen to get back to bricks-and-mortar stores following lockdown. Some are looking for bargain outfits or homeware ahead of a summer of (hopeful) normality, while data suggests others may be using such shops out of a new necessity: some 3.5 million people have been left economically vulnerable by coronavirus according to research by the Financial Conduct Authority.
Lockdown clear-outs and spring cleans, on the other hand, mean hundreds of thousands of pounds worth of goods are expected to be left with the country's 11,000 charity shops in the coming weeks. Some of that will be pretty much brand new stuff. One trend staff have increasingly noticed is people buying clothes online, deciding they don't like it, and then giving it away instead of returning it.
"How busy have we been?" muses James Easter at St Luke's Vintage Shop, just round the corner from the PSDA store. "Can I put it this way, for a while on Monday we were rivalling the barbers over the road for the queue outside the door."
For this little one-room place – which supports a local hospice – the day was particularly special. Amid concerns over staff and volunteer safety it never reopened last year after lockdown one. The doors had remained closed since March 2020.
"The best thing has been seeing so many regular faces coming in again," says Easter, a volunteer of three years. "When you're closed that long there's definitely a worry people will forget about you or start going elsewhere. So to see them back after all this time – it was quite emotional actually."
He looks around at boxes of skinny ties, shelves filled with china tea sets and period frames on walls, all amid racks of heritage clothing. "But I guess we're pretty unique in what we offer," he concludes.
There was a similar sentiment too at Barnardo's. What had been their highlight this week? Probably when a woman phoned offering what she said were a few pairs of shoes.
"When she turned up the next day she came in and said she might need some help bringing them in from the car," recalls manager Lauren Hague. "There were 20 boxes of them in all. Ankle boots, sandals, heels, stilettos, you name it. She said will they sell? I said these will definitely sell."
That was Tuesday. By Thursday about a dozen of them had already gone.
"The whole week has been great," says Hague who has been a manager at Barnardo's for four years but is in her first week at this particular store. "You can't get a better feeling than having a busy day at a shop like ours because you know that every penny you make ends up helping the charity. It makes someone's life better."
Register for free to continue reading
Registration is a free and easy way to support our truly independent journalism
By registering, you will also enjoy limited access to Premium articles, exclusive newsletters, commenting, and virtual events with our leading journalists
Already have an account? sign in
Register for free to continue reading
Registration is a free and easy way to support our truly independent journalism
By registering, you will also enjoy limited access to Premium articles, exclusive newsletters, commenting, and virtual events with our leading journalists
Already have an account? sign in
Join our new commenting forum
Join thought-provoking conversations, follow other Independent readers and see their replies