Charles Dickens' notes solve the mystery of unidentified Victorian authors
Scribbled entries in margins of journal reveal new works by Lewis Carroll and Elizabeth Gaskell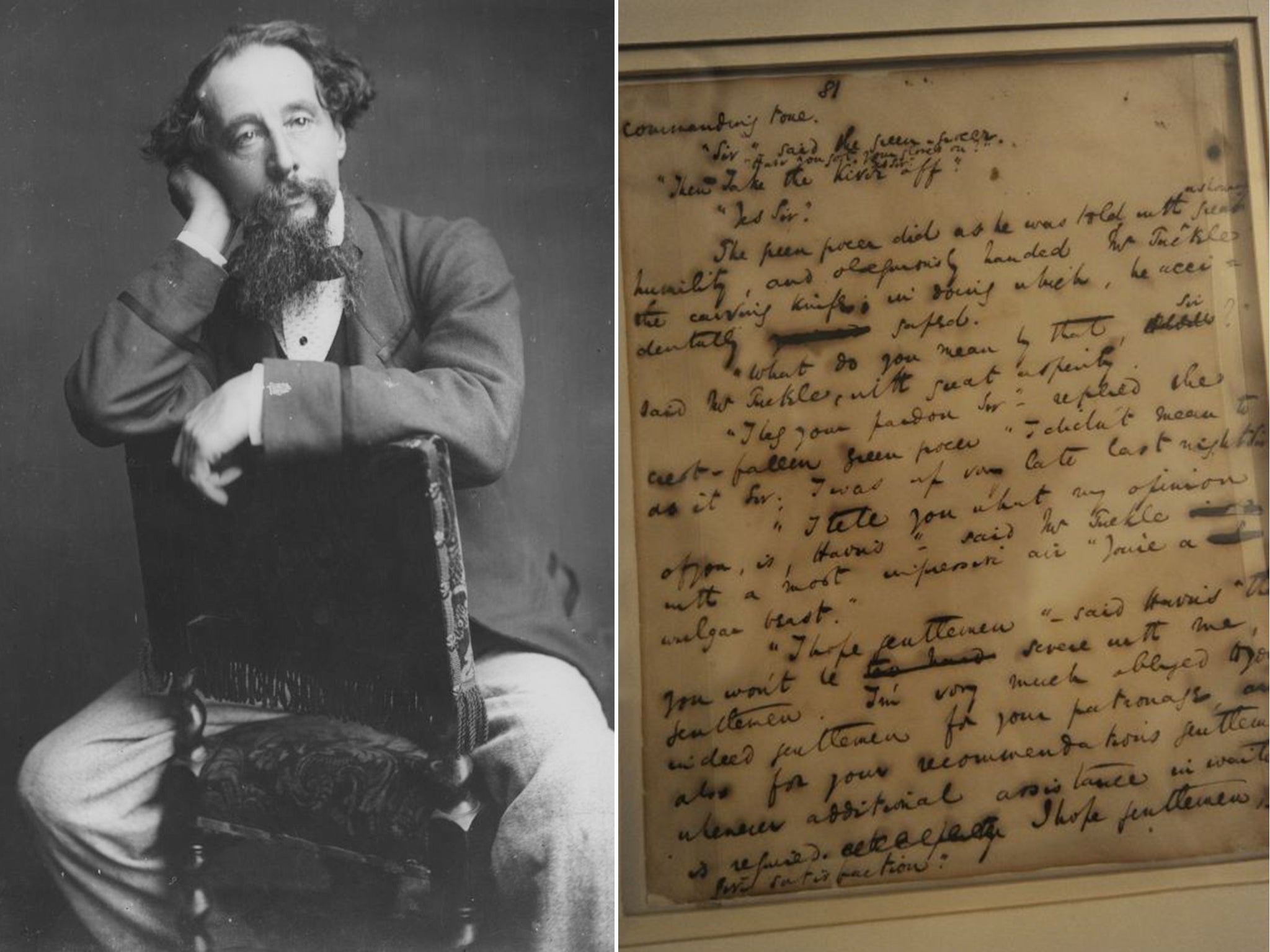 It is a discovery that could solve some of the biggest mysteries of Victorian literature.
The authors of thousands of articles, short stories and poems, printed anonymously in a literary magazine edited by Charles Dickens, have finally been revealed after an antiquarian book dealer discovered a bound collection of the periodicals annotated by Dickens himself.
Among the biggest revelations are works by Elizabeth Gaskell, Lewis Carroll and Dickens' close friend Wilkie Collins, as well as two articles co-written by Dickens.
The find also gives insight into Dickens' nepotism, showing that he used his weekly magazine All the Year Round to publish three articles of dubious quality by his then teenage sons, Frank and Sydney.
Things you didn't know about Charles Dickens
Show all 7
Last September Jeremy Parrott, an academic and book dealer, ordered a 20-volume bound collection of All the Year Round from an online bookseller in Wrexham.
Dr Parrott didn't open the box of books until December, when he arrived in London from his home in Hungary.
"When I saw the listing of 20 volumes in red cloth with gilt edges for sale I was excited. There was no mention of annotation but when I opened the box and saw the notes it was all my Christmases at once.
"To realise it was Dickens' own set and his own handwriting revealing who wrote everything was incredible. That has never been public information because the pieces were deliberately published without attribution as Dickens' name appeared on the top of every page."
Close examination of the pencil notes by Dr Parrott and other leading academics has confirmed that the collection was almost certainly annotated by Dickens himself. "This rewrites, effectively, many authors' bibliographies throughout the 19th century," Dr Parrott said.
The discovery solves the mystery of which Victorian writers were commissioned by Dickens and identifies new works by many leading authors of the time. Dickens' notes mean that between 300 and 400 authors have been identified as responsible for some 2,500 contributions.
Dr Parrott announced his discovery at the weekend in a lecture at the annual conference of the Research Society for Victorian Periodicals at Ghent University. He had kept the news secret, save for a select group of scholars who helped him verify its contents.
The BBC financial broadcaster Paul Lewis, who is also a renowned expert on Wilkie Collins and secretary of the Wilkie Collins Society, was at the conference. He said there were "audible gasps" when the scale of the revelation dawned on the audience of about 50 academics. "Everyone was completely blown away by it. This is the Rosetta Stone of Victorian studies because it gives you the key to what hundreds of people wrote. When this list emerges it will change Victorian scholarship."
In a secret meeting in London's Senate House before the grand announcement at the weekend, Dr Parrott showed three of the volumes to leading Victorian experts John Drew, Michael Slater and Paul Lewis. The men pored over his new literary treasure, immediately seeing its significance. They also sent photographs of the handwriting to graphologists who confirmed the likeness to Dickens' hand.
All The Year Round was a weekly literary journal published between 1859 and 1895 that contained articles, serialised novels, short stories and poems by leading Victorian writers. Initially edited by Dickens, after his death in 1870 it was owned and edited by his eldest son, Charles Dickens Jnr. The annotated volumes are thought to have been Dickens' way of keeping a personal record of who wrote what.
John Drew, a professor at Buckingham University, has spent much of the past decade putting the entire archive of writing from Dickens' periodicals online and trying to identify the authors. He said he was "extremely excited" at the find.
Dickens had a reputation as a heavy-handed editor and many articles by less assertive writers were subject to his revisions, which has previously led to confusion over authorship. Academics in Australia developed computer software to help identify a writer by style, but this latest discovery suggests that many of the articles previously identified by the technology as written by Dickens were in fact by other authors.
Professor Drew said: "He was a very hands-on editor who made fairly free with his pen. I think this may be why the computer is confused as there's so much over-writing."
The bound collection had been owned by the Duttons, a wealthy North Wales family, since the 1920s before being bought by the Wrexham book seller last year. It is assumed the Duttons obtained it after 1895 when the periodical went bust. Dr Parrott believes it was sold around this time because Charles Jnr had very little money he died a year later, leaving just £15 to his widow and eight children.
Key discoveries
Elizabeth Gaskell: two new works have been discovered by the North and South author. The pair of articles on French song and poetry had been attributed to Henry Chorley.
Sydney and Frank Dickens: Charles commissioned his sons to write aged 16 and 17 despite their obvious lack of talent. The three articles on Lord Nelson, preachers and servants are 'schoolboy essays' according to Dr Parrott. 'They've taken a book and plagiarised it heavily ... there's not much in the way of original thought or style.'
Wilkie Collins: the collection reveals eight pieces by author of The Moonstone which nobody has previously suggested were written by him. One is an article called 'The Crusoe of the Snowy Desert', telling the gripping true story of an explorer in the American Midwest who is stranded for a year in a barren snowy landscape and is eventually saved by a tribe of 'savages'. In another, called 'Hear The Postman,' Collins argues postmen should be paid more because of their use to society.
Lewis Carroll: A possible new poem has been discovered by the Alice in Wonderland author, though its provenance is still under debate.
Eliza Linton: the first salaried woman journalist in Britain, is revealed to be far more prolific than first thought. Previously just a handful of pieces had been listed under her name for All The Year Round but Dickens' notes show she wrote more than 100 articles.
Women: despite his reputation among some academics for misogyny, the list reveals that Dickens was very supportive of female writers. Parrott estimates that around 40 per cent of the list is women writers. 'Cumulatively it's very interesting how many women authors are there,' he says. 'Dickens is not generally recognised as having female protégés but you've got Queen Victoria's favourite poet, Adelaide Proctor writing a lot and Hesba Stretton, as well as women writing on serious subjects, such as science.'
Misattributed: The list shows that scholars have wrongly assumed that pieces by his contemporaries were actually by Dickens. An article assigned in his collection to his son-in-law, Charles Collins, had previously been assumed to be by Dickens.
Join our commenting forum
Join thought-provoking conversations, follow other Independent readers and see their replies