Charlie Gard's parents to discuss with Great Ormond Street doctors how sick baby should die
'Irreversible muscular damage has been done and the treatment can no longer be a success'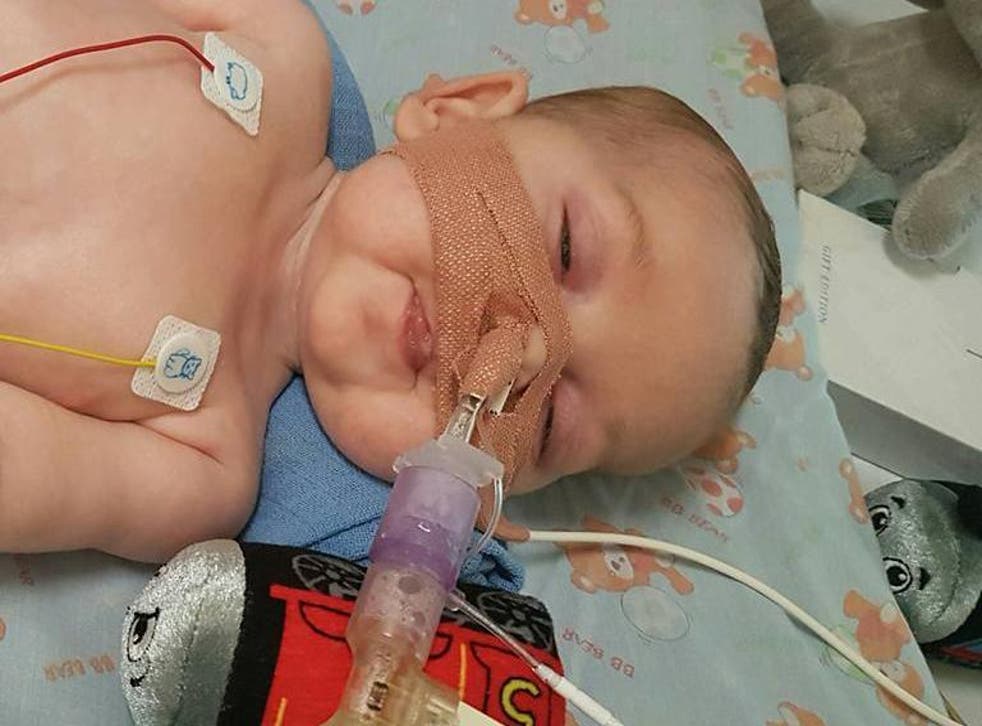 Charlie Gard's parents will hold discussions with Great Ormond Street about how their son should be allowed to die, their lawyer has said.
Grant Armstrong told the High Court the parents had dropped their legal fight for Charlie to be taken to the US for experimental treatment because scans showed that the child had suffered irreversible damage.
"For Charlie, it's too late, time has run out. Irreversible muscular damage has been done and the treatment can no longer be a success," he said.
"Charlie has waited patiently for treatment. Due to delay, that window of opportunity has been lost."
Connie Yates and Chris Gard said they wanted to treasure the short time they had left with their son, but would hold discussions with the children's hospital about his immediate future.
The decision concludes a bitter five-month legal fight from Ms Yates and Mr Gard, whose appeal to give their son treatment was previously rejected by the European Court of Human Rights.
Charlie, who was born on 4 August 2016, inherited the faulty RRM2B gene, which affects the cells responsible for energy production and respiration, leaving him unable to move or breathe without a ventilator.
Doctors at Great Ormond Street in London maintained that it was kinder for the Charlie's life support to be switched off, allowing him to die peacefully.
The case drew international attention after Charlie's parents received support from Pope Francis, Donald Trump and some US lawmakers.
Some US-based activists also travelled to London to support Charlie's parents.
UK news in pictures

Show all 50
Some commentators have portrayed the case as a clash between a family and the state, and some US conservatives have used it to criticise Britain's state-funded health care system – even though the case has never been about money.
Judge Nicholas Francis said the crux of the matter was that "in this country, children have rights independent of their parents."
While parents usually decide what is best for their children, in some cases hospitals and parents disagree, he said.
The judge condemned the abuse and threats directed at the hospital, doctors and nurses treating Charlie, but stressed these had nothing to do with the boy's parents.
Ms Yates and Mr Gard said they were aware the case had caused controversy, but now wish to treasure their remaining time with Charlie and asked for all protests to stop.
The judge said no one could begin to understand the parents' agony but they now had to "face reality" that it is in their son's best interests to die.
Register for free to continue reading
Registration is a free and easy way to support our truly independent journalism
By registering, you will also enjoy limited access to Premium articles, exclusive newsletters, commenting, and virtual events with our leading journalists
Already have an account? sign in
Register for free to continue reading
Registration is a free and easy way to support our truly independent journalism
By registering, you will also enjoy limited access to Premium articles, exclusive newsletters, commenting, and virtual events with our leading journalists
Already have an account? sign in
Join our new commenting forum
Join thought-provoking conversations, follow other Independent readers and see their replies