Charlie Gard's parents plead with High Court to let terminally ill baby die at home
Lawyer says hospital bosses are placing obstacles in Charlie's parents' way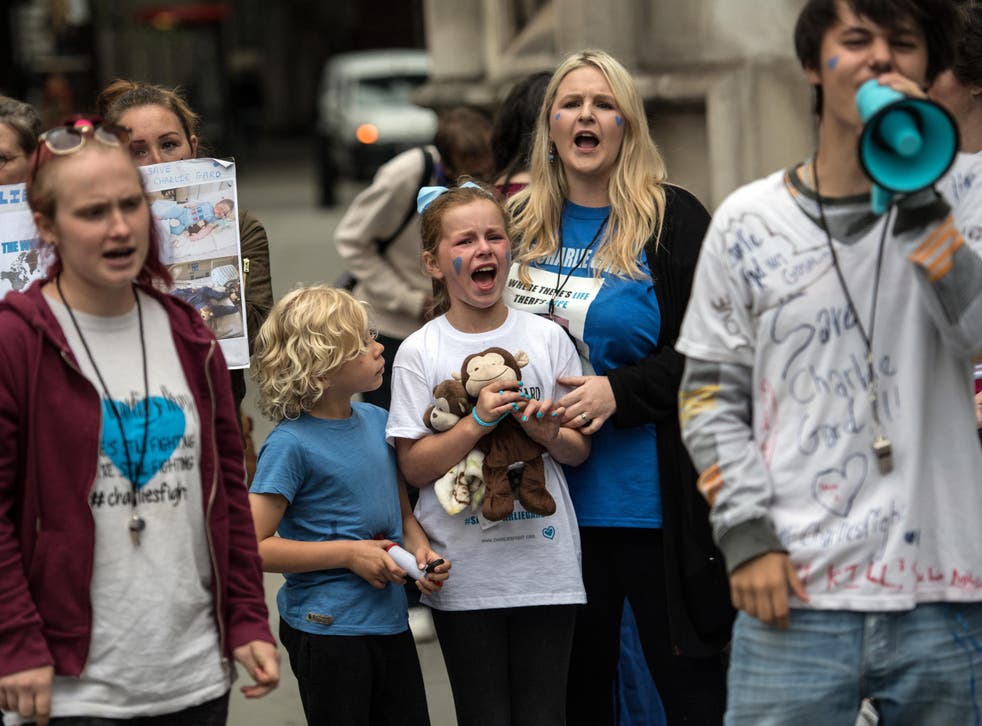 Charlie Gard should be allowed to die at home, his parents have told the High Court, as arrangements are made for the terminally ill baby's final days before his life support is switched off.
The latest dispute over the circumstances of the 11-month-old's death comes the day after Connie Yates and Chris Gard announced they were ending their five-month legal fight to take their son to the US for experimental treatment.
New medical tests showed baby Charlie, who has a rare genetic disease, had suffered irreversible muscular damage, meaning the proposed treatment known as nucleoside therapy had no chance of success.
Ms Yates returned to the courtroom this afternoon, where a lawyer representing the couple told the judge they wanted to take Charlie home to die.
But lawyers representing Great Ormond Street, where the baby is on life support, said the couple had not put forward a clear plan for palliative care and raised practical problems, such as the ventilator not being able to fit through the door of the house.
Mr Justice Francis said the hospital had suggested a "hospice option" – but the parents' lawyer said hospital bosses were placing obstacles in Charlie's parents' way. The judge will make a final decision tomorrow.
Charlie Gard's parents' statement in full - 'We are sorry we could not save you'
Katie Gollop QC, who leads the children's hospital's legal team, said practicalities were of the "greatest importance" and the hospital wanted to fulfil Charlie's parents' "last desire". But she said medics wanted to avoid hazards or mishaps and wanted to ensure Charlie was safe, as providing intensive care to him outside a hospital setting was not simple.
Hospital bosses had suggested mediation but Charlie's parents had not wished to use the services of a mediator, she said.
Charlie, born on 4 August 2016, inherited the faulty RRM2B gene that affects the cells responsible for energy production and respiration, leaving him unable to move or breathe without a ventilator.
In an emotional statement outside the court yesterday, Mr Gard said the infant would not make his first birthday in less than two weeks.
UK news in pictures

Show all 50
Mr Gard and Ms Yates, who are in their thirties and from Bedfont in west London, had asked the High Court to rule that Charlie should be allowed to undergo a therapy trial in New York, but doctors at Great Ormond Street said the therapy would not help.
The case caused an international furore, with both Donald Trump and Pope Francis offering to help the sick baby.
Ms Gollop said finalising an end-of-life care plan for Charlie was the "most delicate and difficult task" and said Charlie's best interests had to be balanced against his parents' needs. The case continues.
Join our new commenting forum
Join thought-provoking conversations, follow other Independent readers and see their replies