Roman Abramovich's Chelsea stadium rebuild faces being blocked by one stubborn homeowner
Nicolas Crosthwaite and his family say the new £1bn stadium would block the light at their £4m Chelsea home, and are refusing to back down - despite the local council voting in favour of a compulsory purchase plan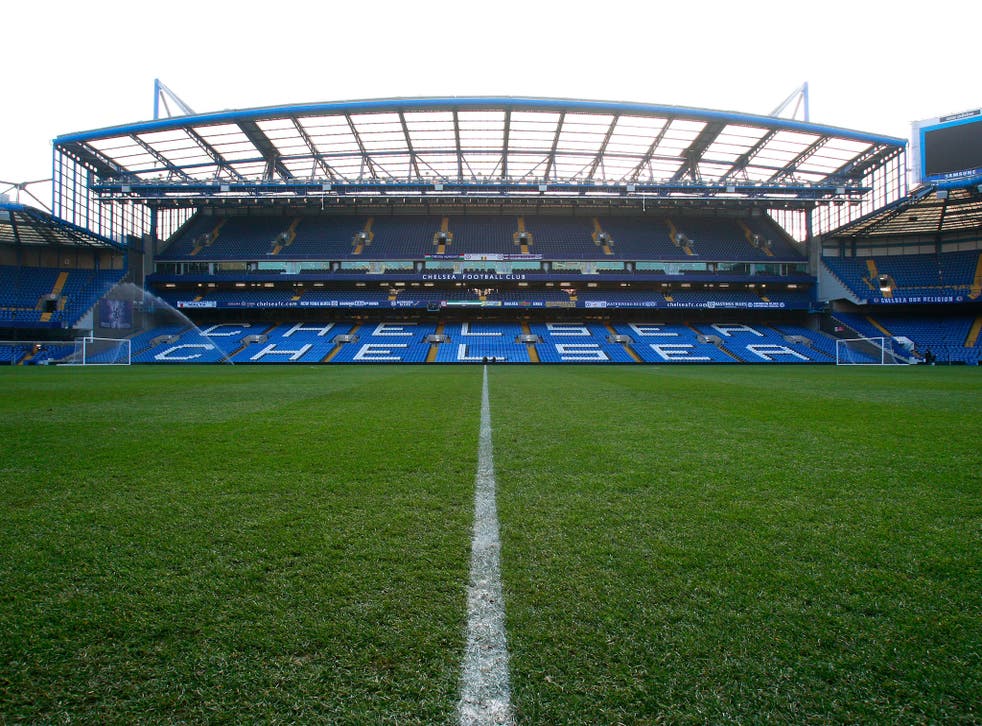 What the billionaire oligarch Roman Abramovich wants, he normally gets.
But when it comes to building himself a whole new stadium for his football club Chelsea, it seems his will may be thwarted by one stubborn British homeowner and his family.
Where others have moved house, given in or supported the rebuild of the Stamford Bridge ground, Nicolas Crosthwaite, 69, is refusing to budge from his Chelsea home or, it is reported, accept Mr Abramovich's offer of £1m in compensation.
Instead he has applied for an injunction against Chelsea Football Club, arguing that the current development plan must be halted because the new 165ft high, 60,000-capacity stadium will stop light getting to the home he shares with his wife and two children.
Amid reports of Mr Abramovich "blowing his top", Chelsea FC has said Mr Crosthwaite's solo stand has stalled the whole £1bn development.
So it has now taken the seemingly drastic step of asking Hammersmith and Fulham Council to compulsorily purchase a parcel of Stamford Bridge stadium land, in order that the local authority can in turn use compulsory purchase powers to override Mr Crosthwaite's right to light objections.
The local council appears to be going along with the plan, with Hammersmith and Fulham councillors voting to approve the measure at a town hall cabinet meeting on Monday night. But it also seems that Mr Crosthwaite and his family are ready to defy the council and fight on.
A letter sent from the family's lawyers to the council ahead of Monday night's meeting stated: "Our clients' position is that they will take all legal action available to them in the event that you make a decision to acquire the site, including, if relevant, their right to issue proceedings to review the lawfulness of any decision or action taken by you."
Mr Crosthwaite may reportedly be a retired banker with a house thought to be worth £4m, but in Chelsea this is what supportive neighbours see as a David and Goliath battle – with the stubborn homeowner as potential "local hero".
As one put it, referring to the initial £500m cost estimate of the stadium rebuild, "What's 500m to a guy like Roman Abramovich? It's a yacht isn't it?"
When The Independent checked, it found that the cost of Mr Abramovich's 533ft, double helipad, double swimming pool, anti-paparazzi-system yacht Eclipse was reported to be 500 dollars, not 500 pounds, but the neighbour, an artist, continued: "You do feel small. They have got an office full of people working on this. Their planning application was thousands of pages long.
"Facing that, as a layman, you are really up against it."
"And in Nick's case," the neighbour added, "You are up against the wall – literally."
The neighbour explained that a walkway outside the new stadium would go over a set of railway lines and be built right up to the edge of the Crosthwaite family home, at a height above the first floor windows.
In legal documents, it has been argued that this would be an unacceptable blight on the family home Mr Crosthwaite shares with his wife Lucinda, 59, an interior designer, and their children Rose, 25, and Louis, 23.
In one document Rose writes: "My family have lived [here] for over 50 years and it is my home.
"It is acknowledged in the application that the sunlight and daylight will be seriously affected to five of our windows, namely living/family rooms and bedrooms by the walkway.
"It is deemed as having an unacceptable and harmful impact."
10 young footballers to watch in 2018

Show all 10
And, the family has argued, if Chelsea weren't so keen to cram in so many corporate hospitality seats and instead accommodated a few more average football fans, the stadium could be rebuilt without blighting their property.
One legal letter sent to the council states: "It is not the case that our clients' rights prevent the whole stadium being built. A substantial stadium could be constructed that does not interfere with our client's right of light.
"The new stadium will have a disproportionate amount of 'hospitality' seating, which, generally, takes up more space than general admittance seating. There will be 16,937 hospitality seats which is approximately 28 per cent of the total seats.
"By contrast [Arsenal's] Emirate stadium has 9,361 hospitality seats, which is approximately 16 per cent of the total. Meanwhile Wembley, which is a special case in that it was designed to host special events, has approximately 19 per cent [hospitality seats]."
Mr Crosthwaite was away when The Independent called, but his artist neighbour said: ""If he wins, he would be a local hero.
"I would support him. When the planning application first went in, a lot of us objected. This is a conservation area. We would like to see the walkway pushed back."
The neighbour added that he had refused an offer from Chelsea FC "in the low thousands of pounds" to sign a document saying he accepted the stadium plans and waived some rights to oppose the development.
"You do feel managed, encroached on and threatened," he added.
Officials at the London Borough of Hammersmith and Fulham, however, have said the football club has told them while there is a chance of Mr Crosthwaite getting his injunction, the stadium rebuild can't go ahead.
In documents presented to councillors, the officials state: "Given the significant level of investment necessary, the club state that they will not be able to implement the development or secure any necessary development financing whilst there remains a risk that the existing injunctive proceedings might succeed."
A PR representative speaking on behalf of the football club could not comment on reports that Chelsea offered Mr Crosthwaite £1m in compensation, but the council documents state: "In June 2017 the Club offered a premium more than the market rate for the release of their rights to enable the development to proceed. This has not been accepted.
"It is highly unlikely that a private agreement will be reached."
The council officers accept the new stadium's impact on the light getting to the Crosthwaite house "would be sufficient to support a claim for an injunction".
But they say that compulsory purchase would allow Mr Crosthwaite's right to light to be overridden to allow "beneficial regeneration".
Under compulsory purchase rules, the council officers say, Mr Crosthwaite would be entitled to compensation, but he would not be able to stop the development with an injunction.
In documents submitted to the council, the football club said the stadium rebuild would involve £7m in local infrastructure improvements, "community engagement" that would include 3,000 stadium seats being allocated to local residents, healthy eating education and exercise sessions.
The club said the development would also benefit the local economy and involve "£6m of educational and personal development programmes", including primary and secondary school groups being offered "science, mathematics, ICT and technology, English and other key lessons."
When planning approval was granted for the stadium rebuild, Hammersmith and Fulham Council issued a press release saying it had "negotiated £22million worth of improvements for local people as part of its approval of Chelsea FC's plans to rebuild Stamford Bridge."
"On top of the expected benefit to the local economy of having almost 20,000 extra fans visit Fulham Broadway on match days," the press release added, "The council will receive direct funding from the club for a series of community schemes and upgrades to local facilities."
A spokeswoman for Chelsea FC said: "We are aware of the right to light case, however, out of respect for the parties involved, we are unable to comment while it is being determined by the local authority.
"We believe that the redevelopment of Stamford Bridge will deliver significant public benefit for the Borough of Hammersmith and Fulham."
Join our new commenting forum
Join thought-provoking conversations, follow other Independent readers and see their replies