Government reinstates legal aid for child migrants in major U-turn
Campaigners estimate that around 15,000 vulnerable migrant children alone in UK haven't been getting legal aid they need, putting them at risk of exploitation
May Bulman
Social Affairs Correspondent
,
Ashley Cowburn
Thursday 12 July 2018 17:36 Comments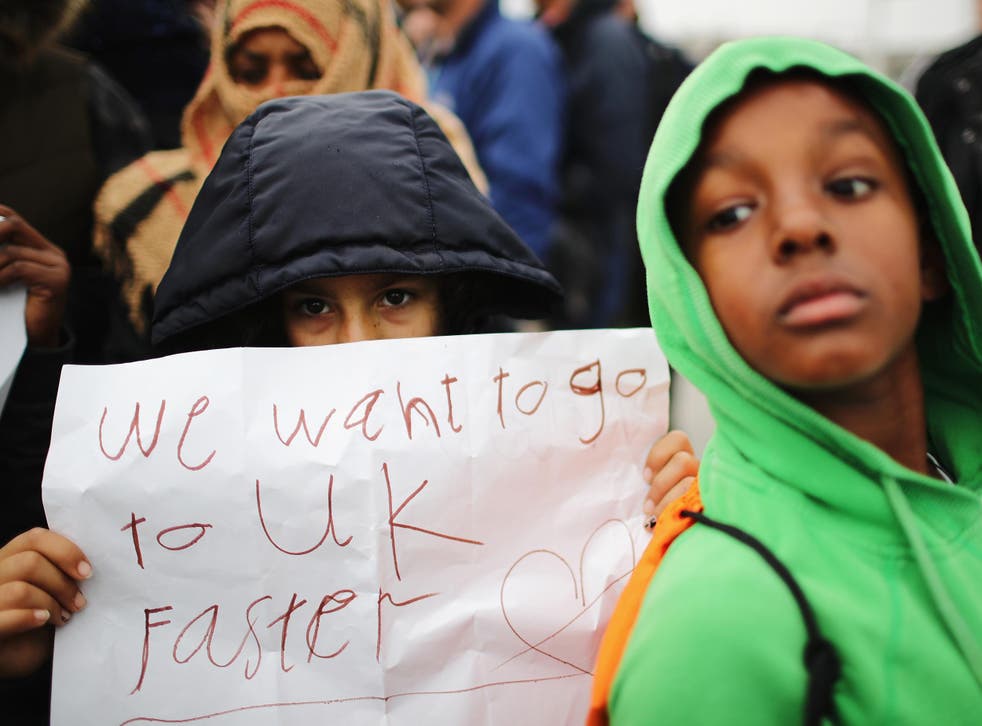 The government has bowed to pressure to reinstate legal aid for child migrants in a major U-turn after admitting unaccompanied minors in the UK may have been denied access to justice.
Campaigners, who said that access to justice for these vulnerable individuals is an "absolute lifeline", hailed the decision after a five-year legal challenge.
The Children's Society, who brought a judicial review against the government over the issue, estimate that around 15,000 vulnerable migrant children alone in the UK aren't getting the legal aid they need, putting them at risk of exploitation.
Children who are in the UK alone have been facing a punishing combination of cuts to legal aid and skyrocketing Home Office application fees since 2013, the charity said.
Many of these youngsters have been separated from their parents but may be living with a member of their extended family, friends, or are in local authority care while some have endured "horrific" experiences such as trafficking.
In a written ministerial statement, Lucy Frazer, a junior minister at the Ministry of Justice, said the government would now place an amendment to the Legal Aid Sentencing and Punishment of Offenders Act 2012, to "bring immigration matters for unaccompanied and separate children into scope of legal aid."
Ms Frazer added: "Following a judicial review brought by the Children's Society, we have examined both the evidence presented as part of the case and our data on applications for funding.
"Based on the distinct nature of the cohort in question, and of our data regarding them, I have decided to bring these cases into the scope of legal aid to ensure access to justice."
Refugees welcome here: Protesters demand UK resettle more migrants in response to refugee crisis

Show all 7
Matthew Reed, chief executive of the Children's Society, said he was "delighted" with the decision, adding: "This is an important change in policy which will go a long way to protecting some of the most marginalised and vulnerable young people in our communities.
"Legal aid is absolutely vital for ensuring that children can access justice. For children who are subject to immigration control and who are in this country on their own, it is an absolute life line.
"The government should be commended for this significant change for children and young people."
Labour's shadow justice secretary, Richard Burgon, said the government had been forced into scrapping the "callous" policy only because of the sustained campaigning by children's rights groups over a five-year period.
"The Conservatives should never have implemented these cruel cuts that have caused unnecessary distress to defenceless children," he said.
Mr Burgon added: "This highlights how it is the most vulnerable citizens who have paid the price for the Tories' vindictive decision to slash funding to our legal aid system.
"If the Government is serious about ending its 'hostile environment' for all migrants then it should commit to returning legal aid for all immigration law advice."
Register for free to continue reading
Registration is a free and easy way to support our truly independent journalism
By registering, you will also enjoy limited access to Premium articles, exclusive newsletters, commenting, and virtual events with our leading journalists
Already have an account? sign in
Join our new commenting forum
Join thought-provoking conversations, follow other Independent readers and see their replies