Over 400,000 more children will live in poverty by 2021 due to benefit changes, finds report
Under current plans for changes to benefits, including roll-out of universal credit, relative child poverty is set to increase from 27 per cent to 31 per cent in next four years, research shows
May Bulman
Social Affairs Correspondent
Thursday 02 November 2017 01:02 Comments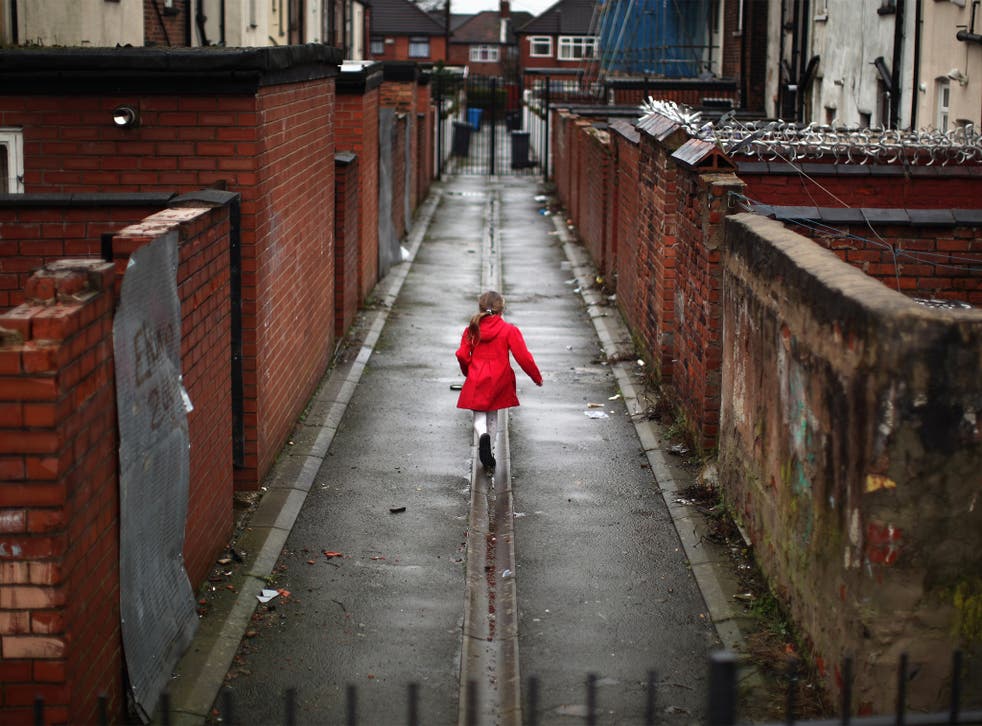 More than 400,000 more children are set to fall into poverty in the next four years if the Government pursues its planned tax and benefit reforms, a new report has warned.
Research by the Institute for Fiscal Studies (IFS) forecasts that under current plans for changes to benefits, including the rollout of universal credit, absolute child poverty is set to increase from 27 per cent to 31 per cent by 2021. Experts have warned that Britain's record of reducing child poverty is at risk of "unravelling" as a result of the changes.
The research, which combines official economic forecasts with planned tax and benefit reforms to project incomes and poverty rates among UK households between 2015-16, shows that child poverty will rise in every region of the country over the next few years.
Child poverty is defined as any youngster living in a household with an income of less than 60 per cent the national average, after housing costs are taken into account.
The largest increases will occur in the North East, East Midlands, Wales, and Northern Ireland – all areas where poor households get more income from benefits and less from earnings, or where more low income households will be affected by the limiting of means-tested benefits to two children.
Tom Waters, an author of the report and a research economist at IFS said: "If the Government sticks to planned benefit cuts, it should not be surprised if, according to the official measure, absolute child poverty rises.
"The larger projected rises occur in areas where families with children are more reliant on benefits than earnings for their income, and where more families are likely to be adversely affected by the new two-child limit on means-tested benefits."
Around 7.5 million low income households will see their benefit entitlements cut by over £500 per year in real terms as a result of the freeze to most working-age benefits, the report states. It adds that the limiting of tax credits and universal credit to two children means that some low-income families will receive over £2,500 less in benefits than they otherwise would have.
Income is projected to grow by just 4 per cent in real terms over the next four years – which the report authors say is slow by historical standards. And they warn that this prediction could be optimistic, with the OBR indicating that they will downgrade their forecast for productivity growth at the Budget later this month.
The report comes amid growing pressure on Theresa May to make changes to universal credit, which is being blamed for plunging people into debt and sending them to food banks.
In particular, there are calls - including from some Tory backbenchers – for the six-week wait before a first payment comes through to be cut to no more than four weeks.
So far, No 10 has refused to bow to the pressure, although the change is believed to be under consideration behind the scenes.
However, there are also warnings that universal credit is punishing the self-employed, people working part-time and women – because payments go a single household earner, usually a man.
The shake-up replaces six different working-age benefits with a single payment, making the system simpler to understand and administer, Ms May has insisted.
It also comes as new research from Child Poverty Action Group (CPAG) found that a lack of affordable childcare and poor opportunities for progression were already holding low and middle-income parents back, with almost half of working parents with an annual household income under £30,000 saying they didn't have enough money to support their families.
A separate report published by campaign group Gingerbread meanwhile indicated that 165,000 single parents of pre-school aged children were at increased risk of going into poverty and debt because of new job-seeking requirements placed on them under the universal credit system.
It has also emerged this week that benefit cuts and increased levels of poverty across the UK are a primary cause for an "unprecedented surge" in demand for children's services in recent years, with cuts to financial support for families causing demand to rise to levels local authorities say they are unable to meet.
Alison Garnham chief executive of CPAG, told The Independent the UK was heading for a "child poverty crisis", warning that it is "extremely unusual" to have increases in absolute child poverty in every UK region and nation on the horizon. "So much of the damage to household incomes is being caused by the freeze on benefits and the huge cuts to tax credits and universal credit," she added.
"The Chancellor has the opportunity in this month's Budget to reduce the scale of the oncoming crisis by ending the freeze on benefits and re-instating the money that has been taken out of universal credit. Failure to act will jeopardise the life chances of a generation."
Campbell Robb, chief executive at the independent Joseph Rowntree Foundation (JRF), meanwhile said: "These shocking figures show the UK's proud record of reducing child poverty is at risk of unravelling: it could mean an additional 1.2 million children in poverty by the end of the Parliament.
UK news in pictures

Show all 50
"Twenty years of progress is at stake unless the Government takes urgent action at next month's Budget. The biggest drivers of the increase in child poverty are changes to benefits and tax credits, especially the freeze on most working age benefits.
"This will leave families struggling to cover the rising cost of essentials as benefits fail to top up low pay and for those out of work incomes stay the same while prices rise. The Chancellor must lift the freeze in the Budget so these projections do not become reality."
In response to the report, a government spokesperson said: "We are committed to supporting families while making the welfare system fair for those who pay for it and those who benefit from it.
"There are 200,000 fewer children living in poverty than in 2010 and we are helping families keep more of what they earn by cutting taxes and increasing the national living wage. In particular, the North East has near-record levels of employment, and unemployment rate in Wales is the lowest on record."
Register for free to continue reading
Registration is a free and easy way to support our truly independent journalism
By registering, you will also enjoy limited access to Premium articles, exclusive newsletters, commenting, and virtual events with our leading journalists
Already have an account? sign in
Join our new commenting forum
Join thought-provoking conversations, follow other Independent readers and see their replies