Teachers witnessing 'distressing' new levels of child poverty in schools this winter
Campaigners condemn 'Dickensian' picture of poverty in UK and accuse ministers of allowing austerity to create generation of children who are 'impoverished through no fault of their own'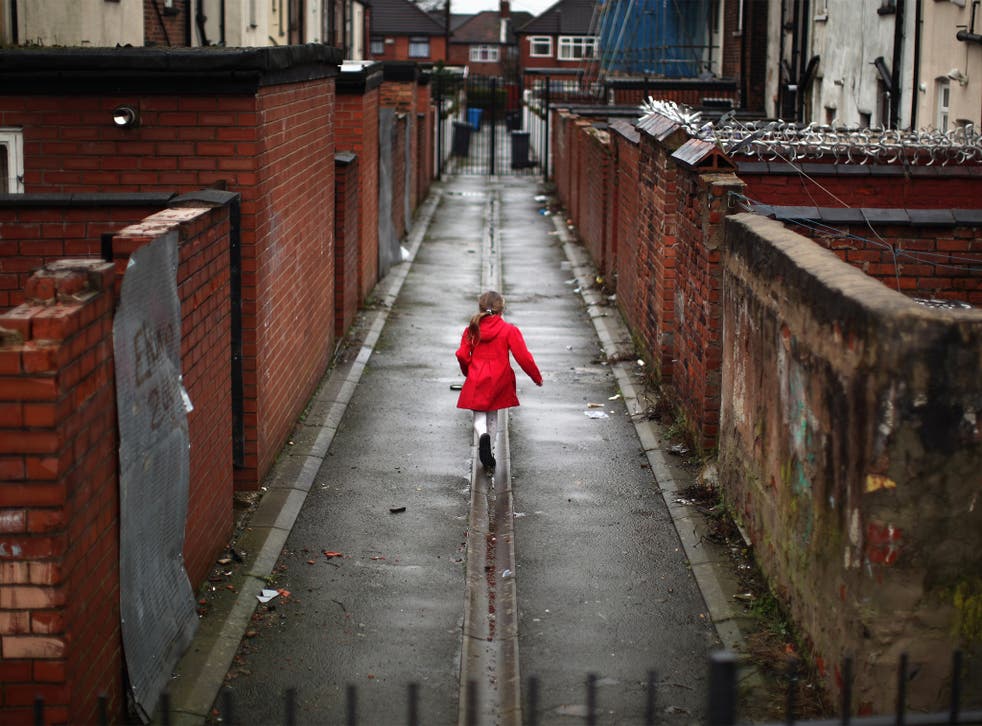 Teachers are witnessing "distressing" new levels of child poverty in schools this winter as austerity drives more families into destitution, new research shows.
More than half of teachers said fewer families were able to afford adequate footwear or clothing this winter compared to three years ago, according to new research by the National Education Union (NEU).
Separate research from the Young Women's Trust shows a quarter of young parents are expecting to get into debt over the festive period, with young mothers more likely to be affected than men.
Campaigners said the figures painted a "Dickensian" picture of poverty endured by many families and accused the government of allowing austerity to make a generation of children "impoverished through no fault of their own".
The NEU research shows four in 10 of the 1,026 secondary and primary school teachers surveyed said schools were having to provide more items for children and their parents because of increased poverty.
When asked about the effect living in poverty was having on their pupils, teachers said children were "going cold" and "feeling ashamed", and that many were wearing ill-fitting clothes and torn shoes.
One teacher said: "One student wore his trousers backwards as he didn't want anyone to know he had holes in the knees," while another observed: "Kids come in without winter coats even in the coldest weather, or with shoes held together by tape."
The Young Women's Trust, which surveyed 4,000 young people between the ages of 18 and 30, found that, of those with children, 28 per cent said that they will most likely be faced with expenses they cannot afford over the festive period.
Overall, 16 per cent of young people think they will get into debt, the findings show. Those in the North East were by far the most likely to feel this way, with 24 per cent expecting to get into debt.
Young mothers were more likely to be in a difficult financial situation than young fathers, at 40 per cent compared to 29 per cent. The Trust said this could be because women are more likely than young men to be jobless or trapped in low-paid or insecure work.
The two sets of research come after the United Nations condemned the government's "punitive, mean-spirited and often callous" treatment of the country's poorest and most vulnerable.
The UN poverty rapporteur Philip Alston said he had been concerned to see families dependent on food banks, and children who were "growing up in poverty unsure of their future".
Responding to the new findings, shadow education secretary Angela Rayner said: "These figures paint a shocking picture of the impact of the Tories' austerity programme on a generation of children, who are impoverished through no fault of their own.
"Growing up in such hardship has a major influence on education, health and welfare, and quite simply it is harder to learn if you are hungry or homeless."
Dr Mary Bousted, joint general secretary of the NEU, said the figures painted a "Dickensian picture of the poverty that far too many children and their families are having to endure".
She added: "The government is out of touch with the distressing new reality of children's daily lives: with what it means to live without enough money for basics, such as food, shoes and adequate clothing.
"The government has failed to recognise the human cost of its cuts to schools and other children's services and to the social security system, and its failure to address the in-work poverty faced by one in five workers.
"The government must stop hiding from the facts. Children can't escape the poverty trap without an urgent change to national policies."
Young Women's Trust chief executive Dr Carole Easton said: "Christmas is a particularly hard time for those on low pay who want to provide for their families.
"Young women are more likely to be stuck on low pay and on zero hours contracts. Often they don't know how many hours they will work each month and whether they will earn enough to pay their bills.
"Much more needs to be done to improve young people's prospects. This means giving them the right skills and support to find jobs, ensuring decent and flexible jobs are available and paying a proper living wage that doesn't discriminate against age. This would benefit businesses and the economy too."
UK news in pictures

Show all 50
A government spokesperson said: "Teachers shouldn't have to step in to tackle the issues highlighted by this survey, and we're already taking action to make sure that they don't have to. Since 2010 there are 300,000 fewer children living in absolute poverty, employment is at a record high and we're committed to ensuring that every child gets the very best chances in life.
"We continue to spend £90bn a year on welfare to support those who need it most, have introduced the National Living Wage and helped workers keep more of the money they earn by cutting taxes for 31 million people by an average of £1,000.
"On top of this, we've introduced funding to support thousands of disadvantaged families in the school holidays to ensure they get the extra help they need."
Join our new commenting forum
Join thought-provoking conversations, follow other Independent readers and see their replies