'Give more children sanctuary here': Scheme bringing lone child refugees to safety in UK ends
Concerns more unaccompanied minors will be left in rapidly deteriorating conditions and at higher risk of exploitation in Europe as Home Office confirms 480 places offered under Dubs scheme have been filled
May Bulman
Social Affairs Correspondent
Thursday 21 May 2020 22:29 Comments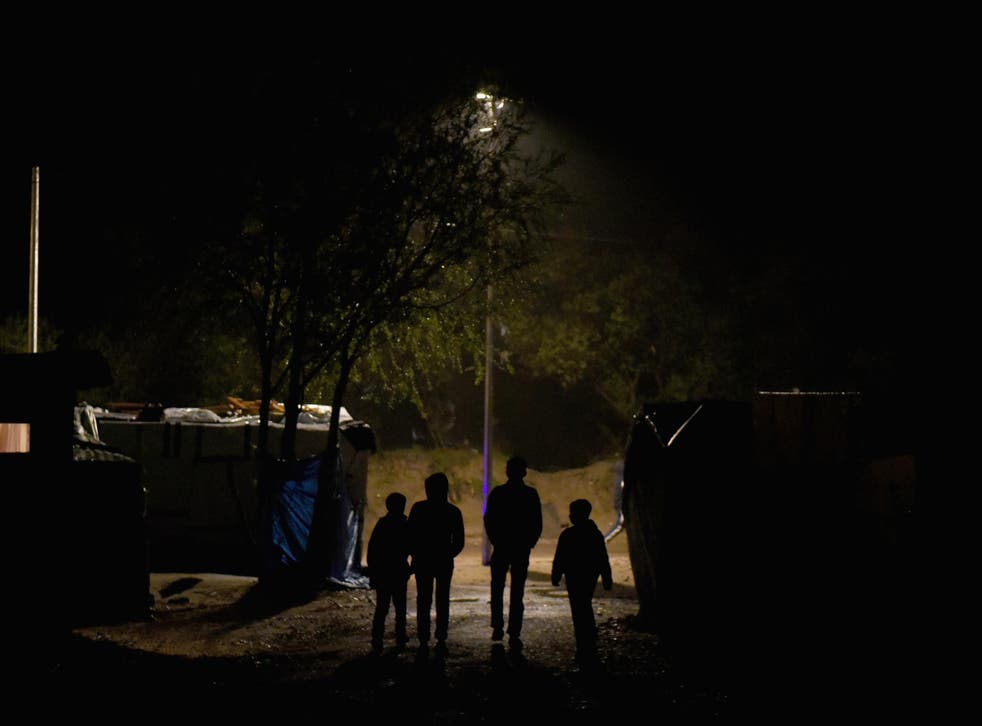 Ministers are facing calls to bring more unaccompanied child refugees to the UK after it emerged the Home Office's scheme for offering sanctuary to lone minors in Europe has ended – despite the fact that thousands remain stranded on the continent.
In the first figures published on the Dubs amendment since the Calais Jungle camp was demolished in 2016, the Home Office revealed the 480 places that were offered under the scheme four years ago have been filled. Of these, 478 children are now settled in Britain, with two more set to be transferred from Italy when travel restrictions ease.
Charities have raised concerns that an end to the scheme will leave more children in rapidly deteriorating conditions in camps in Italy, Greece and France, and increase the risk of minors being pushed into the hands of smugglers or risk their lives in dangerous crossings.
The Dubs Amendment, passed in May 2016, required the government to act "as soon as possible" to relocate and support unaccompanied refugee children in Europe. It was required to consult with local authorities to determine the number of children each council has the capacity to help.
The scheme was initially envisaged as offering settlement to 3,000 child refugees, but the Dubs amendment was capped at 350 places, and later increased to 480 in 2017 after the government admitted that due to an "administrative error", 130 places had been overlooked.
The government has no other scheme for providing sanctuary for unaccompanied minors in Europe who do not have relatives in Britain, so the end to the scheme effectively means an end to Britain's offer of protection for these children.
Lord Alf Dubs, who proposed the amendment and who himself came to Britain as a child refugee during the Second World War, said he was pleased for the 480 accepted under the scheme, but "heartbroken" for the many more unaccompanied children who he said now have "no hope" of reaching safety in the UK.
He added: "When parliament voted for the Dubs scheme, we hoped thousands of children would benefit but instead the government capped the scheme at 480 places. I know there are local authorities that are ready to welcome child refugees, and I will keep calling on the government to lift the arbitrary cap and give more children sanctuary here."
Beth Gardiner-Smith, chief executive of Safe Passage, which helps refugees access safe and legal routes to asylum, said: "We know that without safe and legal routes like the Dubs scheme, there's a real risk more children will be pushed into the hands of smugglers or risk their lives in dangerous crossings.
"The UK must replace this scheme with a long-term alternative that offers more children in Europe the same lifeline. We know communities have the spaces – local councils have pledged more than 1,400 places for such a programme."
Maddy Allen, advocacy manager at Help Refugees, which supports child refugees in northern France, said: "Tonight over 200 unaccompanied children, the youngest just 11 years old, will be sleeping outside in Calais and Dunkirk. Adding a global pandemic to an already dire situation has left everyone struggling. The UK must provide legal routes of passage for these children immediately."
It comes after campaigners accused Boris Johnson of "tearing up" a separate government pledge to protect child refugees in Europe seeking to reunite with family in the UK, after the new withdrawal agreement bill – which set out plans for the UK's exit from the EU – scrapped a previous commitment to negotiate a new deal for refugee children after Brexit.
The number of unaccompanied child migrants arriving in Britain is said to have risen significantly in the past year, with the leader of Kent County Council telling the BBC the number of young asylum seekers in the county had "doubled in a little more than a year".
This has led to renewed fears that children are being trafficked into modern slavery, with the number of child trafficking in the UK continuing to rise year-on-year.
Charities said there are currently around 5,000 unaccompanied refugee children in Greece, including over 1,600 on the islands, and around 200 in Calais and Dunkirk in northern France, as well as hundreds more in Italy.
Minister for Immigration Compliance, Chris Philp, said: "We have made clear that protecting vulnerable children is a key priority for this government and the progress we have made – with generous support from local authorities - underlines our commitment to that.
"The UK provides a number of legal routes for those seeking protection and we will continue to offer a range of support for those who often need it most. We granted protection to over 7,320 children in the year ending March 2020 and more than 44,900 children since 2010."
Register for free to continue reading
Registration is a free and easy way to support our truly independent journalism
By registering, you will also enjoy limited access to Premium articles, exclusive newsletters, commenting, and virtual events with our leading journalists
Already have an account? sign in
Join our new commenting forum
Join thought-provoking conversations, follow other Independent readers and see their replies