'We are the lucky ones': Young refugees plead for ministers to protect unaccompanied minors
Former unaccompanied minors who were 'traded like cattle by smugglers' trying to get to Britain pen public letter pleading with ministers to protect unaccompanied minors whose lives are at risk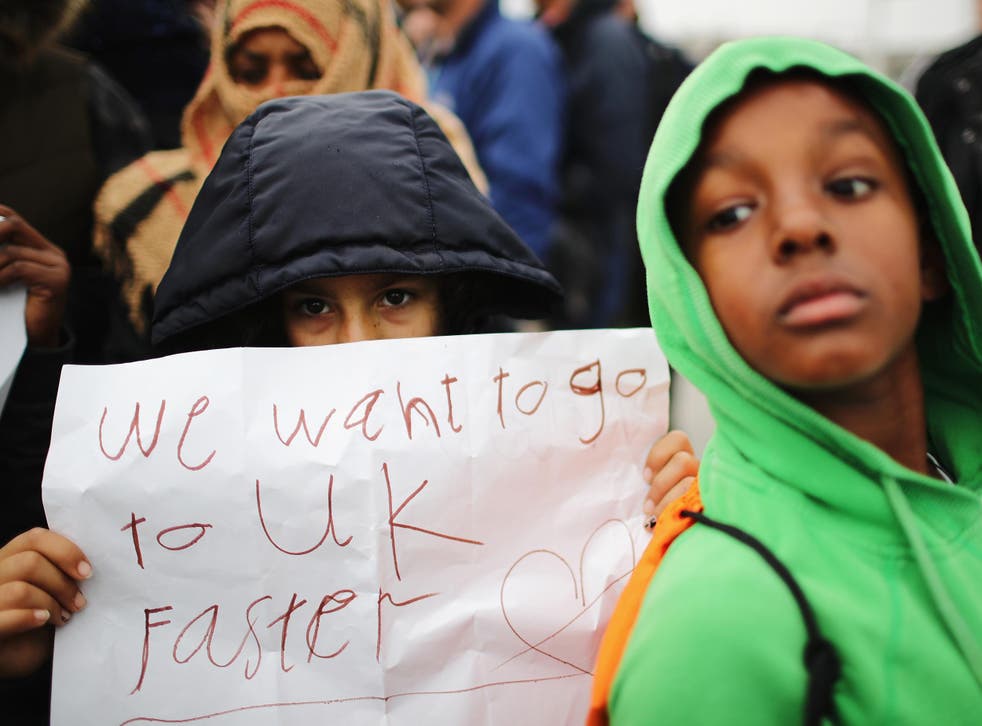 A group of young refugees and asylum seekers who embarked on perilous journeys as children to reach safety in the UK have urged the Government not to end the transfer of unaccompanied minors to Britain.
In an open letter following the controversial closure of the Dubs scheme - which aimed to bring vulnerable lone refugee children to Britain - 17 former unaccompanied minors accuse ministers of failing to listen to the voices of those affected and subsequently putting young lives at risk.
The young refugees, aged between 16 and 22 and from countries including Syria, Iraq, Iran, Afghanistan and Eritrea, detail the perilous journeys they had to take to reach the UK because there were no safe, legal routes to protection.
"Many of us have been traded like cattle between groups of smugglers on our journeys. Many of us boarded over-filled rubber boats to get here," the letter reads.
"Many of us know someone who died on the journey."
Some of the signatories fled through the Sahara desert and were detained in Libya before making the dangerous Mediterranean Sea crossing. One spent eight hours in a freezer during his journey, which took him through 11 different countries.
The youngsters, who drafted the letter with the help of the British Red Cross, describe themselves as "the lucky ones", and urge that their voices must be listen to in order to prevent others being put at risk on the dangerous journey.
"We use our voice now to say this: please don't put the lives of young refugees like us at risk," they letter continues.
Refugees welcome here: Protesters demand UK resettle more migrants in response to refugee crisis

Show all 7
"We all wish we didn't have to make this journey. We urge everyone with influence to come together to establish safe, legal routes for young people to find protection."
One signatory, an 18-year-old from Iran, described the journey he had to take to reach the UK as "deadly", citing women being assaulted and children being sexually abused.
The youngster, who along with the other refugees remains anonymous because they were children when they arrived in Britain, said: "I came by lorry to the UK through Calais. This route is really dangerous, not just for children and minors but also for families and adults. They should make it easier for children to come safely to the UK.
"Assaulting women, sexually abusing children, the smugglers are really not nice people. I would like them to make it safer. I saw so many people die, this is a deadly journey."
When the Dubs Amendment passed through the Commons last year following pressure from Lord Alf Dubs, it was hailed as a humanitarian success that would see 3,000 lone children from European refugee camps brought to the UK.
But no figure was agreed at the time, and two weeks ago the Home Office unexpectedly announced the scheme would end after 100 more children reached the UK, bringing total numbers to 350.
Faced with a furious backlash from human rights campaigners and other senior figures, the Government defended its decision arguing the programme could "incentivise" children to travel to Europe.
Home Secretary Amber Rudd also attributed the closure to a lack of local funding, a claim furiously disputed by several local councils who said they had written to the Ms Rudd to urge approval of more child asylum seekers.
Ministers have since announced the Home Office will review asylum applications from child refugees in France, after it emerged up to 400 unaccompanied minors had made their way back to Calais in recent weeks and were sleeping on the streets. It is unclear however how many of the decisions will be overturned.
Inside the classroom with Chios's child refugees

Show all 13
Mike Adamson, Chief Executive of the British Red Cross said: "Children who have made the perilous crossing to Europe on their own have often witnessed things unimaginable to most adults, both in the countries they have fled and on their journey to find protection.
"We should all be doing more to step up to the task of providing these children with a safe home.
"We encourage the government to take notice of what these young people are saying - that opening up more safe, legal routes to the UK, such as the Dubs scheme, will spare others from having to take the same risks that they had to in search of protection."
Join our new commenting forum
Join thought-provoking conversations, follow other Independent readers and see their replies