Catholic boarding schools 'prioritised monks and their reputations over children's safety', sexual abuse inquiry finds
Inquiry finds children as young as seven were sexually abused at Ampleforth, and 11 at Downside
Lizzie Dearden
Home Affairs Correspondent
Thursday 09 August 2018 13:09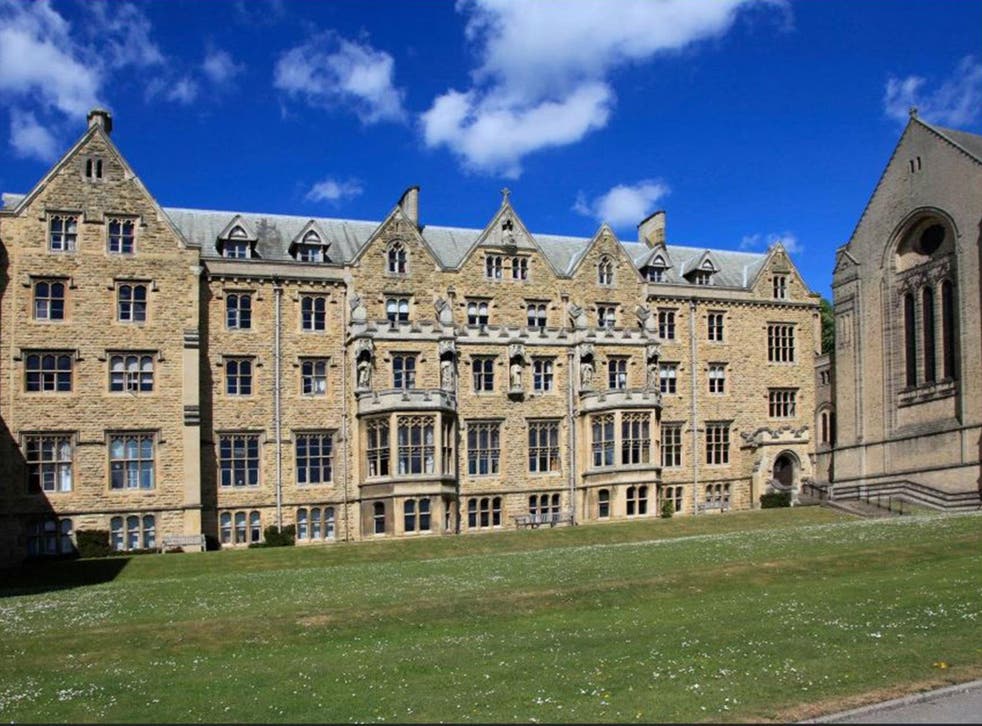 Two leading Catholic schools "prioritised monks and their own reputations over the protection of children" who were sexually abused, a report has found.
The Independent Inquiry into Child Sexual Abuse (IICSA) found that pupils at Ampleforth, in Yorkshire, and Downside, in Somerset, suffered "appalling" treatment stretching over decades.
The inquiry found that children as young as seven were sexually abused at Ampleforth, and 11 at Downside, amid a "culture of acceptance of abusive behaviour".
Professor Alexis Jay, chair of the inquiry, said: "For decades Ampleforth and Downside tried to avoid giving any information about child sexual abuse to police and social services.
"Instead, monks in both institutions were very often secretive, evasive and suspicious of anyone outside the English Benedictine Congregation.
"Safeguarding children was less important than the reputation of the church and the wellbeing of the abusive monks.
"Even after new procedures were introduced in 2001, when monks gave the appearance of cooperation and trust, their approach could be summarised as a 'tell them nothing' attitude."
The report found that the true scale of sexual abuse at the fee-paying schools, whose alumni include politicians, aristocrats and celebrities, was likely to be "considerably" more widespread than conviction figures reflect.
Both schools are linked to the English Benedictine Congregation, which has 10 monasteries in England and Wales.
IICSA found that "secretive, evasive and suspicious" church officials had avoided reporting misconduct to police and social services.
The report said allegations stretching back to the 1960s encompassed "a wide spectrum of physical abuse, much of which had sadistic and sexual overtones".
So far 10 individuals linked to the schools, mainly monks, have been cautioned or convicted over sexual activity or pornography offences involving a "large number of children".
One alleged offender at Ampleforth, which currently charges £35,424 a year for senior boarders, abused at least 11 children aged between eight and 12 over a "sustained period of time", but died before police could investigate.
"Many perpetrators did not hide their sexual interests from the children," the report found, allowing abusers at Ampleforth to prey on entire groups of pupils both outdoors and indoors during communal activities.
"The blatant openness of these activities demonstrates there was a culture of acceptance of abusive behaviour."
Victims and witnesses who gave evidence during weeks of inquiry hearings last year said the culture was fostered by abbots leading the schools.
In 2001, the Nolan Report recommended all sexual abuse allegations within the church must be referred to police, but many allegedly felt the position was "neither obligatory nor desirable".
"For much of the time under consideration by the inquiry, the overriding concern in both Ampleforth and Downside was to avoid contact with the local authority or the police at all costs, regardless of the seriousness of the alleged abuse or actual knowledge of its occurrence," the report said.
UK news in pictures

Show all 50
"Rather than refer a suspected perpetrator to the police, in several instances the abbots in both places would confine the individual to the abbey or transfer him and the known risk to a parish or other locations."
But details of the monks' predatory past was not always passed on to their new residence, where "children were then abused as a consequence."
Downside, which now charges £33,861 per annum for senior boarders, paved the way for the return of offenders such as Nicholas White, who became his first victim's housemaster despite staff knowledge of the abuse allegations.
Four suspected paedophiles were feared to remain at Downside as recently as last year, when the former abbot Aidan Bellenger sent two letters to Dom Leo Maidlow Davis containing information that was not passed to the local authority safeguarding lead.
Mr Maidlow Davis later apologised, but the report said: "The whole incident, having occurred so recently, gives no cause for confidence that the attitudes at Downside had changed enough to put children first over threat to reputation and embarrassment to senior members of the monastic order."
The congregation's most senior clergymen, including past presidents Richard Yeo and Charles Fitzgerald-Lombard, refused to fully accept that criminal activity was tolerated when questioned at the inquiry.
Accountability within the congregation was exacerbated by "no recognisable line management oversight", IICSA found, with the monastic order appearing "collaborative rather than hierarchical".
The inquiry suggested that a "strict separation" between the abbeys and schools was needed to ensure school safeguarding was free from the "often conflicting priorities of the abbeys".
Neither school has established a redress scheme for victims and "no public apology has been made" outside of the context of the inquiry, the report said.
Richard Scorer, a lawyer from Slater and Gordon who represented several victims at the inquiry, called for the onward reporting of sexual abuse allegations to be made legally mandatory.
"The abhorrent and disgraceful abuse in the Catholic church has once again been laid bare by this inquiry," he said.
"This familiar and shameful story of coverup has been told time and time again, and is a devastating indictment of an organisation guilty of gross failures on child protection. It is clear that the Catholic church is woefully incapable of policing itself."
A spokesperson for Ampleforth College said it was developing its first ever safeguarding charter and would review IICSA's findings to make further improvements.
"We remain completely focused on the safety and wellbeing of those entrusted to our care and our commitment to implement meaningful change," he added.
"We would like to once again offer our heartfelt apology to anyone who suffered abuse while in the care of our schools, parishes or other ministries."
A spokesperson for Downside School offered a "sincere and unreserved apology to all victims and survivors of sexual abuse suffered as a result of the actions of some within the Downside community".
"The abbey and school fully acknowledges the serious failings and mistakes made in both protecting those within our care and responding to safeguarding concerns," he added. "We have reflected deeply and will continue to listen with the ear of the heart going forward to ensure that the mistakes of the past are never repeated."
Since the inquiry hearings in November, it has appointed a new headmaster, new chair of governors, carried out a safeguarding review, removed monks from senior positions and is moving the school into a new independent trust.
The Catholic church is one of 13 strands of IICSA's ongoing investigations, which have included probes into other religious institutions, schools, youth detention centres, government programmes and mental health units.
The inquiry will also examine allegations of child sexual abuse by "people of public prominence" in Westminster and grooming gangs in Telford, Rotherham and other areas.
An interim report published in April found that "all too often institutions are prioritising the reputation of political leaders or the reputation of their staff, or avoiding legal liability, claims or insurance implications, over the welfare of children and tackling child sexual abuse".
Theresa May established IICSA, which is expected to cost up to £100m, as home secretary in 2014, to examine how UK institutions handled their duty to protect children from sexual abuse following the Jimmy Savile scandal.
But it quickly became the subject of controversy following the resignation of three chairs – Baroness Butler-Sloss, Fiona Woolf and Dame Lowell Goddard – and a data breach that resulted in a £200,000 fine.
Additional reporting by PA