Government's childhood obesity plan is 'pathetic', says campaign group
Obesity 'will bankrupt the NHS unless something radical is done', charity Action on Sugar says
Harriet Agerholm
Friday 15 July 2016 19:09 Comments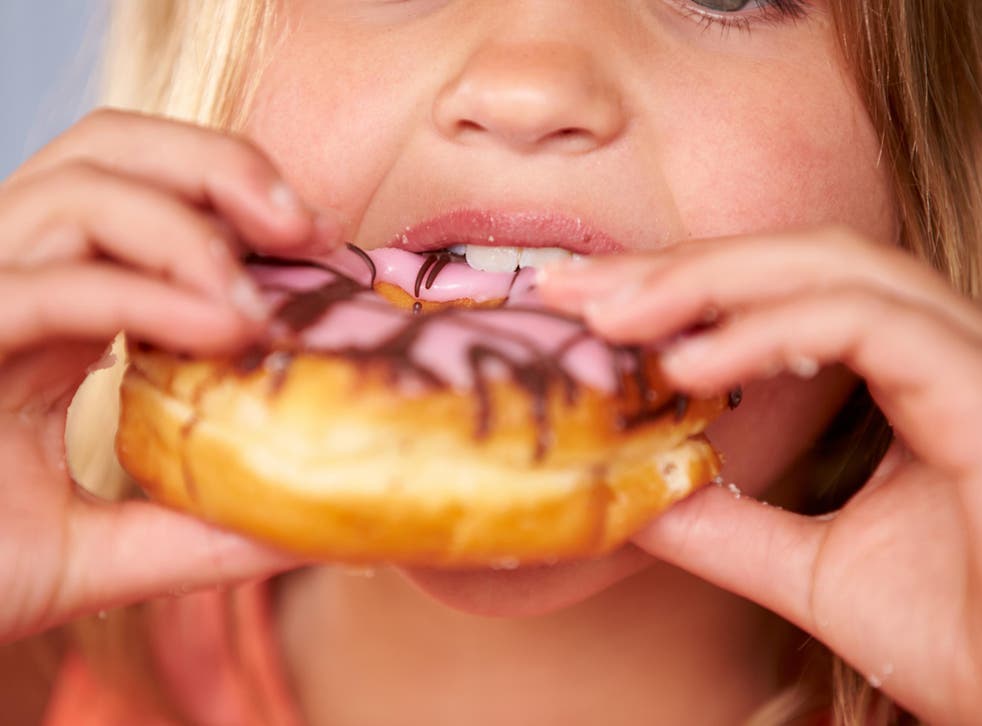 The Government has decided not to set limits on fat content in food, according to a leaked copy of the Government's long-delayed childhood obesity plan.
The proposals do include a plan to reduce sugar content in food by 20 per cent by 2020, but the proposals were branded "pathetic" by public health charity Action on Sugar.
More than one in five children in England are overweight or obese before they start primary school. By the time they leave, this rises to one in three.
Action on Sugar called for new Prime Minister Theresa May to take action to improve what it described as "one of the UK's most important public health programmes".
Professor Graham MacGregor, chairman of the group, said: "It is an insulting response to the UK crisis in obesity type 2 diabetes, both in children and adults. This will bankrupt the NHS unless something radical is done."
Action on Sugar had recommended that sugar content in food should be halved and fat reduced by 20 per cent, arguing this was required to make a significant difference to levels of obesity in the UK.
Professor MacGregor, an expert in cardiovascular medicine at Queen Mary University, said: "The report is missing a key element of obesity: fat.
"This is meant to be a plan for reducing obesity and all it does is talk about sugar."
The charity also slammed the Government for failing to set out plans to control food advertising.
"Extraordinarily, there are no specifics about any marketing restrictions," the group said in a statement.
"[It] merely says there will be a consultation, which is a pathetic response, given the billions of pounds the food industry spends on advertising to young children of unhealthy products."
Action on Sugar pointed out that obesity kills more people than tobacco, both worldwide and in the UK.
Professor MacGregor said: "There's no justification for advertising unhealthy food to children, they're a very vulnerable group."
He added that high fat and sugar content disproportionately affected poorer children.
Action on Sugar also said the report failed to mention reformulating sugary drinks, a major source of sugar in children's diets.
The group said steadily decreasing the sugar content of drinks and food was the most effective way of reducing obesity.
"Shouting at the public: 'Don't buy unhealthy food! Don't buy drunk food!' doesn't work," Professor MacGregor said.
He said the first draft of the report, written a year ago, had been comprehensive, but claimed its proposals had been "eroded away" by food industry.
Pressure for the Government to make sugar and fat limits mandatory have been growing, with some supermarkets now asking for regulation.
The amounts of sugar in food and drink

Show all 6
Action on Sugar said it was a "farce" to rely on food companies to regulate themselves.
The Government plan reiterates the intention to have a soft drink levy, but the campaign group warned the likelihood of it becoming law was low, citing concerns about the upheaval caused by the vote to leave the European Union.
"We urge Theresa May to revert back with an evidence-based, robust policy to prevent childhood obesity and type 2 diabetes," Professor MacGregor said.
"This would also be a major opportunity for her to demonstrate that she is being real in trying to help people who are less well off, particularly the socially deprived."
Downing Street did not immediately respond to a request for comment.
Register for free to continue reading
Registration is a free and easy way to support our truly independent journalism
By registering, you will also enjoy limited access to Premium articles, exclusive newsletters, commenting, and virtual events with our leading journalists
Already have an account? sign in
Join our new commenting forum
Join thought-provoking conversations, follow other Independent readers and see their replies