China sails high-tech warships up the Thames as Beijing seeks closer ties with Royal Navy
The world is 'far from peaceful' amid terrorism and piracy, says ambassador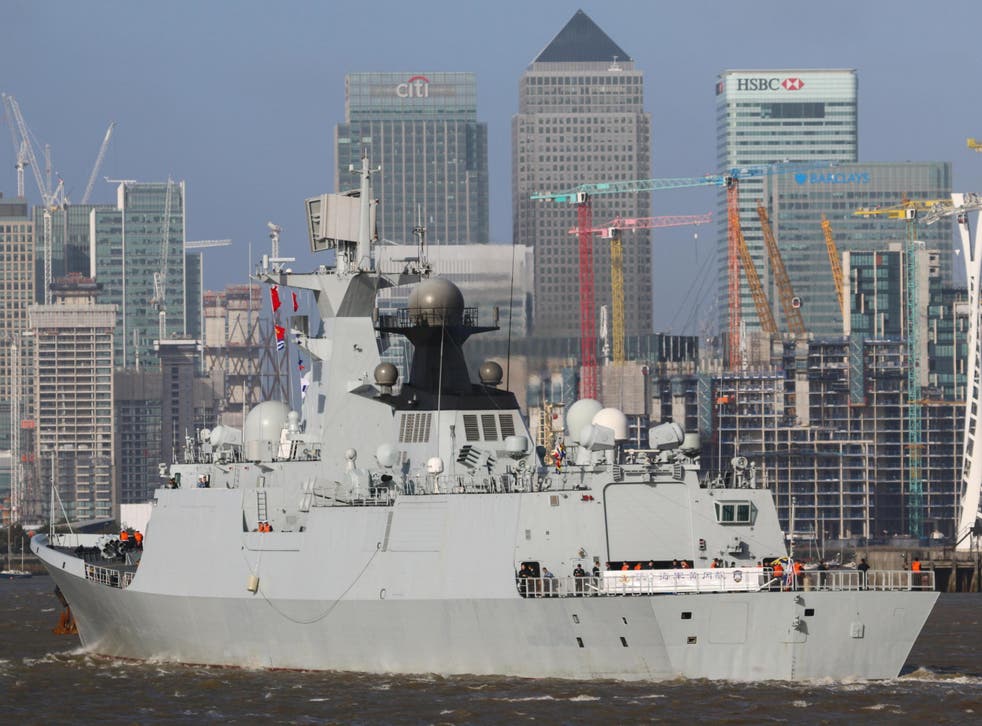 A pair of Chinese warships have sailed up the River Thames during a goodwill tour of European ports, as Beijing seeks closer naval ties with Britain.
The Type 54A frigates Huanggang and Yangzhou moored up at London's Docklands after visits to Belgium, the Netherlands and Denmark.
In a world "far from being peaceful" Britain and China should work together to tackle rising "terrorism, piracy, cross border crimes and refugee crises," Liu Xiaoming, China's ambassador to the UK, said.
Senior naval officers are set to meet aboard the ships over several days.
The visit "is reaffirming the commitment of China and Britain to world peace," Mr Liu added on Monday. "I believe the visit to Britain by the 26th Chinese Navy Escort Taskforce will mark a new beginning of closer, friendly exchanges and cooperation between Chinese and British militaries."
The 4,000-tonne, 135m Type 54As are multi-role ships that carry weapons designed to counter threats from above and below the waves. They incorporate some stealth features, including radar absorbent material, and bristle with anti-submarine torpedoes, anti-ship missiles and a 76mm main cannon.
Rear-Admiral Alex Burton, of the Royal Navy, said: "We confront common challenges across the globe, from counter-piracy to natural disasters and the need to work in partnership to find solutions to these challenges has never been more important than it is today."
Frigates and destroyers from many countries' navies are used to police shipping lanes and conduct drug interdiction patrols, as well as to respond to humanitarian crises.
Join our new commenting forum
Join thought-provoking conversations, follow other Independent readers and see their replies