British model Chloe Ayling tells of being abducted, injected and chained to furniture in 'terrifying' ordeal
'This was my worst nightmare. I didn't know what was in the syringe. I was panicking. I thought they were going to rob or rape me. I was terrified beyond words,' recalls Ms Ayling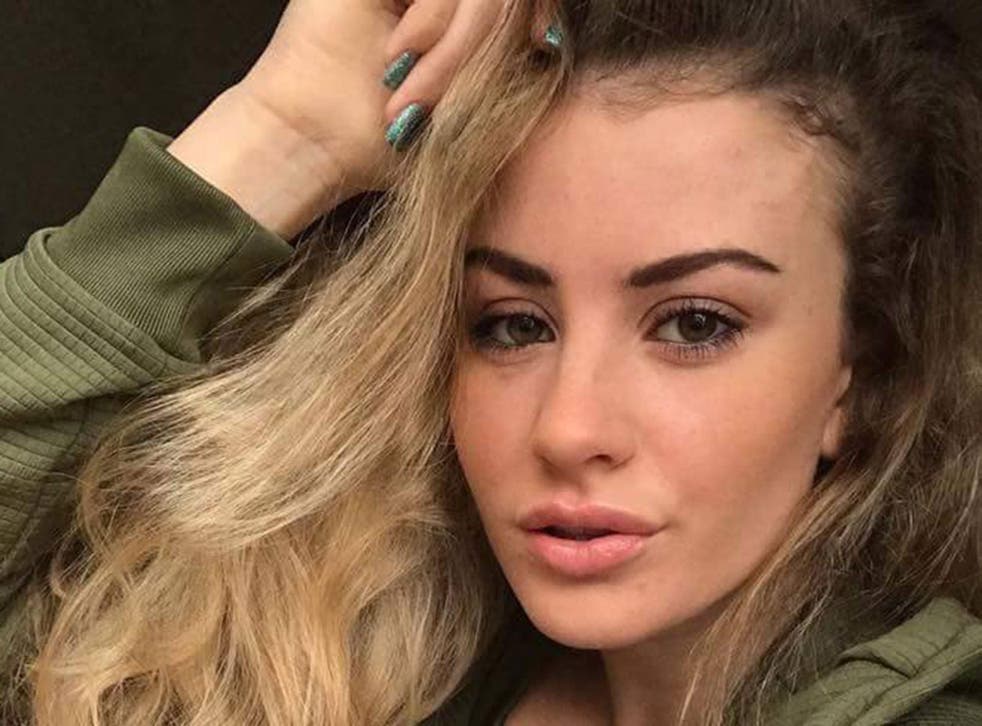 British model Chloe Ayling has spoken out about how she was allegedly lured to Italy for a fake photo shoot and then drugged, kidnapped and held hostage for almost a week.
In the first media interview she's given since the ordeal, the 20-year-old recounts a dramatic story of arriving at what she had been told was the studio to suddenly find herself being grabbed from behind by a gloved man who injected her with ketamine.
Her thorough account in the Mail on Sunday details how a man alleged to be Polish national Lukasz Pawel Herba, posing as a fashion photographer, lured her to Milan and then held her captive in a remote shack – where she said she was "handcuffed to the chest of drawers" – in order to sell her as a slave in an internet auction.
Ms Ayling told the newspaper: "He had sent me an email via my agent Phil Green giving me the address for the studio. He said the door would be open and I should let myself in. I walked through the open door and put my luggage down.
"I was expecting to hear people setting up the shoot but there was silence. It was a bit creepy but then I saw a door with a sign on it which said 'Studio'.
"As I reached for the handle, I felt an arm come around my neck from behind me. I tried to scream but a gloved hand was covering my mouth and my nose."
"I panicked because I couldn't breathe and I brought my hands up to my face. I was trying to get his fingers off my nose and I managed to catch one breath."
She described how another man wearing a black ski mask and holding a syringe in his right hand then stepped in front of her, "yanked" her jacket off and grabbed her arm.
"This was my worst nightmare. I didn't know what was in the syringe. I was panicking. I thought they were going to rob or rape me. I was terrified beyond words," she said.
"They dragged me to the floor. I just gave up – I thought, 'I'm not going to get out of here alive.' I felt trapped, then everything went black."
Ms Ayling said the next thing she remembers was waking up in a bag in the boot of a moving car "feeling terrible", with her hands and feet handcuffed and tape over her mouth.
Recalling the traumatic journey, during which they stopped more than once to tighten her handcuffs, she said: "I thought they were going to kill me and dump me in the suitcase. I thought, 'I am never going to see my mum or my son Ashton again.'"
On arriving at a house the model described as "dark and cold", she said she was led up "concrete stairs into a small room with wooden floors", where she was then chained to a chest of drawers.
In the hours that followed, she said her captors discovered they had made a "mistake" in abducting her because "they don't kidnap mothers".
"I didn't know what to believe. I just asked if they would let me go but he told me I had already been advertised and there was a lot of interest in me," she said.
"He said the auction would still go ahead in five days – Sunday – and the starting bid was $US300,000 (£270,000). That was too much to take in. I was in shock. That will always be the worst day of my life.
"Then he said he wanted to help me because I had been taken by mistake. He asked me what my family had to offer. It was just me and Mum at home, there was no way we could afford a ransom. I gave him the names of three people who might help."
Doubts have been raised about Ms Ayling's allegations after CCTV images emerged of her shopping for shoes with Mr Herba, but she repudiates them saying her captor was "terrifying" and she did as he asked because she didn't want to put herself in danger by angering him.
"He told me he was an assassin for Black Death and showed me two knives. He said his favourite method of murder was poison. He was talking so casually, it was terrifying. He said that he had worked for Black Death for five years and had earned $US15m (£11.5m)," Ms Ayling said.
"He said I would be crazy to try to escape now because I would be instantly killed. He said we were no longer in Italy, somewhere very remote, and that Black Death agents were nearby.
"I promised him I wouldn't try to escape. Then he told me I could share the double bed in the next room. Literally anything was better than lying handcuffed on the floor so I said yes. I didn't want to upset him – he had told me he was a killer. Anyone in my position would have done the same. Anyone."
After six days being held hostage, Ms Ayling said Mr Hebra took her outside and said he would release her on the condition that she paid £39,000 within a month of her release and did not criticise Black Death in the media or speak to the police.
She agreed and said Mr Hebra took her to the British consulate, telling her to say he was a friend she contacted after escaping.
Recalling the moment she reported her abduction, Ms Ayling said: "The door opened and we walked in. I walked up to the woman at the counter, an Italian employee, and told her, 'I've been abducted'.
"She asked my name and I told her [...] She opened a door for me to go through to a private room and we sat down together. I told her I had been kidnapped at a modelling studio and broke down in tears.
UK news in pictures

Show all 50
"I started telling her the story and she started crying, too. She told me she knew who I was."
After a three-week investigation, police in Italy charged Mr Herba with kidnapping and extortion last Saturday, and Ms Ayling was allowed to return home to the UK.
While some people have raised doubts about her story, Ms Ayling's lawyer, Francesco Pesce, said investigators believed her claims. Italian prosecutors said they believe the model was kidnapped and "don't see any inconsistencies in the story".
Concluding her ordeal, the model said: "So many lies have been said. But I know the truth, the police know the truth and it will all come out at the trial.
"This experience has taught me what is really important in life. I am so happy to finally be home. People were criticising me for smiling when I was photographed back home – but why wouldn't I smile? I survived."
Register for free to continue reading
Registration is a free and easy way to support our truly independent journalism
By registering, you will also enjoy limited access to Premium articles, exclusive newsletters, commenting, and virtual events with our leading journalists
Already have an account? sign in
Register for free to continue reading
Registration is a free and easy way to support our truly independent journalism
By registering, you will also enjoy limited access to Premium articles, exclusive newsletters, commenting, and virtual events with our leading journalists
Already have an account? sign in