Chloe Ayling: Images 'show Black Death dark web advert' to sell model as sex slave
'We can kidnap a specific target for your needs': email shows group calling itself Black Death advertising trafficking services 
Benjamin Kentish
Wednesday 09 August 2017 16:08 Comments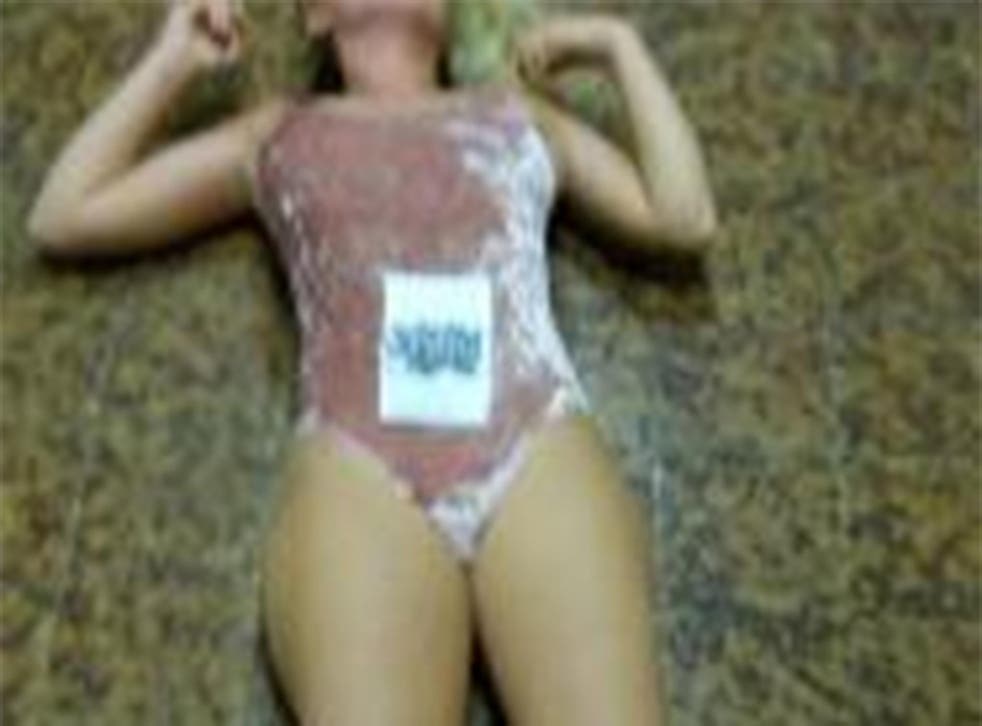 Images have emerged reportedly showing the dark web advert used to try to sell British model Chloe Ayling.
The 20-year-old claims she was held captive for almost a week after being lured to Milan, Italy, for what she was told was a photo shoot. Her alleged captor, Lukasz Pawel Herba, reportedly drugged her and placed her in a large suitcase in a car boot.
Mr Herba has claimed he only became involved under duress from a Romanian gang living in Birmingham.
Chloe Ayling speaks to reporters and poses for photos outside her home upon return to the UK
The images in the advert are said to have been taken at a farmhouse near Turin, Italy, where Ms Ayling was allegedly held hostage for up to six days as her abductors tried to sell her as a sex slave.
They show a young blonde woman lying on a hard stone floor dressed in a pink leotard.
In one of the pictures, a leaflet from a group calling itself Black Death asking potential buyers to bid at upwards of $300,000 has been placed on the woman's stomach.
The pictures were emailed to a number of British newspapers several weeks ago but appear to have been ignored until now.
"Did you know chloe ayling has been kidnapped in italy and is now for sale by russian mafia ???," the email reads. "See attachament" (sic).
"i been sending wit codes but ppl dunno how to open so i send unprotected now.
"it will be f***n hot mateeee."
Attached with the email was a document advertising the criminal gang's kidnapping services and information on its latest victim.
UK news in pictures

Show all 50
The message contained details of Ms Ayling's measurements, where she was abducted and held and the date of the "auction" to sell her.
Referring to the group's victims as "merchandise", the advert promises a doctor will test the women "for the sexually transmitted diseases and whether they are pure".
The gang says its victims can be "transported globally" and advertises its activities, saying: "If you wish, we can kidnap a specific target for your needs. That service will be rather expensive, especially for targets outside Europe."
The advert claims the abductors "do not sell girls that are terminally ill, pregnant, have STDs or are young mothers". It has been suggested the gang let Ms Ayling go after realising she had a two-year-old son.
She was released after being driven to the British consulate in Milan.
While some people have raised doubts about her story, her lawyer, Francesco Pesce, said investigators believed her claims.
Italian prosecutors have said they believe the model was kidnapped and "don't see any inconsistencies in the story".
Register for free to continue reading
Registration is a free and easy way to support our truly independent journalism
By registering, you will also enjoy limited access to Premium articles, exclusive newsletters, commenting, and virtual events with our leading journalists
Already have an account? sign in
Join our new commenting forum
Join thought-provoking conversations, follow other Independent readers and see their replies