Christian group to sue Boris Johnson over 'gay cure' bus advertisements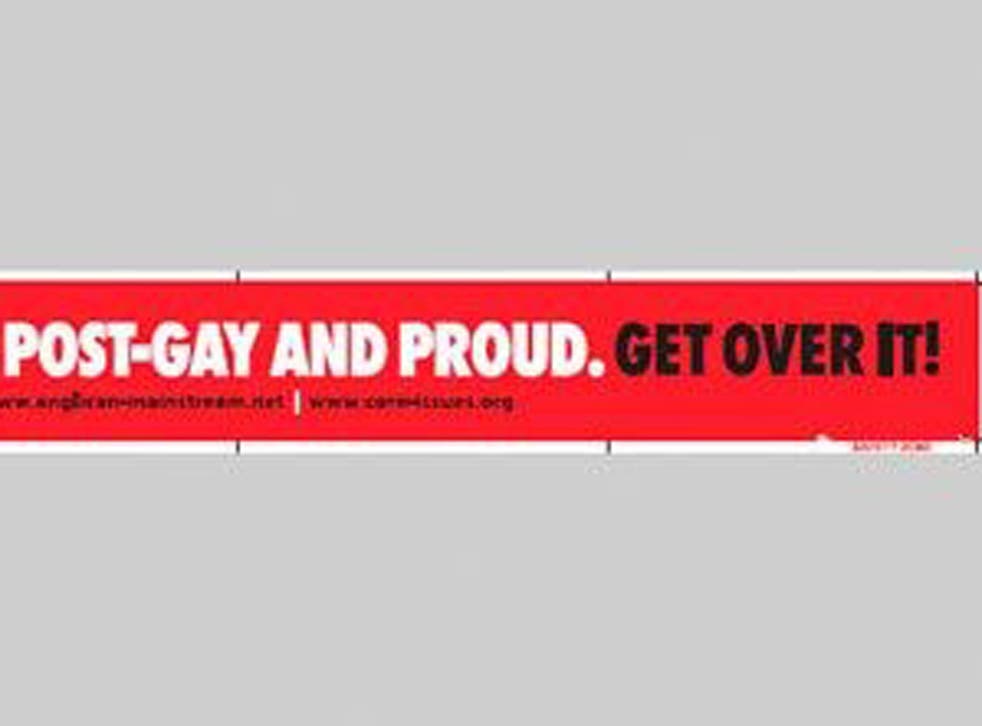 The Christian group behind the recent attempt to place "gay cure" adverts on London buses have instructed lawyers to sue both the Mayor of London and the company that initially agreed to host the adverts after they were banned at the last minute, the Independent can reveal.
Aughton Ainsworth, a Manchester based law firm with a long track record of taking on controversial religious cases, have been hired by Anglican Mainstream to issue legal proceedings against both Boris Johnson and CBS Outdoor.
The adverts were meant to begin running next week and mimicked a recent campaign by the gay-rights group Stonewall which used the strapline "Some people are gay, get over it!".
Using a similar font and colours, Christian groups had created rival adverts which read: "Not gay! Ex-gay, post-gay and proud. Get over it!". Ex-gay and post-gay are terms used by evangelicals to refer to people who, through therapy and prayer, claim to have abandoned their homosexuality.
But London Mayor Boris Johnson ordered them to be pulled at the last minute arguing that they were offensive. He was backed by Transport for London who said the adverts were not "consistent with TfL's commitment to a tolerant and inclusive London."
It is believed lawyers for Anglican Mainstream and Core Issues, a charity which promotes so-called "reparative therapy" for gay men and women, are now looking at two potential legal avenues. The first is to sue for a potential breach of contract and the second is to claim that the group's human rights were breached under articles nine and ten of the Human Rights Act.
So far every attempt by Christian groups to sue for similar complaints under human rights legislation have failed in the upper courts. But a bid by two employees over the right to visibly wear a crucifix at work is currently working its way through the European Court of Human Rights and is being closely watched by the Christian right.
Aughton Ainsworth has previously represented Bideford Council when their town hall prayer meetings were recently ruled unlawful – and owners of bed and breakfasts who have refused to open their doors to gay men and women on religious principle.
Lawyer Tom Ellis, who has been instructed to represent the two groups, told The Independent that he believed "there is clearly a legal claim for breach of contract and possible breach of my clients' article nine and ten rights." The Mayor of London would be included in any legal proceedings if Mr Johnson instructed TfL to ban the adverts.
Allan Craig, from Anglican Mainstream, said: "Thanks to Boris we have been given lots of extra publicity for our side but it's still outrageous. We're going to throw the book at him. To have Boris' jackboot stamp down on legitimate debate is ludicrous."
Both TfL and CBS Outdoor, which takes bookings for advertising space across London, defended their actions.
A spokesperson for CBS Outdoor said the company was "fully compliant with all the statutory restrictions and voluntary codes relating to advertising" and said that the gay cure bus adverts had been passed by the Committee of Advertising Practice and the Advertising Standards Authority. They said the referred the adverts to TfL because of the "sensitivity" of the content.
TfL said all adverts have to comply with their own advertising code. When CBS flagged the bus adverts as potentially controversial, TfL decided they breached two elements of their code banning any content that is likely to cause widespread offence or deploy language that is obscene or distasteful.
An insider said, "The Stonewall adverts met the code because they talked about tolerance. The second set of adverts were clearly not tolerant, but distasteful and divisive."
Join our new commenting forum
Join thought-provoking conversations, follow other Independent readers and see their replies