Bizarre leaflet accusing Remainer Christians of 'spiritual treason' appears at Ukip party conference
Fringe Christian Soldiers group accuses EU of ungodliness and its supporters of belonging to a 'pseudo-religious faith'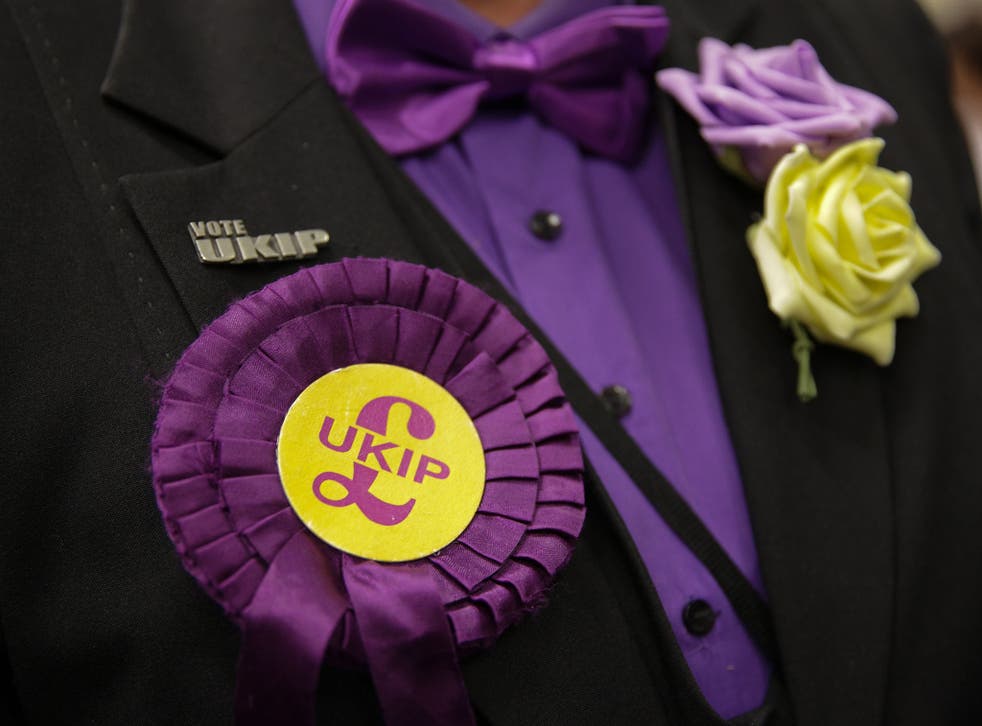 A leaflet accusing Christians who voted to remain in the EU of committing "spiritual treason against almighty God and his kingdom" has been shared at the Ukip party conference.
Produced by a group calling itself "Christian Soldiers", its logo depicts a sword laid over a shield with a cross on it.
"Shield of faith, sword of truth," it reads underneath.
A separate piece of text adds: "Bible believing Christians who support Britain's membership of the European Union (EU) are committing spiritual treason against the almighty God and his kingdom."
"The dark, central aim of the EU project is to abolish our Christian nation state, our nationhood and the ancient laws and freedoms bestowed on us by God."
The illustrated sheet goes on to say that "blind acceptance of the EU project" is itself a "pseudo-religious faith".
It adds that the EU project was built on "Nazi ideology" in 1942 and was put into place in case Germany and the Third Reich lost the war.
The leaflet was not produced or officially sanctioned by the party, but it was distributed at Ukip's national Spring party conference at the Macron Stadium in Bolton.
A spokeswoman for the Christian Soldiers told The Independent: "Nigel Farage gave us 100 per cent support and we are part of Ukip."
She added: "It's a little fellowship for the Christian members of Ukip and there are a lot of Christians in Ukip. It is for those who believe in the holy Bible and take it literally. It doesn't do any harm and follows the teaching of Jesus to love one another but most of all to love God."
However, two years ago Ukip said it was distancing itself from the group after it distributed a homophobic newsletter which suggested that gay people could be converted from a state of vice.
At the time, a Ukip spokesman said the group was "authorised but not official" and that he newsletter was "not of an acceptable standard to be associated with the Ukip brand".
But the Christian Soldier's spokeswoman told The Independent that at an annual general meeting of the party, "the question was asked whether to cut ties with Christian Soldiers, the confident support of members towards Christian Soldiers was very clear."
UK news in pictures

Show all 50
At this year's conference, the group reportedly organised an event at the party conference on the theme: "Is Trump Right".
During the event, the speaker, who is believed to be a retired vicar, explained why Donald Trump is right to be a climate sceptic because carbon dioxide is good for us, Buzzfeed reporter Jim Waterson tweeted.
Rev Philip Foster, a patron of the Christian Soldiers and a long-term climate denier, was also reported to be at the conference.
The leaflet also accuses the EU of having chained young Christians, with "chains forged in the fiendish fires of subversion by British Quislings and Traitors".
Asked to comment on the matter, a Ukip spokesman told The Independent that "Ukip is a broad church. This group, like others, is entitled to its view – after all in God's house there are many rooms."
Join our new commenting forum
Join thought-provoking conversations, follow other Independent readers and see their replies