Christmas Day truce 1914: Letter from trenches shows football match through soldier's eyes for first time
'Dearest mother, I have seen one of the most extraordinary sights...'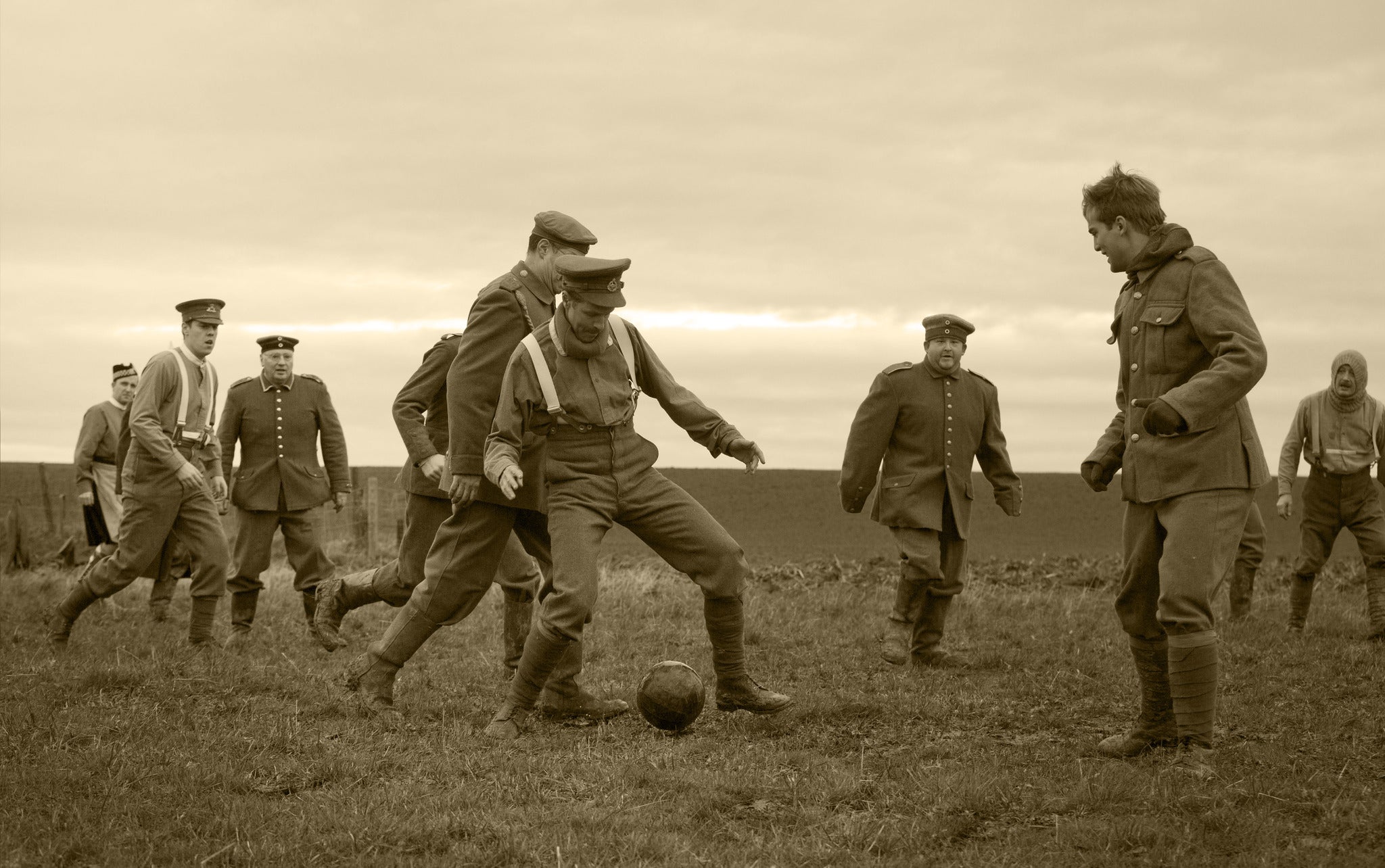 A First World War soldier's account of the Christmas truce of 1914 has been released for the first time, chronicling "one of the most extraordinary sights anyone has ever seen".
Captain A D Chater was serving with the 2nd Battalion Gordon Highlanders when peace came briefly to the British and German trenches on the Western Front.
His letter to his "dearest mother", describing the famous moment former enemies risked their lives to walk out into no-man's land to wish each other a happy Christmas and play football, has been released by Royal Mail with his family's permission.
"I think I have seen today one of the most extraordinary sights that anyone has ever seen," he wrote.
"About 10 o'clock this morning I was peeping over the parapet when I saw a German, waving his arms, and presently two of them got out of their trench and came towards ours.
"We were just going to fire on them when we saw they had no rifles, so one of our men went to meet them and in about two minutes the ground between the two lines of trenches was swarming with men and officers of both sides, shaking hands and wishing each other a happy Christmas."
Christmas truce: Captain A D Chater's letter
Show all 4
He details regiments on both sides using the brief respite from shelling to bury their dead "lying between the lines".
Joint burial services were held for German and British soldiers, he said, and former enemies posed for pictures together to commemorate the occasion as he took the chance to improve his "dug-out" with a new fireplace and straw.
"I went out myself and shook hands with several of their officers and men," Captain Chater wrote.
"From what I gathered most of them would be glad to get home again as we should – we have had our pipes playing all day and everyone has been walking about in the open unmolested."

Cigarettes and autographs were exchanged between some men, while others simply enjoyed the first opportunity to stretch their legs without facing machine guns in months.
"We had another parley with the Germans in the middle," Captain Chater wrote, expressing hope that the fragile peace would continue, for a short time at least.
"We exchanged cigarettes and autographs, and some more people took photos.
"I don't know how long it will go on for – I believe it was supposed to stop yesterday, but we can hear no firing going on along the front today except a little distant shelling.
"We are, at any rate, having another truce on New Year's Day, as the Germans want to see how the photos come out!"
Captain Chater said the truce even held when a British soldier fired into the sky by mistake but as reports of the unofficial ceasefire emerged, military leaders on both sides of the conflict were enraged by the apparent "softening" of attitudes, which was quickly stamped out.
Anyone defying orders faced court martial and execution and the fighting started again.
Captain Chater painted a vivid picture of the brief goodwill in a war he said contained "so much bitterness and ill feeling". But it did not last.
"This extraordinary truce has been quite impromptu," the letter continued. "There was no previous arrangement and of course it had been decided that there was not to be any cessation of hostilities."
The war continued for almost four more years, resulting in the deaths of 37 million civilians and military personnel.
Royal Mail is commemorating the centenary of the First World war with a series of stamps, memorials and art work as well as an online database of memorials in its care.
During the war, the General Post Office as it was then had its own regiment, the Post Office Riles, and suffered significant losses at the battles of the Somme and Passchendaele, Belgium.
More than half of their fighting force was lost at the Battle of Wurst Farm Ridge in September 1917
Of the 12,000 employees in the Post Office Rifles, 1,800 were killed and 4,500 wounded.
Meanwhile at home, its 2,500 workers processed letters and parcels bound for the troops, peaking at 13 million being processed a week.
Join our commenting forum
Join thought-provoking conversations, follow other Independent readers and see their replies